Busses For Sale!

All busses shown for sale here are the sole responsibility of their owners,not this Web Site - please contact them at the accompanying
Email addresses for more info!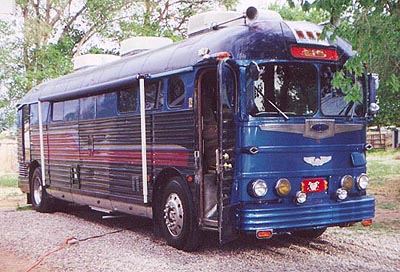 Date: Wed, 04 Oct 2000 07:01:29 -0600
From: Fred Brink <fredbrink@uswest.net>
To: carcosa@eskimo.com
Subject: 1948 GMC PD3751 "Silversides" Greyhound
I own this beautiful example of a PD3751 which was converted
to an RV. It only has three inadequacies I would change;
lack of power steering, air ride, and an under powered 671DD
for it's weight. It is however the most wonderful coach I
know of. I am looking for this model coach in original
pristine condition with all original equipment for people
transport, if there are any left. I have a good
conditioned 1978 GM 4509A coach I would trade for the right
PD3751.




Date: Mon, 26 Jun 2000 16:40:48 -0700
From: Vintage <vintage@harbornet.com>
To: carcosa@eskimo.com
Subject: silversides
I have a silversides I must sell. I am moving and have no room for it. I
had planned to restore it, but time and money considerations have made
it impractical. Please ad it to your list of buses for sale. I am
sending a photo. It runs fine. The engine has been rebuilt and has about
500 hours on it. It has all its seats and still has the airconditioner.
I have not tried to start the airconditioner motor. I replaced most of
the wireing some years ago. It needs a better home.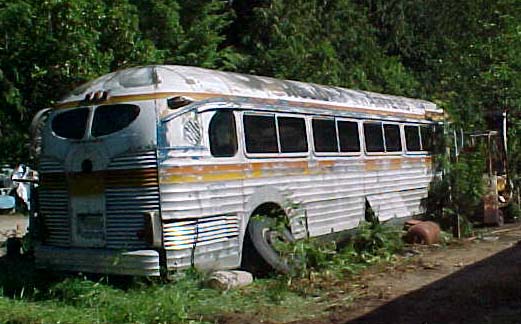 Date: Sun, 30 Apr 2000 18:05:37 PDT
From: Brian Henderson
To: carcosa@eskimo.com
Subject: Buses For Sale *SOLD*

Hello-

I'm terribly sorry for the size of the pictures I sent you of the Yellow Coaches last week. I didn't realize they were so large until after I had sent them. I am trying to figure out a photo editing program to make them smaller. When I do that, would you like me to send them again. I have also attached two pictures of the Silversides we have for sale. I have more photos if interested. This is a 1948 GM PD3751 37 passenger Silversides. It is in great condition, and was painted and decaled several years ago. As you can see, it has full Greyhound markings. The interior is also in good shape, all seats are in it. Some of you may have seen it at different bus gatherings in the past.

Thanks a lot, we really appreciate you posting these for us.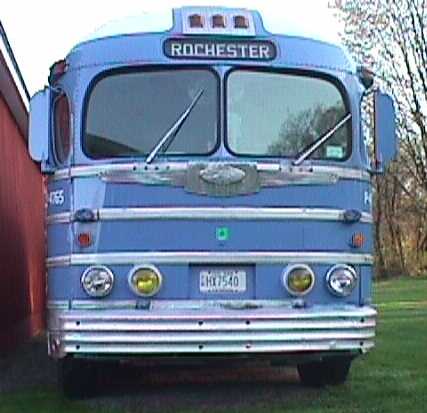 Sincerely,Brian Henderson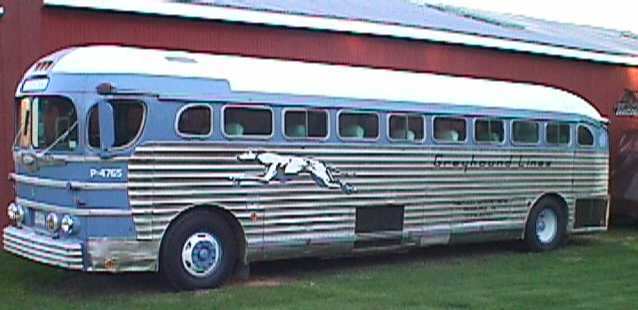 Two (2) 1936 GMC Yellow Coach Greyhound Buses. One is a 33
passenger 843 Streamliner. The other is a 29 passenger 845
Streamliner. Both are restorable and have been stored indoors and
preserved. Also included are two Yellow Coach parts buses. These
busses are extremely rare! Asking $25,000 OBO. For more information:
*SOLD*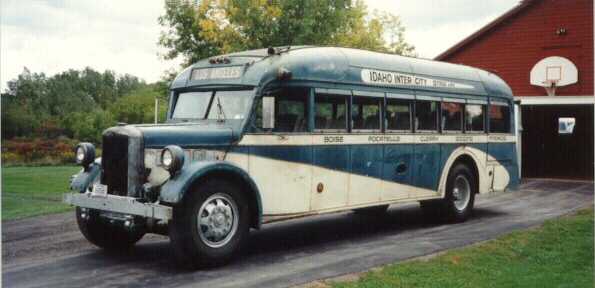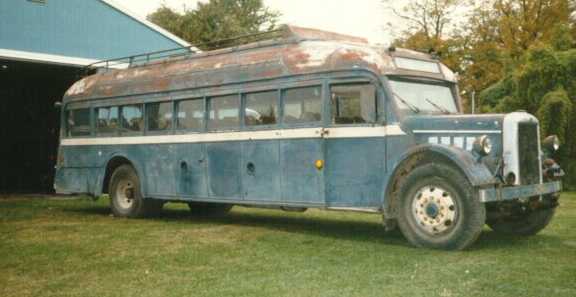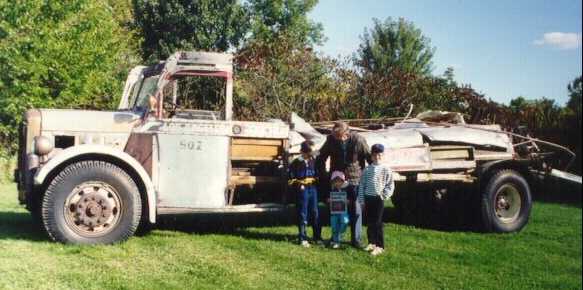 Date: Sat, 15 Apr 2000 22:37:13 EDT
From: TOPSAX@aol.com*SOLD*
To: carcosa@eskimo.com
Subject: Finding a good home for a classic motorcoach built on a GMC PD-3751 chassis.
Hello,
I am looking to find a good home for my 1947 PD-3751 "Silversides." I
don't use it much anymore and has lots of life left in her. It was converted
into a motorhome back in the 1970s. It has more power than many newer
converted coaches. The clutch is solid and does not slip. Diesel soot is
virtually non existent where the naked eye is concerned. It's equipped with
spring brakes in the rear. In addition to the specs I have also included some
pictures. The rear tires have less than 3,000 miles on them. The front tires
have lots of tread (like new in thickness) but are a bit older than the tires
in the rear. If you or anyone else have any questions please feel free to
email me at topsax@aol.com or via my mobile # at 702-523-4254. It was
purchased in Portland, OR at Fred's RV back in 1994. -Chris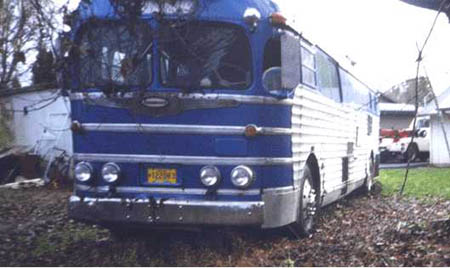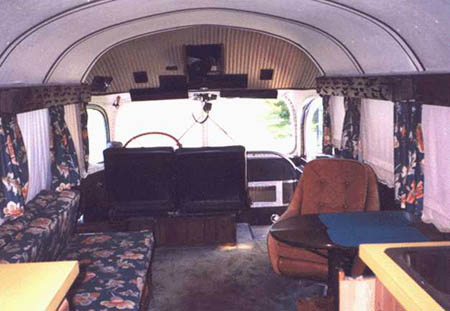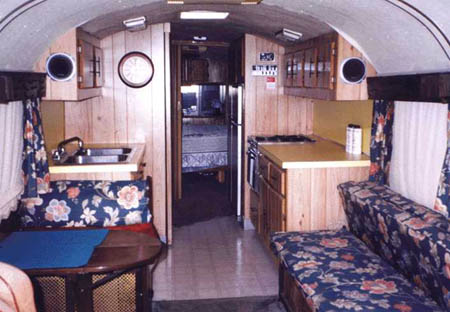 > From: rcleaver@gfnet.com
> To: erodrig496@aol.com 
> Date: Wednesday, February 24, 1999 4:38 PM
> Subject: 1954 scenic cruiser

A friend is being forced to get rid of his 1954 Grehound Scenic Cruiser -
the 11th one built.  Its in fairly decent shape, and it runs.  Do you have
a clue where the heck a market for such a thing would exist??  I am trying
to help him, and any insight you have would be great!!  thanks

> HI-  Here are the pics.  The guy says he wants about $25K - but, we do
> not know whether that is a good price or not - they do not have 1954
> Greyhounds in the Used Car Blue Book :)  So, it is negociable.  By the
> way, we are in Tampa.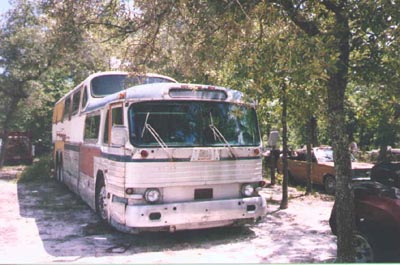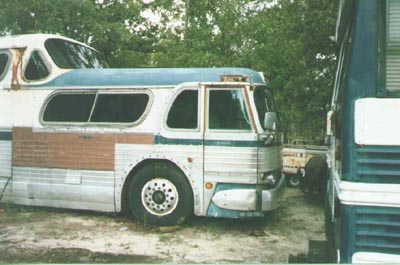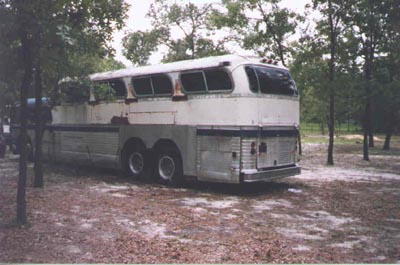 Date: Sat, 7 Nov 1998 10:19:59 EST
From: CWBUS@aol.com
Subject: Antique Fleet Reduction

To All Concerned:

After much consideration, I have after almost 20 years of bus collecting,
decided to trim the fleet to a size that I can manage.  My charter
business is growing(thank God), and it is something I really want to make
work, so something has to give.
I'm also not getting any younger(21+), and the prospects of a museum in
this area able to display the buses is just as far away as it seemed 20
years ago.

So, following is what is available and the particulars for each coach.

1. PD 4151-236.  1948 Silversides. Ex-Greyhound #6226. League of Their Own
team bus.  Runs good.  Needs some electrial work.  Price $4000

2. TDM 5108-105.   1956. X-Greyhound of Ohio and Somerset Bus Co. #9967.
Recently tuned up. Has small oil leak.  Price $3000

3. TDH 4801-498.   1958.  X-Los Angeles #5191.  Excellent condition body
wise. Haqs small oil leak.  Price $2500

4. SDM 5301-166   1960 early Fishbowl.  X-Red & Tan #90.  Almost totally
restored.  Hard to sell, but I just have too many.  Price $3500.

5. T6M 5306-047.    1968.    Ex Public Service Z546.  An oddity. Stick
shift one door transit, only ordered by Public Service.  One of 50 I
believe. Price $2300

6.  T6H 4523N-355.  1973.   Ex AC Transit #817.  Tough to part with since
I drove this cross country.  Minor transmission leak, easily repairable.

Great shape  Price $3000

7. SDM 5302-226.  1964 Glasstop.  Ex-Grey Line of New York.  Another
oddity. Stick shift with low seats, luggage bays, and sight seeing
windows.  Body has a few dents, but otherwise runs good.   Price $1500

8. P8M 4905A-2024.  1978 GMC Deck.  Ex Public Service 607K.  Delivered as
automatic, even though serial number indicates otherwise.  Body has some
dents, nothing terrible.  Just put in another engine. Interior not bad.
Price $2500.

Finially, the above totals $22,300.  For those of you daring enough to
want them all, a package is available for either $20,000, or pay the list
price above and get absolutely free an authentic New York City Fishbowl,
T6H 5310-052, a 1973 only built for New York transit bus.  This is not for
sale unless the whole package is purchased.  This bus makes me good movie
bucks, so I hesitate to part with it.
Now, be aware that every bus listed above, in some cases with just minor
work, and in other cases as is, can literally be driven to wherever you
are going, including California.  I also am not selling these to be
scrapped or converted; I worked too hard for too long to save this stuff,
and I will keep them myself if I can't find a good home.  I would like to
move this stuff before the cold of winter comes in, if possible.

I would appreciate anyone who sees this to please pass it along to clubs,
collectors, whoever you think may be interested.

Thank you for your time.  My phone number is work-908-221-1199, home
908-719-7625, until November 18th, when I am moving.  My work number stays
the same.