Azalea Garden/Orchard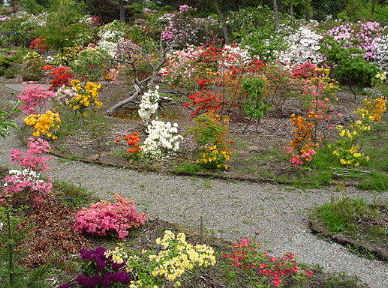 The origin of the azalea garden was a rectangular orchard of heirloom apples my father planted in the late 1960s. Some were superb; others were interesting to look at but tasteless. When I created new beds and specialized gardens, I rounded the corners of the orchard and eliminated fameuse (snow apple) and sheepnose. Spitzenberg died. Those left are on the list, as well as some newer apples that do well west of the Cascades. (Gala is on probation.) The rectangle turned into an ellipse, consistent with the curves of beds throughout the garden; mulch replaced the orchard grass; and gravel paths rather than a field provided access.
On frosty January days, the bare trees and mulch sparkled with little crystals. I love the evergreen of northwest winter, but sometimes I miss the stark cold scenes of my New Jersey woodland upbringing. Last fall, I removed all the evergreen rhododendrons by the apple trees and replace them with deciduous azaleas. A month later, the fine sticks crusted with frost and gave me the picture I was looking for.
I cut down most of the Roxbury Russet and joined it to the Blenheim to support an elevated bench. An interior path circles within the azaleas. Exits connect the orchard to the native garde, bamboo grove, a dwarf pocket garden, and the main rhododendron collection.
Spring bulbs give the first color, bright but low before the explosion of blooms in May. By summer, everything is lush with leaves, and the Blenheim shades the bench. From August to November, the various apples appear, and the azaleas turn their brilliant fall shades. Then it is time for frost again.