My 1952 Kaiser Virginian Special Traveler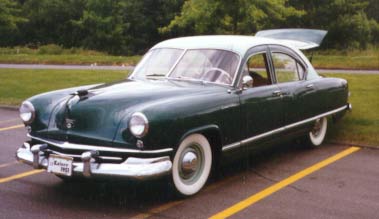 My Traveler has several interesting features. As mentioned, it started out as a 51, was reserialed into a 52 Virginian, then apparently titled as a 51.

It was assembled at the Portland, Oregon plant, fairly late in Portland production. The SCHED number is 275 - the highest reported is in the vicinity of 290.

Originally, it was a solid Cape Verde Green. As part of the reserialing process, the top was painted Green Spray (a very light green). An unusual feature is that the wheels were painted along with the roof (being a Special Traveler, it has the small hubcaps, so much of the wheels are visible). The hood ornament has the black plastic tip and ring.

It has the narrow side chrome. It also has Traveler script on the front fenders, which is fairly uncommon in 51. Of course, no Virginian Travelers had Continental Kits.

The interior is Oakwood Brown smooth vinyl. The metal trim around the windows is also Oakwood Brown.

Another unique feature is the headliner - instead of matching the seats, it's a light tan. With the Oakwood Brown seats and window trim, the Cape Verde Green dash, and the light tan headliner, the interior is quite colorful.

The truly odd feature is the lower dash section. The left side is painted (Oakwood Brown), while the center and right sections are chromed. This is the way I found the car in the late 60's, and it appeared to be untouched at that point. My personal opinion is that they were having to do a little mixing and matching toward the end of Portland production, but of course it could never be proven. I've left it that way as it's the way I feel it was built.

Another example of "mixing and matching" is the wing window frames. The rear ones are painted black, but the front were chrome. When I disassembled the car, I found the front ones had been painted black over the chrome, to match the unchromed rear ones (the paint had just worn off above the sill). Also visible is the Deluxe front bumper that was on the car. The rear bumper has the smaller Special guards.

It has a dealer-installed windshield washer. The radio was probably dealer-installed also, as the antenna was placed on the left side.

All in all, it's been a pretty interesting car to own.
| | |
| --- | --- |
| 1996 Portland National Convention | Dashboard |