My name is Matt Wirkkala. Leo and I are both Finnish Americans, though Leo has been one for nearly twice as long as have I. :) Leo speaks Finnish. Though my dad, and all of the family before him, speaks Finnish as their first language, I speak practically none. I am working to rectify this situation. Through friends like Leo, I am learning about Finnish. And, about the origins of language itself. But no more about me. This is Leo's page ...
Port Hadlock, WA USA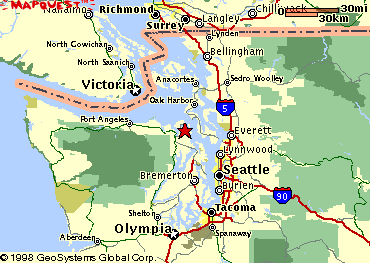 Leo was born in Wallace, Idaho, on October, 24th, 1925. Retired in Port Hadlock, Washington, 1987. His many careers and adventures included being a radio engineer/announcer with a First Class Radio Telephone License at KJR and KOL in Seattle, also at KVOS/TV in Bellingham, Washington. His first Radio Announcing job was at Torrington, Wyoming on KGOS and his last was on KEX Portland, Oregon, from where was a graduate of Bill Sawyer's, Northwest Broadcasting School on 13th and Alder in Portland. There again in Portland Leo switched back into the Restaurant field and ended his many Maitre'D positions of Restaurants in the U.S.A and off-shore, as in Bermuda, Aruba, one of the ABC Islands off of the coast of South America owned by the Dutch, also in Hawaii. Among his Stateside Maitre'D, Captain of Waiters, Wine Steward, and Waiter jobs [Including Alaska] were at: The Prospector Hotel and Barnoff's in Juneau. The Plaza Hotel at 59th and 5th Avenues in New York, NY. Piro's later named Doro's on 711 Montgomery Street in San Francisco [for Don Dianda and Roger Bertola], Maitre'D and The Chef, to whom Charley Piro sold out to and moved on to Palm Springs, California. Leo claims he worked in 285 different Restaurants and some as many as 13 times, as was the case at the Cape Cod House in Lafayette, California. More later on some of these and their importance to Leo and his most different and intresting life, at least to me. Leo joined the US Navy in 1943 and was honorably discharged on the 23rd of May in 1946, despite Deck Courts and near General Court for striking an Officer on his ship the USS Barataria AVP 33. More later about Leo's life before and after joining the US Navy and his other various occupations he has held in civilian life. Today, he is an incurable horse watcher (my own impression ;) and author of one book. But perhaps his most prolific career these days is that of historian and linguist. In particular: the relationship between the origins of Futharks (runic marks), their writing, and the representation of sounds and meaning in language.
On these pages I intend to present much of the work (reams of material) on this topic which Leo has sent to me since late February of 1998. But this site is also where I will do much experimenting to determine how best to present such material. At least, that is my intention. So don't expect what you may find here to be static, because there is always a better way to build a web page! :)