Graphics by David Mikelsons
---
---
My name is David Mikelsons. I currently live in Denver where I am studying at Powder University. My major is physics/psychology; specifically, I am studying the effects of gravity on my cerebral cortex. When I get the time and inspiration, I paint on my computer or on other more traditional surfaces. I hope to work exclusively in a creative fashion soon. Graphic design, computer art, computer animation or commercial art are my main areas of professional interest.
More drawings at David's own Home Page.
---
Full image
is largest that will fit on
a 1024x748 screen

Big image
will fit on a large screen inside
the Netscape borders

VGA image
is largest that will fit on
a 640x480 screen
---
Danco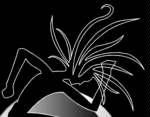 This is the dancing form of freedom. I tried to capture in a single frame the energy of the human form under the influence of a dance beat. I used black and white to create a dramatic atmosphere. The flowing tentacle-like hair is symbolic of happiness and freedom and how ever changing these things are. The swirl aroung the dancer's feet is a symbol of balance; it's a stylized Yin Yang. To create this drawing I used Corel Draw 3.

| | | |
| --- | --- | --- |
| Full 1000x768 / 33k | Big 960x735 / 29k | VGA 624x480 / 18k |
---
Planets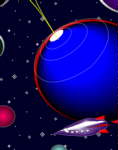 This is a daydream fantasy. While listening to Gustav Holtz's "The Synphony of the Planets" I imagine cruising in spaceship past the planets and stars. The effects of a star's light reflecting off and showing through the atmospheres of the planets would be magnificent. This is a Corel Draw 3 creation. I went on to use this drawing as a tapecover.

| | | |
| --- | --- | --- |
| Full 615x768 / 40k | Big 590x735 / 37k | VGA 385x480 / 21k |
---
Unreal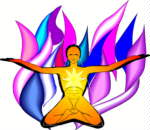 This drawing is heavily influenced by the book "The Path of the Peaceful Warrior". In the book the main character is in persuit of an unreasonable happiness (a happiness not based on any outside influence, but eminating from within like ET's glowing chest). In the drawing I am sitting in a symetrical position and my energy field is flowing out from my heart. The wave-forms in the background are just there to add a dynamic element of design. Again this drawing was created using Corel Draw 3

| | | |
| --- | --- | --- |
| Full 891x768 / 85k | Big 850x735 / 80k | VGA 562x480 / 44k |
---
Vortex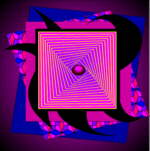 Vortex is an exercise. I was practicing creating depth and the illusion of three dimensions on the screen. It is a blend of two squares and some other graphic elements.

| | | |
| --- | --- | --- |
| Full 772x768 / 90k | Big 734x735 / 84k | VGA 481x480 / 44k |
---
Moody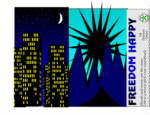 The half city - half mountain drawing I call Moody. I was feeling intimidated by the mountains and lonely for NY. I was also fascinated by the effects of a city's lights at night. I was in downtown Denver at the time I drew this. I used Corel Draw 3; the best drawing program out there.

| | | |
| --- | --- | --- |
| Full 1024x738 / 90k | Big 980x706 / 86k | VGA 640x459/ 47k |
---
---
Write to the artist:dmm@qadas.com
---
Send comments to: martinm@eskimo.com or mm@Franz.com

Last update to this page was on March 4, 1997

Back Home