| | | |
| --- | --- | --- |
| | &nbsp | |
WHY A CLASSIC?
It is interesting to note a myriad of cruising designs that fill the pages of boating magazines, now that cruising is in vogue. Some are good, some not so good, and a few are really bad. They come and go, and even the good ones have little more to offer than the designs of such great names as Hereshoff, Atkins, Angleman, or Garden, the excellence of which has been proven by hundreds of offshore passages in fair weather and foul. The reputation of these designs and their builders have been made by word-of-mouth whereever and whenever cruising deepwater sailors have gotten together for a gam and exchange of experiences.
A classic Angleman design has now been up-dated in fiberglass to provide the strength and ease of maintenance of modern materials which tdgether with today's advancedsail cloth and sailmaking techniques provides impressive cruising performance for fast passagemaking far beyond the original.
In response to the inherent appeal of this time-proven design, and because we recognize its virtues for long distance cruising we have proudly named this extraordinary example of the boatbuilder's art, the MAGELLAN 36. These beautiful yachts are built under the demanding supervision of our own inspectors by the Chung Hwa Boat Building Co. Ltd. of Taiwan whose excellent reputation of building fine yachts is as widespread as its world distribution of deepsea trawlers and sailcraft.
In addition to a revised sailpian we have incorporated many design features the experienced ocean sailor will appreciate such as dependable quality winches, bronze seacocks on all thru-hulls, stainless rigging, manual gusher type as well as automatic electric bilge pumps, a chart table at the navigation station, and much more that must be seen and experienced to be believed.
The purchase of a yacht represents a sizeable investment in which value received must be a prime consideration. We challenge any builder to provide equal value in a luxury yacht to match the quality of construction, the faultless teak joinery, the completeness of the standard inventory, or the integrity of the after-sale support of the MAGELLAN 36.
In the competitive world we live in it is only too easy to be misled by promises that remain unfulfilled, by prices too often distorted, and by warranty claims that remain unsatisfied.
We ask only that you review our record, check our specifications carefully to make valid comparison and make arrangements for a convincing demonstration.
We remain confident your ultimate choice will be a MAGELLAN 36.
---
Page 2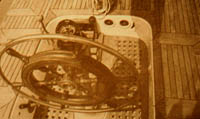 The classic beauty and form of the MAGELLAN 36 extends from its bow pulpit to its graceful wineglass stern. Nowhere is this more evident than in its binacle and solid teak stainless rim wheel... but what truly delights the eye is below decks.
A handsome set of louvered doors lead to the companionway and the salon. The richness of the teak parquet sole is a delightful surprise as one notes the galley to port and a roomy locker and wide quarter berth to starboard.
---
Page 3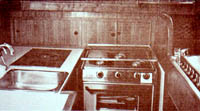 The "modern" in Modern Classic describes the MAGELLAN 36 galley. A gleaming stainless 3-burner and glass door oven highlights the conpact arrangement. Dish racks, pot and pan stowadge, spice cabinet, and deep stainless sink with both manual and pressure water taps offers finger-tip convenience in a secure environment.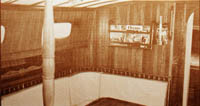 The comfort of the dinette arrangement with all the old-worls charm of panelled teak, turned fiddles, and lattice-door bins around a gleaming teak table comfortably seating six is the high point of the salon. The starboard side bench offers additional seating for the accasional party, and should the need arise both the bench and the settee can be easily converted to guest berths.
---
Page 4
| | | |
| --- | --- | --- |
| | &nbsp | |
The richness, beauty, and charm of the MAGELLAN 36 is fully expressed in the habd-carved door leading to the forward cabin. It is a work of art behind which is the owner's private hideaway complete with an ample hanging locker and drawers and bins for stowage galore. The extra large "V" berths can be made up into a spacious double by adding the filler cushion, and the entire space is light and airy with individual reading lights ands fiddle shelves for each berth. Another hanging locker in the salon forward of the bench settee allows for ample clothing accomodations. More stowage space under the settee is accessible by a bin and a long drawer while additional stowage is hidden away in nooks and crannies, readily available but unobtrusive.
---
Page 5
| | | |
| --- | --- | --- |
| The head with its convenient linen locker, medicine chest, large mirror, and shower arrangement is by every description, luxurious, spacious. and functional. A rare achievement in a yacht this size. One can really move around and the luxury of a hot shower in port comes as a welcome reality after a blustery passage while the large mirror and vanity will be especially appreciated by the ladies of the ship's complement. It is not too much to say that the head is one of the luxury features of the MAGELLAN 36. | &nbsp | Access to the dependable 36 H P Volvo 17C dieseI engine is ingenious On the rare occasion when the engine will need attention, simple removal of the forward panel and the galley counter will provide complete accessibility. When the engine is enclosed, sound-absorbing insulation quiets its operation to a whisper. The complete accessibility at the engine can truly be appreciated should maintenance or repairs be necessary at sea. The entire engine and shaft log are completely exposed and no head-standing gymnastics are required to compltetely service this power plant. Should the batteries be depleted the engine is equipped with a hand crank and can be manually started, a virtue that should not pass unnoticed. |