Print Price Flyer
---
You my print and copy the flyer if you are a customer residing, visiting, or working in the geographic territory of King, Snohomish, Skagit, Whatcom, San Juan or the Island Counties of Washington State USA. If you are not a customer as defined above, you may copy the flyer only if you modify the copy by removing the following logo.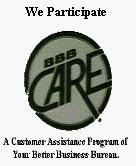 ONLY BBB MEMBERS ARE ALLOWED TO USE THE BBB CARE LOGO.
For information regarding the BBB Care Logo try:
http://www.bbb.org/%5E280640753/council/complaints/BBBcare.html
[Home] [Case Study] [Decision Tree] [Deep Knowledge] [Acknowledgments]
---
http://www.eskimo.com/~mighetto/lsprint.htm last update September 21, 1996.