Welcome to the corner of Seaman and Cumming!


This website is Best Viewed With Any Browser.
Non conçu pour un fureteur particulier. Utilisez ce que vous voulez.
---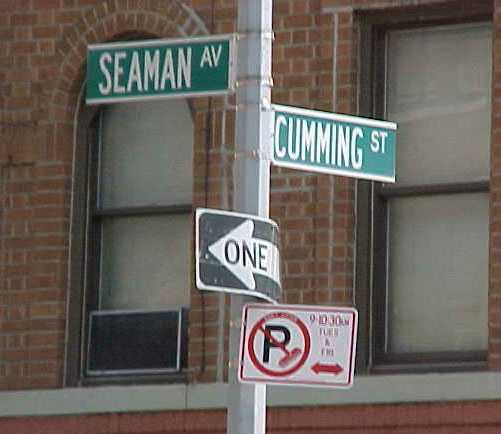 The above pic is of unknown source, circulating around the web; all the other pictures on this web page were taken by me on July 13, 2002.
An interesting corner in upper Manhattan, New York City. Really. Want to see some Seaman and Cumming? Just read on!
To get here, you go west on Dyckman St. (itself somewhat oxymoronic), and turn right on Seaman. If you go left, you hit the park and can go up the path to the Cloisters. If you're coming from the riverside path or the West Side Highway, e.g. on Fast & Fabulous' Ossining route, then you'll turn left on Seaman.
That's me at the corner, and with a friend I rode up with to see the location.
There is actually an Episcopal church here; hopefully with a good sense of humor. Holy Trinity also hosts a children's theater as well as other events. Just tell 'em to meet you at Seaman and Cumming!
Another picture of the church at this corner.
---
Feel free to click here to send me comments.
This site has been viewed
times since May 3, 2001.
There have been Can't open count data file for Reading: No such file or directory Can't open count data file for Writing: No such file or directory System doesn't support file locking: Bad file descriptor




visits to this humor page since July 30, 2002 13:31:30 EDT.

Page created:   July 30, 2002
Last modified:  July 30, 2002