Brute Force (1947)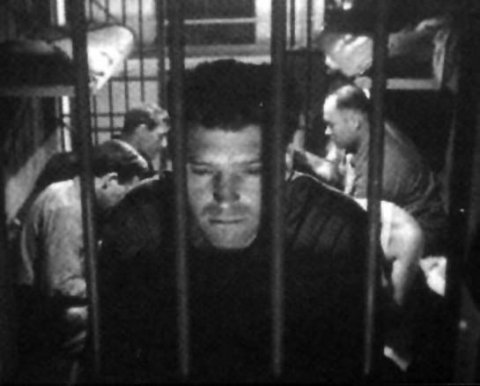 ---
Jules Dassin
Screenplay by Richard Brooks; adapted from an unpublished story by Richard Patterson

Burt Lancaster (Joe Collins)
Hume Cronyn (Captain Munsey)
Charles Bickford (Gallagher)
Yvonne DeCarlo (Gina)
Ann Blyth (Ruth)
Ella Raines (Cora Lister)
Anita Colby (Flossie)
Sam Levene (Miller)
Howard Duff (Soldier)
Whit Bissell (Tom Lister)
Art Smith (Doctor Walters)
Jeff Corey (Freshman)
John Hoyt (Spencer)
Jack Overman (Coy)
Roman Bohnen (Warden Barnes)
Sir Lancelot (Calypso)
Vince Barnett (Muggsy)
Jay C. Flippen (Hodges)
Richard Gaines (McCollum)
Frank Puglia (Ferrara)
James Bell (Crenshaw)
Joe looks buff.

Joe plots a way out.

Justice for an informer--prison style.

Tom Lister and wife Cora in happier times.

Joe tries to persuade Gallagher (far right).

The cellmates make their plans.

Joe shows those pesky prison guards who's the man.

The jailbreak plan goes up in flames.

Joe looks not so buff.

"Ah, that hits the spot." Joe gets an eye massage.
---
DOC (to MUNSEY)
Why would you quit? You'd run out of helpless flies to stick pins into.
MILLER
(about dinner)
Smell that. Now you know what happened to Rin Tin Tin!
---
Dark City home | film titles | directors | book titles and writers | feature | linx
---
(© NOIR, 2014)