The Deep End (2001)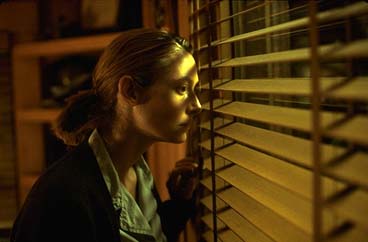 ---
Scott McGehee and David Siegel
Screenplay by Scott McGehee and David Siegel; adapted from the novel The Blank Wall by Elizabeth Sanxay Holding

Tilda Swinton (Margaret Hall)
Goran Visnjic (Alex Spera)
Jonathan Tucker (Beau Hall)
Peter Donat (Jack Hall)
Josh Lucas (Darby Reese)
Raymond Barry (Carlie Nagle)
| | | |
| --- | --- | --- |
| | | |
| Margaret is framed by blinds in a typical noir shot | Margaret finds Darby's body | Time for an express boat ride |
| | | |
| Dead man boating | Beau is underlit in another typical noir shot | Underlit Margaret |
| | | |
| Alex is framed by the blinds | Margaret reacts to seeing Alex again | From left to right: writer-director McGehee, star Swinton, and writer-director David Siegel |
---
Trivia
Based on The Reckless Moment, a film noir directed by Max Ophuls in 1949
The original story had Margaret's character trying to protect her daughter Bee. Beau replaces Bee in The Deep End
"We talk for weeks hashing out a story, work through an outline," says writer-director Scott McGehee in Premiere (September 2001). "We checkerboard through the writing: I'll take a few scenes, David [Siegel] the next few. By the time we get to the set, we're both there to share the work." "It is very difficult to remember who wrote what," says Siegel.
Actress Tilda Swinton adds in Premiere that The Deep End is "the melodrama dressed up as film noir. It's the film about the woman who's thinking her way through a crisis, usually in close-up, with nobody to talk to. She does reckless things, she's forced to make decisions and take responsibility."
---
Dark City home | film titles | directors | book titles and writers | feature | linx
---
(© NOIR, 2014)