D.O.A. (1950)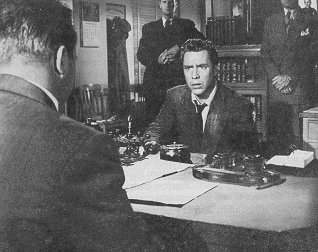 ---
Rudolph Mate
Screenplay by Russell Rouse and Clarence Green

Edmond O'Brien (Frank Bigelow)
Pamela Britton (Paula Gibson)
Luther Adler (Majak)
Beverly Campbell (Miss Foster)
Lynn Baggett (Mrs. Philips)
William Ching (Halliday)
Henry Hart (Stanley Philips)
Neville Brand (Chester)
Laurette Luez (Marla Rakubian)
Jess Kirkpatrick (Sam)
Cay Forrester (Sue)
Fred Jaquet (Dr. Matson)
Larry Dobkin (Dr. Schaefer)
Frank Gerstle (Dr. MacDonald)
Carol Hughes (Kitty)
Michael Ross (Dave)
Donna Sanborn (Nurse)
Frank reports a murder to the cops--his own

"You want me to drink what?"

Frank really knows how to be nice to a woman

Frank hides from Majak and co.

Publicity shot of Frank and Chester
---

DOCTOR
I'll arrange for your admission to the hostpial immediately. Of course, I'll have to notify the police. This is a case for Homicide.


FRANK
Homicide?
DOCTOR
I don't think you fully understand, Bigelow. You've been murdered.


MAJAK (on CHESTER)
He is an unfortunate boy. He is psychopathic.
---
Trivia
Guests on the register at the Alison Hotel where Frank stays in Los Angeles include Marty Moss (the assistant director for D.O.A.), Ernest Laszlo (director of photography) and Russell Rouse (co-screenwriter).
Filming took place on-location on the city streets of San Francisco and Los Angeles.
---
Dark City home | film titles | directors | book titles and writers | feature | linx
---
(© NOIR, 2014)