Double Indemnity (1944)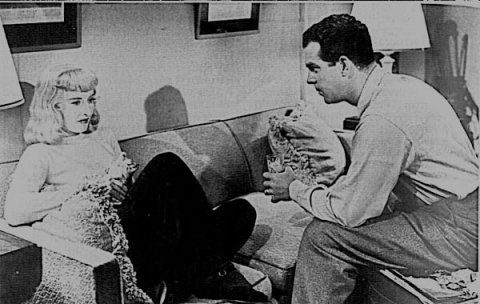 ---
Billy Wilder
Screenplay by Raymond Chandler and Billy Wilder, adapted from the novel by James M. Cain

Fred MacMurray (Walter Neff)
Barbara Stanwyck (Phyllis Dietrichson)
Edward G. Robinson (Barton Keyes)
Jean Heather (Lola Dietrichson)
Tom Powers (Mr. Dietrichson)
| | | |
| --- | --- | --- |
| | | |
| Phyllis tells Walter about her husband | Walter is hard at work; Keyes eavesdrops | Phyllis helps Walter |
| | | |
| Phyllis helps Walter board the train | Phyllis and Walter at the train tracks | From another angle--Phyllis and Walter at the train tracks |
| | | |
| Walter and Phyllis with the getaway car | Walter and Keyes | Phyllis faces off against Norton, Keyes and Walter |
| | | |
| Walter conceals Phyllis | From another angle--Walter conceals Phyllis from Keyes | Phyllis and Walter talk secretly |
| | | |
| Phyllis and friend | Walter and Phyllis | |
| | | |
| Keyes and Walter at the office | Keyes finds Walter | The original ending that was edited from the final version of the film |
---
PHYLLIS
There's a speed limit in this state Mr. Neff. 45 mph.

WALTER
How fast was I going officer?

PHYLLIS
I'd say around 90.

WALTER
Suppose you get down off your motorcycle and give me a ticket?

PHYLLIS
Suppose I let you off with a warning this time?

WALTER
Suppose it doesn't take?

PHYLLIS
Suppose I have to whack you over the knuckles?

WALTER
Suppose I burst out crying and rest my head on your shoulder.

PHYLLIS
Suppose you try putting it on my husband's shoulder?

WALTER
That tears it.
---
Dark City home | film titles | directors | book titles and writers | feature | linx
---
(© NOIR, 2014)