Laura (1944)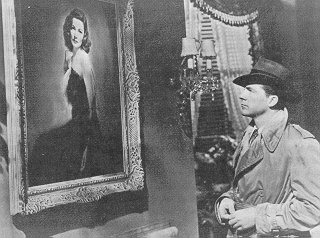 ---
Otto Preminger
Screenplay by Jay Dratler, Samuel Hoffenstein, and Betty Reinhardt; adapted from the novel by Vera Caspary

Gene Tierney (Laura)
Dana Andrews (Detective Mark McPherson)
Clifton Webb (Waldo Lydecker)
Vincent Price (Shelby Carpenter)
Judith Anderson (Ann Treadwell)
| | | |
| --- | --- | --- |
| | | |
| Mark interviews Waldo | Yet another view of Waldo's impressive bod | Waldo flanked by Mark and Shelby as Ann looks on |
| | | |
| From left to right--Waldo and Laura meet Shelby and Anne at a swanky party | "I can't believe it's not a ghost!" Mark meets Laura | Mark and Shelby at Laura's country cottage |
| | | |
| Waldo surrounded by Mark and Laura | Mark and the woman of his dreams | The perfect relationship--no pesky conversation needed |
| | | |
| Shelby and Mark look at Waldo | Waldo catches sight of his beloved in the mirror while Mark watches | |
---
MARK
Nice little place you have here Mr. Lydecker.
WALDO
It's lavish, but I call it home.
WALDO
Laura considered me the wisest, the wittiest, the most interesting man she had ever met. I was in complete accord with her on that point.
MARK
What is your relationship with Mr. Carpenter?
ANNE
What do you mean?
MARK
What I mean is he's been a frequent guest in your home. Is he an acquaintance? Friend? Are you in love with him?
WALDO
This is beginning to assume fabulous aspects!
WALDO
Have you ever been in love?
MARK
A doll in Washington Heights once got a fox fur out of me.
WALDO
I don't use a pen. I write with a goose quill dipped in venom.
LAURA
Yesss, but this is a very fine pen, Mr. Lydecker.
WALDO
You seem to be completely disregarding something more important than your career.
LAURA
What?
WALDO
My lunch.
WALDO
In my case self-absorption is completely justified. I have never discovered any other subject quite so worthy of my attention.
WALDO
I'm vicious. It's the secret of my charm.
WALDO
(to Mark)
Haven't you heard of science's latest triumph, the doorbell?
---
Dark City home | film titles | directors | book titles and writers | feature | linx
---
(© NOIR, 2014)