The Maltese Falcon (1941)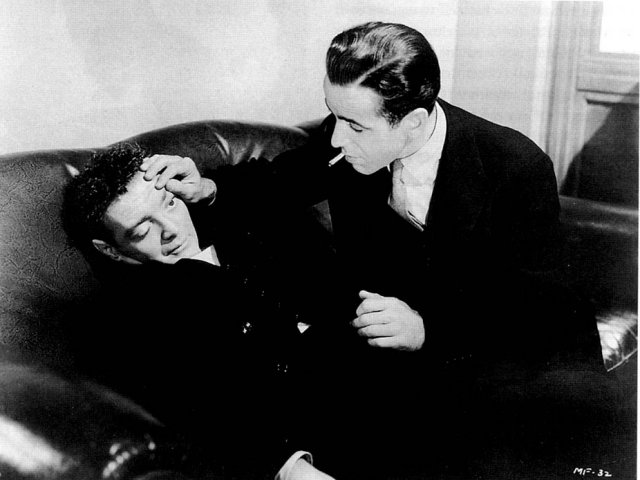 ---
Our rating:
John Huston
Screenplay by John Huston; adapted from the novel by Dashiell Hammett


Humphrey Bogart (Sam Spade)
Mary Astor (Brigid O'Shaughnessy)
Gladys George (Iva Archer)
Peter Lorre (Joel Cairo)
Barton MacLane (Lieutenant Dundy)
Lee Patrick (Effie)
Sydney Greenstreet (Gutman)
Ward Bond (Sergeant Tom Polhaus)
Jerome Cowan (Miles Archer)
Elisha Cook Jr. (Wilmer Cook)
James Burke (Luke)
Murray Alper (Frank Richman)
John Hamilton (Bryan)
Sam Spade about to receive the news of his partner's murder

The cop tells Sam about Archer's death

Sam surveills Wilmer surveilling Sam

Sam rouses Joel Cairo

Brigid wants to keep fighting Cairo

Sam, Joel, Brigid, the fat man and the falcon

Sam reveals his true feelings about Iva's tears as she turns her back

Sam takes a nap on company time. Tsk, tsk, say Wilmer, Cairo and Gutman (from left to right)
---
SAM SPADE
When you're slapped, you'll take it and like it.
WILMER
Keep on riding me. You're gonna be picking iron out of your liver.
SAM SPADE
The cheaper the crook, the gaudier the patter.
SAM SPADE
When a man's partner is killed he's supposed to do something about it. It doesn't matter any difference what you thought of him. He was your partner and you're supposed to do something about it.
---
Dark City home | film titles | directors | book titles and writers | feature | linx
---
(© NOIR, 2014)