The Naked City (1948)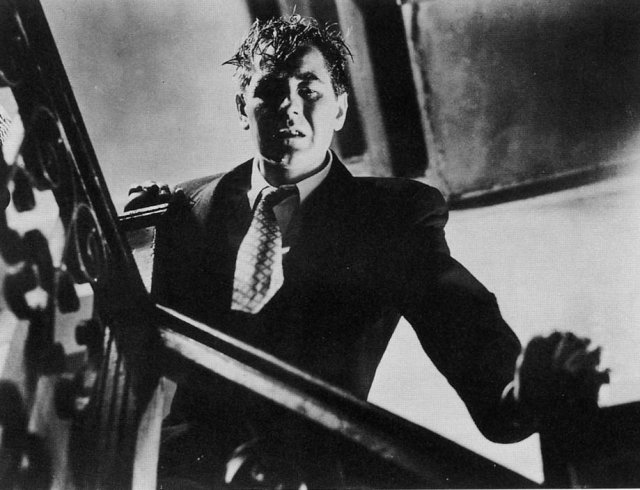 ---
Jules Dassin
Screenplay by Albert Maltz and Marvin Wald; based on an unpublished story by Marvin Wald

Barry Fitzgerald (Lt. Dan Muldoon)
Howard Duff (Frank Niles)
Dorothy Hart (Ruth Morrison)
Don Taylor (Jimmy Halloran)
Frank Conroy (Captain Donahue)
Ted de Corsia (Garzah)
House Jameson (Dr. Stoneman)
Anne Sargent (Mrs. Halloran)
Adelaide Klein (Mrs. Batory)
Grover Burgess (Mr. Batory)
Tom Pedi (Detective Perelli)
Enid Marley (Mrs. Hylton)
| | | |
| --- | --- | --- |
| | | |
| Diagnosis murder | Halloran questions a wooden mannequin--whoops, make that Ruth | Halloran has a bad hair day |
| | | |
| Halloran pursues Garzah | Garzah on the run | Garzah finds that the stairway doesn't lead to heaven |
| | | |
| A passerby takes a bite out of crime | Muldoon stands vigil over the city at night | On location with director Jules Dassin |
---

CAPTAIN DONAHUE
You're free, aren't you Dan?
MULDOON
Haven't had a hard day's work since yesterday.

CAPTAIN DONAHUE
(about Halloran)
How's he doing?
MULDOON
He's making the same mistakes I made at his age.
CAPTAIN DONAHUE
That's too bad. I thought he showed promise.

MRS. BATORY
Wanting too much. That's why she went wrong. Bright lights and theatres and furs and nightclubs. That's why she's dead now. Dear God, why wasn't she born ugly?

CAPTAIN DONAHUE
(outraged over Frank Niles)
Buying a plane ticket, pawning a stolen cigarette case. That's not smart! What's this man, an amateur or something?

NARRATOR
There are 8 million stories in the naked city. This has been one of them.
---
Dark City home | film titles | directors | book titles and writers | feature | linx
---
(© NOIR, 2014)