Novocaine (2001)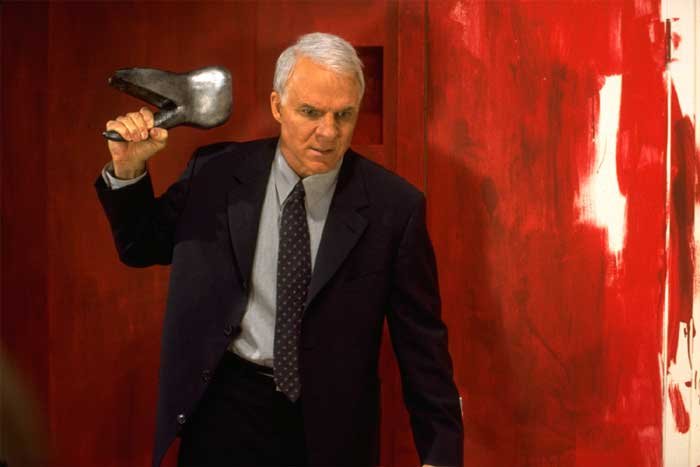 ---
David Atkins
Screenplay by David Atkins; based on a story by David Atkins and Paul Felopulos

Steve Martin (Frank Sangster)
Helena Bonham Carter (Susan Ivey)
Laura Dern (Jean Noble)
Elias Koteas (Harlan Sangster)
Scott Caan (Duane Ivey)
Kevin Bacon (Lance Phelps, uncredited)
Keith David (Detective Lunt)
Lynne Thigpen (Pat)
| | | |
| --- | --- | --- |
| | | |
| Jean gets mouthy with Frank | Frank is armed to the tooth | Duane tries to break it gently to Harlan that the bob does not work on him |
| | | |
| Susan is the lead apron female in Novocaine | Jean's concerned that Frank's become a shadow of his former self | "It's this big." Frank fails to impress Susan |
| | | |
| Movie poster | | |
---

FRANK V.O.
A person can lose a lot of things. He can lose his job, he can lose his life. But I've always said that the worst thing a man can lose is his teeth. I should know.

FRANK V.O.
Lying is a lot like tooth decay.

FRANK
Root canals and beer don't mix.

SUSAN
Can I ask you a professional question?
FRANK
If you must.
SUSAN
Ever do it in the chair?

FRANK
Would you take one hundred dollars to let me go?
SECURITY GUARD
How much?
FRANK
One hundred.
SECURITY GUARD
Why yes, I would!
---
---
Dark City home | film titles | directors | book titles and writers | feature | linx
---
(© NOIR, 2014)