A Simple Plan (1998)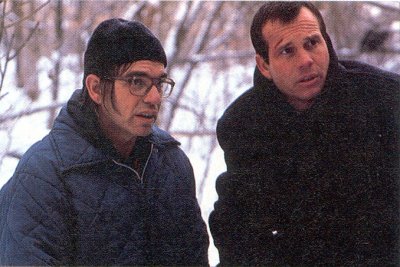 ---
Sam Raimi
Screenplay by Scott B. Smith; adapted from the novel by Scott B. Smith

Bill Paxton (Hank)
Billy Bob Thornton (Jacob)
Bridget Fonda (Sarah)
Gary Cole (Baxter)
Brent Briscoe (Lou)
Becky Ann Baker (Nancy)
Chelcie Ross (Carl)
Tom Carey (Dwight Stephanson)
| | | |
| --- | --- | --- |
| | | |
| Jacob and Hank | Sarah | Hank and Jacob in the woods |
| | | |
| Jacob and Hank again | Director Sam Raimi | |
---

JACOB
You don't trust us? Is that what you mean?
HANK
It's a lot of money. I guess I don't.

SARAH (to HANK)
Nobody would ever believe you'd be capable of doing the things that you've done.
---
Trivia
Before Sam Raimi became the director, other names to direct included Mike Nichols, John Boorman, Ben Stiller (so wrong) and John Dahl (good other choice). "Even I originally passed on it," Raimi told Entertainment Weekly in 1998.
Filming was originally slated to take in Minnesota, but moved to where the snow was--Wisconsin.
The father of Bill Paxton (Hank Mitchell), John Paxton, has a small part in the film as "Mr. Schmitt."
---
Dark City home | film titles | directors | book titles and writers | feature | linx
---
(© NOIR, 2014)