Sorry, Wrong Number (1948)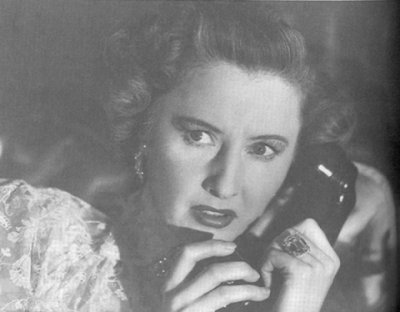 ---
Anatole Litvak
Screenplay by Lucille Fletcher; adapted from her radio play

Barbara Stanwyck (Leona Stevenson)
Burt Lancaster (Henry Stevenson)
Ann Richards (Sally Hunt Lord)
Wendell Corey (Dr. Alexander)
Harold Vermilyea (Waldo Evans)
Ed Begley (James Cotterell)
Leif Erickson (Fred Lord)
William Conrad (Morano)
John Bromfield (Joe (Detective))
Jimmy Hunt (Peter Lord)
Dorothy Neumann (Miss Jennings)
Paul Fierro (Harpootlian)
| | | |
| --- | --- | --- |
| | | |
| Leona overhears a murder being planned | Leona reacts | Henry tries to evade arrest by being on the phone |
---

OPENING PROLOGUE
In the tangled networks of a great city, the telephone is the unseen link between a million lives...
It is the servant of our common needs--the confidante of our inmost secrets…...
Life and happiness wait upon its ring...and horror...and loneliness...and death!!!

HENRY (to the maid)
I'd like to have Mrs. Stevenson's bag.
(Marie looks at Leona for direction)
LEONA
It's alright, Marie.
(Marie leaves)
(to Henry) How much do you want?
HENRY
How much do I...? I'm sorry to disappoint you dear, but it isn't what you think. It's simply that I wrote Ferguson's phone number in your notebook last night.
---
Trivia
This is one of the few films noir that features multiple flashbacks with multiple narrators
Two of the people doing the voice over for the flashbacks are women: Miss Jennings and Sally Lord
Sorry, Wrong Number even features a flashback within a flashback--Henry's flashback is contained within Dr. Alexander's
---
Dark City home | film titles | directors | book titles and writers | feature | linx
---
(© NOIR, 2014)