Sunset Boulevard (1950)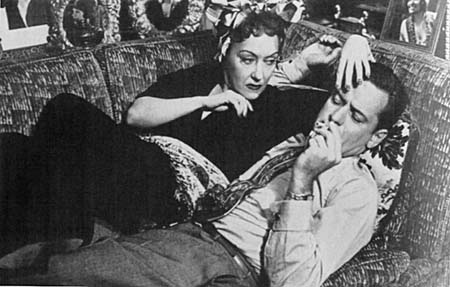 ---
Billy Wilder
Screenplay by Charles Brackett, Billy Wilder and D. M. Marshman Jr.

William Holden (Joe Gillis)
Gloria Swanson (Norma Desmond)
Erich von Stroheim (Max von Mayerling)
Nancy Olson (Betty Schaefer)
Fred Clark (Sheldrake)
Lloyd Gough (Morino)
Jack Webb (Artie Green)
Cecil B. DeMille (Himself)
Hedda Hopper (Herself)
Buster Keaton (Himself)
Anna Q. Nilsson (Herself)
H. B. Warner (Himself)
| | | |
| --- | --- | --- |
| | | |
| Joe is simply enthralled by modest Norma | Norma and Joe the amazing toy boy | The happy couple |
| | | |
| Norma and the must-have accessory of every self-respecting femme fatale | Norma makes her final descent | Still making her descent |
---
JOE (to BETTY)
You'd have turned down Gone with the Wind.
SHELDRAKE (wearily)
No, that was me. I said, "Who wants to see a Civil War picture?"
BETTY
I'd always heard that you had some talent.
JOE
That was last year. This year I'm trying to make a living.
JOE
If I lose my car it's like having my legs cut off.
JOE's AGENT
Greatest thing that could happen to you. Now you'll have to sit behind a typewriter. Now you'll have to write.
JOE
You're Norma Desmond. You used to be in silent pictures. You used to be big.
NORMA
I am big. It's the pictures that got small.
JOE
The last one I wrote was about Okies in the dust bowl. You'd never know because when it reached the screen, the whole thing played on a torpedo boat.
NORMA
It's the story of Salome. I think I'll have DeMille direct it.
JOE
DeMille. Uh huh.
NORMA
We made a lot of pictures together.
JOE
(sarcastic)
And you'll play Salome.
NORMA
Who else?!?
NORMA
Salome. What a woman. What a part. A princess in love with a holy man. She dances the dance of the seven veils. He rejects her so she lays his head on a golden tray kissing his cold dead lips.
JOE
They'll love it in Pomona.
NORMA
They'll love it everyplace.
DEMILLE
Norma Desmond?
DEMILLE's ASSISTANT
She must be a million years old.
DEMILLE
I hate to think where that puts me. I could be her father.
NORMA
I can't go on with the scene. I'm too happy. Mr. DeMille, do you mind if I say a few words? Thank you. I just want to tell you all how happy I am to be back in the studio making a picture again. You don't know how much I've missed all of you. And I promise you I'll never desert you again because after Salome we'll make another picture! And another picture! You see, this is my life. It always will be. There's nothing else, just us and the cameras and those wonderful people out there in the dark. Alright Mr. DeMille, I'm ready for my close up.
---
Trivia
Director Billy Wilder wanted actress Pola Negri for the part of Norma Desmond.
Heart-throb Montgomery Clift declined the role of Joe Gillis because he didn't want to play opposite the older female star Gloria Swanson.
The film was originally planned as a comedy.
It was co-art director John Meehan who came up with the idea for the film's opening shot of Gillis face down dead in the swimming pool.
---
Dark City home | film titles | directors | book titles and writers | feature | linx
---
(© NOIR, 2014)