Highlighted British Actors
Jump to shows listed alphabetically
A | B | C | D | E | F | G | H | I | J | K | L | M | N | O | P | Q | R | S | T | U | V | W | X | Y | Z
Index
Steve Coogan
Warren Clarke
Martin Clunes
Harry Enfield
Robert Lindsay
Rik Mayall
Paul Merton
Steve Coogan
Character actor Steve Coogan is most famous for two characters: unctuous television host Alan Partridge (as seen in Knowing Me, Knowing Yule) and dim-bulb Paul Calf (Paul Calf's Video Diary and its sequel Pauline Calf's Video Wedding). In his 1995 series Coogan's Run, he got to play six different characters who co-exist in the same connected universe (or at least Paul Calf manages to cameo in each story). In "Get Calf" Paul is the center of attention as gangsters come after him. "Dearth of a Salesman" shows the life of a shallow salesman. "Handyman For All Seasons," an elderly village fix-it man in rural England must fight progress. "natural born quizzers" reveals the life stories of two nutters who escape from jail and hope to wreak revenge for an incident on a television school quiz show 20 years earlier. Rounding out the series are "Thursday Night Fever" and "The Curator." His latest creation is Portuguese pop singer (and slimeball) Tony Ferrino. Coogan's first dramatic role came in 1997's The Fix, where he played a crusading journalist who uncovers a soccer scandal. Alan Partridge finally resurfaced in 1997 in the "fly on a wall" mockumentary series I'm Alan Partridge, chronicling his return from exile. Coogan made a cameo appearance in Channel 4's Alice Through The Looking Glass, and appeared as a vicar in an episode of Mrs Merton & Malcolm. In 2001, he played the never-before-seen Geoff in A Small Summer Party, the prequel to Marion & Geoff. He also created and starred in a new anthology comedy series, Dr Terrible's House of Horror. In 2002 he did another series of I'm Alan Partridge, as well as co-starred in the BBC TV movie Cruise of the Gods as an actor from an old science fiction series. He starred as the famed London diarist in The Private Life of Samuel Pepys in 2003. In 2004 after his breakthrough part in 2002's "24 Hour Party People" he co-starred with Jackie Chan in the movie remake of "Around The World In 80 Days." He also appeared on ITV's All-Star Comedy Show and produced and performed a voice in the animated I Am Not An Animal. In 2006 he was the eponymous

Saxondale

, a former roadie whose best days are behind him. In 2010 he and Rob Brydon starred as "themselves" (or exaggerated comic versions) in

The Trip

. He also did a short monologue in

Chekhov: Comedy Shorts

called "The Dangers of Tobacco." In 2012 he revived the Alan Partridge character for a series of internet shorts called

Mid-Morning Manners,

as well as a spoof biography,

Welcome To The Places Of My Life

.
Martin Clunes

Big-eared Martin Clunes rode to fame in the comedy Men Behaving Badly. He is equally likely to turn up in a sketch comedy show (typically with former co-star Harry Enfield) or a drama such as Demob where he played a gay cabaret entertainer alongside Griff Rhys-Jones. His appearances include: a villain in a 1983 Doctor Who episode ("Snakedance"), Gone To The Dogs, Chiller, An Evening With Gary Lineker (along with Badly co-star Caroline Quentin), the "Dancing Queen" episode of Rik Mayall Presents, and Over Here. He also narrates the children's program Rottentrolls. In 1994 he directed and starred in Staggered. He made a cameo appearance as a bedridden patient in the Channel 5 comedy Hospital! In 1998 he appeared in the TV movie adaption of Tim Firth's stageplay Neville's Island, where he played an executive who hasn't coped with the death of his wife yet. In Touch and Go, he starred as a husband who discovers the "swingers" scene. In 1999 he directed and starred in the comedy TV movie Hunting Venus, and was a supporting actor in the movie "Saving Grace." In 2000 he starred in the TV movie Sex 'n Death as an over-the-top television host, and the mini-series Dirty Tricks. In 2002 he played the title character in the remake of Goodbye Mr. Chips, as well as 1940s serial killer John Haigh in A Is For Acid. In 2003 he starred in the romantic drama series William & Mary as an undertaker in love with a midwife, and in the comic TV movie The Booze Cruise. In 2004 his TV appearances included the children's series Fungus The Bogeyman, Trapped, and the lead in Doc Martin as an acerbic physician. In 2008 he starred in the TV Movie The Man Who Lost His Head, a comedy set in New Zealand. In 2009 he starred in a remake of

Reggie Perrin

.
Robert Lindsay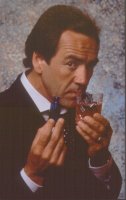 Robert Lindsay's first TV hit was the 1970s BBC comedy Citizen Smith where he starred as Wolfie Smith, a member of the "Tooting Popular Front," and would-be revolutionary. He has since specialized in playing offbeat characters, usually in Alan Bleasdale productions. One of his most famous is GBH, a 1991 Channel Four production where he played Michael Murray, the increasingly unstable leader of a city council, full of nervous tics. It was impossible to take your eyes off the screen when Lindsay appeared. He returned to situation comedy with two seasons of Nightingales, a bizarre series about night watchmen (just an example: whenever anybody asked, "Is anybody here?" The response was a lilting, "Nobody here but us chickens," complete with flapping arms). All his character dreamed of was getting promoted to a better position, but he was continually thwarted in his efforts. This obscure, clever show deserves screening in the United States. In 1993's Genghis Cohn, Lindsay played a German chief of police with a Nazi past. When one of his victims comes back to haunt him (and of course only Lindsay can see him), the revenge he wreaks on Lindsay is both delicious and fitting. The Wimbledon Poisoner is a comedy/drama about a man driven to kill his wife, only to succeed in wiping out most of his neighbors instead. In 1995, he reteamed with Bleasdale for Jake's Progress a meandering drama with Lindsay as a well-intentioned father who lets events get away from him. In 1996 he starred in a comedy pilot called The Office where on an important day he manages to lose all his clothes in his bosses office and run around naked for most of the episode trying to cover it up. In October 1996 he was appearing on stage in the West End of London in "Oliver." He was reunited with frequent co-star Julie Walters in Brazen Hussies as part of the BBC's "Wicked Women" series where he played a male stripper. In the fact-based drama Goodbye My Love he played right-to-life advocate Derek Humphry. In 1997 he appeared in the movie "Fierce Creatures" along with John Cleese and Jamie Lee Curtis. In the Hornblower TV Movies he appears as Captain Pellew. In 1998 he appeared in the TV movie Remember Me? as man on the run who disrupts a suburban household. In 1999 he appeared in Bleasdale's adaptation of Oliver Twist. He returned to sitcom life in 2000 as a demented dentist in My Family. In 2006 he appeared in two back-to-back Stephen Poliakoff dramas,

Gideon's Daughter

and

Friends and Crocodiles

. In 2007 he played a futuristic Tony Blair facing war-crimes in

The Trial of Tony Blair

. In 2011 he played the half-mad director of MI5 in Sky1's comedy

Spy

. Visit his official website.
Rik Mayall
Rik Mayall rose to prominence in the BBC-2 comedy The Young Ones as "Rik," the people's poet who worshipped Cliff Richard (little known fact: Sir Cliff starred in a musical called "The Young Ones," as well as "Summer Holiday," the title of the final episode of the television series). The Young Ones featured appearances by nearly everyone who would have a impact on 80s television: Robbie Coltrane, Mel Smith, Emma Thompson, Norman Lovett, Stephen Fry, Hugh Laurie, and Griff Rhys-Jones. Rik made many appearances in Comic Strip Presents... productions. Mayall's signature character, and the defining person of the Thatcher era, was Alan B'Stard of The New Statesman. From 1987 to 1992 Alan schemed and plotted to get-rich-quick, abetted by his dimwitted friend Piers (Michael Troughton), and equally greedy wife. In the final season he became a European Member of Parliament in Brussels. In the feature film "Drop Dead Fred" (filmed in Minnesota), Rik played an imaginary friend to Phoebe Cates who nearly ruins her life. Rik is hysterical in the movie, even if it wasn't a big success. He reteamed with his Young Ones co-star Adrian Edmondson in Bottom, playing a character very similar to his earlier one, only ten years later. This extremely violent and physical show has toured England as a stage show for several years and produced a movie, Guest House Paradiso. ITV, to counter a new season of Comic Strip Presents..., commissioned Rik for three separate one-long comedy/drama productions of Rik Mayall Presents. Armed with big name guest stars (Amanda Donohoe, Helena Bonham-Carter), the ratings were good enough for a second set of three shows giving him a chance to show other sides of himself. In 1994's Horse Opera, a musical written for television by Stewart Copeland, featured Mayall as a singing cowboy in an extended fantasy sequence. Rik lent his voice to animation for 1995's How to be a Little Sod as the world's worst baby giving tips on how to drive your parents crazy. He was also the voice of "Toad of Toad Hall" for an animated production of Wind In The Willows. In 1997 he played a guest villain in the soap cop series The Bill. He also appeared as a demented priest trying to exorcise Ian Richardson in The Canterville Ghost. In 1998 he reunited with the Comic Strip Presents team for "Four Men In a Car." In real life, after suffering a near-fatal motor vehicle accident in 1998, Rik is back to work on new productions, including the Jonathan Creek 1998 Christmas special; an animated sequel, The Willows In Winter; and Remember Me? as an unemployed suburban husband. In 2000 he made a cameo as Robin Hood in Blackadder: Back and Forth, and a new Comic Strip Presents, "Four Men In a Plane." In 2002 he reteamed with his New Statesman writers to play possible mad genius Adonis Cnut in the conspiracy sitcom Believe Nothing.
Paul Merton
Sardonic Paul Merton's patented delivery has been well put to use on British television in recent years. A regular on Have I Got News For You (except for the Spring 1996 season), plus appearances on Whose Line Is It Anyway? have demonstrated his quick wit time and again. In 1993, the aptly named Paul Merton: The Series featured sketches written and starring Paul. In 1994 he co-starred in An Evening With Gary Lineker, a football (soccer) comedy about World Cup fever. In 1995 he hosted Paul Merton's Life of Comedy a compilation of classic comedy clips bracketed with scenes of Paul growing up (he even plays his own father) with television. In 1995 writers Galton and Simpson dusted off their old 30-minute comedy plays originally written for Tony Hancock, revised them, and let Paul put his unique stamp on them. For Christmas 1997 he hosted the spoof Does China Exist?. His voice appeared (as a demented doctor) in the 1998 animated series Rex The Runt. He played the on-stage narrator in the filmed 1998 Christmas panto Jack & The Beanstalk. In 1999 he took over hosting Room 101, a light-hearted look at celebrity's hatreds. He directed a short in 2001, The Suicidal Dog.

---
Jump to shows listed alphabetically
A | B | C | D | E | F | G | H | I | J | K | L | M | N | O | P | Q | R | S | T | U | V | W | X | Y | Z
---
Written and maintained by Ryan K. Johnson (rkj@eskimo.com). April 17, 2008