Sushi Express (Closed)
5700 N. Mesa St.
El Paso, TX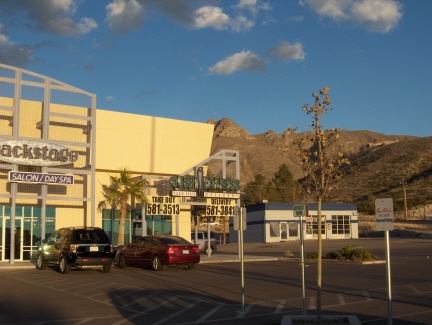 It seems that the "sushi phenomenon" first took off in Ciudad Juarez and then spread to El Paso, so that a meal of healthy fish has replaced many trips that otherwise would be made to local fast food joints. Sushi Express joins the growing list of casual, relatively inexpensive sushi restaurants that really specializes more in California and other types of rolls than traditional sushi.
Although the nigiri is not as prominently featured on the menu as the rolls, I wanted to try a couple of them. Sushi Express is different from most restaurants in that it sells the pieces of fish individually instead of orders or two. Although there is a sushi bar in the restaurant, the chefs work in the kitchen and I had to ask for the head chef to come into the dining room in order to ask for recommendations. His first recommendation was Salmon, and I got a couple of pieces as would be served in a traditional order. This fish was very fresh and probably the best I have had in El Paso. I am not sure the salmon was anything other than farm raised Atlantic salmon, but I would have to say the sushi was not bad.
Yellowtail Sushi was also recommended, but this had a "fishy" taste that would exclude it from being served in any good sushi restaurant in a major city. Maybe the restaurant figures people in El Paso do not know any different, but this did not bode well for the other sushi selections that were not on the chef's recommended list. Still, I appreciated the fact that the chef was willing to make recommendations, and not allow the customer to suffer through a less desirable sushi experience.
Of course the California roll seems to be the specialty of the restauant, as it is in most of the casual style sushi places in El Paso.
Miso Soup did not add much to the meal in terms of either flavor or substance, being quite thin and suspiciously similar to soups that come from a mix (but certainly something that I did not mind eating).
Probably the best feature of Sushi Express is the moderately priced bill that will result from ordering most items on the menu. There are also some non-sushi traditional Japanese items available, but without trying them I am unable to give a review.
Go to Index
Restaurant Web Site
RESTAURANT DETAILS
RATING: 17
Cuisine: Japanese
Cost: $$
Hours: Open Daily
Accessible: Yes
Tea: Green (bags)
MSG: No
Smoking: No Smoking
Most Recent Visit
Sep. 29, 2006
Number of Visits: 1
Best Item
Sushi
Special Ratings
Sushi:

Salmon
Sushi:

Yellowtail
Miso Soup:

MORE ABOUT THIS WEB SITE