Hideaway Pizza
5501 Northwest Expressway
Oklahoma City, OK
(405) 603-7177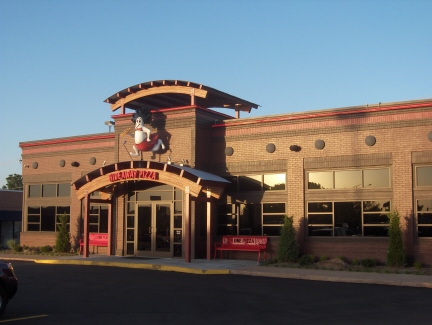 Hideaway Pizza, a chain that started in Stillwater in 1957 and now has seven locations throughout the state, is known by just about all long time residents and is a favorite of many. The special "Hideaway Red" sauce is quite popular, and many people like to order some of the specialty pizzas that are loaded with ingredients.
I do not feel that there is much point in trying to find the best pizza or make suggestions for ordering. Almost everyone in the area knows Hideaway and has a favorite pizza. Instead, I will just relate some of my own experiences.
My initial experience with Hideaway was at the location on Western Avenue. Much of the popularity with the pizza comes from its restaurants in Stillwater and Norman. Since I did not attend college at either place, though, I "missed out" on this experience.
With my limited experience, though, I thought the newest Hideway in Warr Acres (a suburb on the west side of Oklahoma City) was rather disappointing. This could be due to a number of factors including different cooks or my changing tastes. I have found a number of pizza places in the city lately (as well as Italian restaurants) that I think offer fresher and more flavorful pizza. Almost everyone offers pizzas that can be"loaded up" with ingredients. In my opinion, though, good quality sauce, crust, cheese, and toppings are more important. I do like Hideaway's red sauce, but some of the other ingredients were less interesting.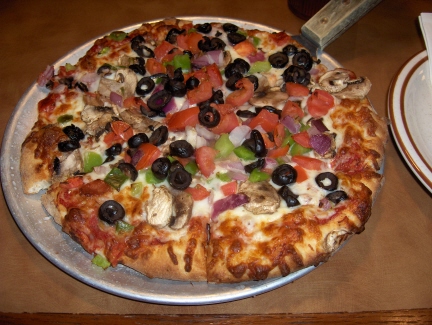 Veggie pizza
The Veggie Pizza comes without the red sauce, and perhaps this is a reason I did not care as much for it as others I have tried. The veggies were good, except for the fact that it was loaded with black olives but no green ones. The cheese was fairly good, but the crust was probably not even average in flavor. The pizza was good, but not to the point I would say you need to rush out to try one.
Go to Index
Restaurant Web Site
RESTAURANT DETAILS
RATING: 20
Cuisine: Pizza
Cost: $$
Accessible: Yes
Additional Locations: 6616 N. Western Ave., 116 E. 5th St. (Edmond), 577 Buchanan (Norman)
Smoking: No Smoking
Alcohol: Beer
Most Recent Visit
Jun. 11, 2008
Number of Visits: 1
Best Item
Pizza
Special Ratings
Veggie Pizza:

MORE ABOUT THIS WEB SITE