The Divine Jim Caviezel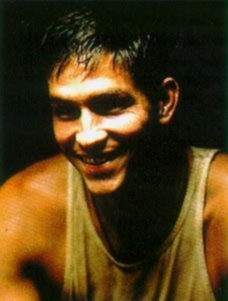 As the Christ-like moral centre of The Thin Red Line, Jim Caviezel gives a brilliant performance by making his character Witt a divine yet believable figure.
Although Witt is Jim's first lead role, he blows away every other actor he appears with. How? By telling us the whole story with one look from his large, expressive eyes.
News
April 17, 2000: I saw Jim's latest film Frequency at a sneak preview (why do they call them that?) over the weekend. What can I say about the movie? On the positive side, Jim does look cute.
Our Jim is the next big thing in Hollywood. Sniff! The boy is growing up so fast! Today, Variety reports that Jim will be starring in the latest film version of The Count of Monte Cristo. Say, Jim, is that a sword in your scabbard or are you just happy to see me? Har har har. The film is to be directed by Kevin Reynolds (yes, the Kevin Reynolds of Waterworld fame).


March 23, 2000: It's been official for a while. Jim will not be in the Michael Bay-directed Pearl Harbour. Jim, Wes Bentley and Charlize Theron lost their respective roles to Ben Affleck, Josh Hartnett and Kate Beckinsdale. Awwww.


February 8, 2000, Variety reports that Jim will play a supporting character in the new film directed by Mimi Leder (Deep Impact), Pay It Forward. The film stars the awesomely talented 11-year-old Haley Joel Osment (The Sixth Sense) as a boy determined to make the world a better place by taking in a homeless recovering heroin addict (guess who). Word of advice to Jim: don't take that method acting too far now, y'hear!
In the book Pay It Forward, written by Catherine Ryan Hyde, Jerry the heroin addict is described as a "man in his forties, at least, short, clean shaven, with a receding hairline, and he was wearing brand-new blue jeans and a stiff-looking denim shirt." Will the wonders of creative Hollywood casting never cease!


April 28, 2000--Jim's new movie Frequency (see below) opens! Jim plays a NYPD detective whose live-in lover moves away from him! Altogether now--woohoo!


January 25, 2000--Director Michael Bay (Armageddon, The Rock) is in talks with Jim to star in his next movie Pearl Harbour about the WWII bombing of--yes, you guessed it--Pearl Harbour. Jim and American Beauty's bug-eyed Wes Bentley may play fighter pilot friends from Tennessee in love with a beautiful nurse played by Charlize Theron.
Note to self: must... resist... urge... to... kill... Theron.
The $130-135 million budgeted movie is slated to begin production in April 2000 and may be released on Memorial Day, 2001.


Jim lost the role of a spiritual golfer to Matt Damon in the new Robert Redford movie, The Legend of Bagger Vance. Say, Bob, when you look up "spiritual" in the dictionary, there's a picture of Jim next to it!


Jim turned down the part of Scott Summers/Cyclops in The X-Men movie directed by Bryan Singer (The Usual Suspects). The part went to James Marsden, who co-starred with Nick Stahl in Disturbing Behaviour. Stahl played Bead in The Thin Red Line. It's a small world after all.


Late 1999! Waaah! Jim was cut from the football movie Any Given Sunday directed by Oliver Stone. He had played Tom D'Amato, Al Pacino's estranged son (credible? Pacino comes up to about Jim's chest).


Um... I don't know how this happened, but Ride with the Devil, in which Jim played a murderous rebel leader, played for two weeks in Seattle and I somehow missed it! But I'd be happy to report to the Jim Re-education Camp!


June 1999:
More Frequency news: Jim's co-star Dennis Quaid is filming on location in the city of New York, i.e. Toronto, Canada, which frequently subs for New York in the movies.
Also co-starring with Jim in Frequency is Andre Braugher (woohoo!), the charismatic and powerful actor who used to be on the television series Homicide: Life on the Street. Given the right part, Andre is likely to blow Jim out of the water. (Sorry Jim, but it's true.)


May 1999:
Jim's latest film Frequency, written by first-time scribe Toby Emmerich and directed by Gregory Hoblit (Primal Fear, Fallen) is filming principal photography in New York. Jim plays a NYPD homicide detective (the audition consisted of the proper enunciation of one word: fuhgedaboutit! Kidding) who, as a young boy, lost his firefighter father played by Dennis Quaid, who died in the line of duty. Jim's character suddenly gets a chance to communicate back in time with his father who is stuck in 1969, a short while before he dies in a fiery blaze. The story has been described as a father-son love story by one of the film's producers. Hmmmm.
Want to know why the title of the film is Frequency? Want to know exactly how Jim and Dennis make the connection across time?
Jim finds his father by using a ...
...ham radio!
Is that the cheesiest device or what?
Also co-starring with Jim and Dennis Quaid is some chick I never heard of, Elizabeth Mitchell. Fortunately, she will be playing Jim's mother. Phew!
Both Dennis and Jim are doing the Method Actor thing--while Dennis is riding around with NYC firefighters, Jim is riding along with NYPD police.
Images
| | | |
| --- | --- | --- |
| | | |
| Jim modeling a tank top in Rolling Stone | Jim modeling no top at all (woohoo!) in US magazine | Uh oh? Did you have too much to drink at the Vanity Fair party, Jimbo? |
| | | |
| Jim has his shirt collar unbuttoned! *thunk* | Jim at the Grizzly Bear Film Festival in Berlin, or whatever it's called--details, details, we're talking about Jim! | A travesty of high school justice! Jim was not named Best Male Hottie! |
| | | |
| Jim in Frequency: somehow it pleases me to see someone I like drunk. But only if they use a designated driver! | Always the centre of the attention--the ham radio | Jim looks at a computer |
| | | |
| Jim and the star of the show--the ham radio | Frequency star Dennis Quaid gets chummy with Jim--things that make you go hmmm? | |
| | | |
| It's Jim! No, it's 1950s star Montgomery Clift | Clift's twin Jim | |
Bio
Date of birth: September 26, 1968
Hometown: Conway, Washington
Current residence: Sherman Oaks, California
Height: 6 feet 2
Weight: 185
Marital status: married to Kerri (formerly Browitt) for three years, a former basketball star from Roslyn, Washington (where the television series Northern Exposure was filmed) who is now a high school English-literature teacher.
Obsessive-compulsive detail noticed by Jim's no. 1 fan (Guess Who): he is left-handed
Vehicle: 1993 Honda Accord
Passion: basketball
Why he said he isn't a smart guy in interviews: he was diagnosed with Attention Deficit and Hyperactivity Disorder in 1994 and also has dyslexia
Jim's contact information
Want to send fan mail, requests for autographs and applications to be in his personal harem to Jim? You can write to him via his agent:
Jim Caviezel
c/o Pamela Cole
United Talent Agency
9560 Wilshire Blvd
Beverly Hills, CA 90212-2400
Jim's films
| | |
| --- | --- |
| Name of film | Frequency (due out April 28, 2000), dir. Gregory Hoblit |
| Film rating | |
| Character played | Homicide detective John Sullivan |
| How adorable is Jim here? | Oddly muted in contrast to co-stars Dennis Quaid and Andre Braugher. On the plus side, he does wear black leather (jacket, sadly). |
| Best Jim line | None, they're all lame |
| | |
| --- | --- |
| Name of film | Any Given Sunday (1999), dir. Oliver Stone |
| Character played | Tom D'Amato, son of Tony D'Amato (Al Pacino), but was cut from the film |
| | |
| --- | --- |
| Name of film | Ride with the Devil (1999), dir. Ang Lee |
| Character played | Black John |
| | |
| --- | --- |
| Name of film | The Thin Red Line (1998), dir. Terrence Malick |
| Film rating | |
| Character played | Private Robert Witt |
| How adorable is Jim here? | Mrrowwrr! And he's very spiritual too! Yup. Uh-huh. You betcha. |
| Best Jim line | See the Witt lines at the Thin Red Line Quotes page! |
| | |
| --- | --- |
| Name of film | G.I. Jane (1997), dir. Ridley Scott |
| Film rating | 1/2 (for Demi Moore's transformation into phallic woman) |
| Character played | Navy Seal Slovnik |
| How adorable is Jim here? | Even Jim's portrayal of Slovnik as a sexual harasser who is, deep down, really afraid of cooties isn't enough to win me over. That and the shaven head. |
| Best Jim line | None |
| | |
| --- | --- |
| Name of film | Ed (1996), dir. Bill Couturie |
| Film rating | |
| Character played | Dizzy Anderson |
| How adorable is Jim here? | Is cut from the second half of this Matt LeBlanc vehicle, so he doesn't much of a chance to make an impression. But he appears bare-chested AND scrubs his armpits in the shower scene. "What a great sportsman!" declares my friend and movie critic Claudia |
| Best Jim line | He winks at LeBlanc, but it's not what you think--the real romance in this children's film is between LeBlanc and the mechanical baseball playing monkey |
| | |
| --- | --- |
| Name of film | The Rock (1996), dir. Michael Bay |
| Film rating | 1/2 star (skip this turkey! If you're really curious, fast-forward to the 2:00:00 mark--Jim makes his appearance from then on) |
| Character played | Rear F-18 pilot (he wears the helmet with the little skull and crossbones) |
| How adorable is Jim here? | He gives a thumbs up as he sits in his little F-18 jet and at a critical point, he pulls off his mask while in the plane and the sun glints off his cheekbones... man, those are sharp! |
| Best Jim line | "We are 500 feet from the target"--okay, not his best, but it's pretty much his only one. |
| | |
| --- | --- |
| Name of film | A Good Day to Die/Children of the Dust (TV) (1995), dir. David Greene |
| Film rating | 1/2 |
| Character played | Dexter |
| How adorable is Jim here? | He plays the cowardly brother of the main character, Rachel, and is so full of Oedipal rage that his entire family becomes a target for his anger. 19th century nerd Dexter wears a bowler hat and wire-rimmed glasses. However, Jim has a cute scene (sans hat) where his character is drunk at a party. And at one point, he eats dinner! (It pleases me to see people I like eating.) |
| Best Jim line | "Do as your husband says!" |
| | |
| --- | --- |
| Name of film | Wyatt Earp (1994), dir. Lawrence Kasdan |
| Film rating | |
| Character played | Warren Earp, Wyatt's baby brother |
| How adorable is Jim here? | As one of Wyatt's youngest brothers, he is the film's moral centre and the counterpart to Wyatt's decline into amoralism in this revisionist Western. Not coincidentally, this is the part that got him the audition for The Thin Red Line. |
| Best Jim line | "I wanna be there. If something bad happens, I can help." Oh, that's from The Thin Red Line? Well he says pretty much the same thing here. |
| | |
| --- | --- |
| Name of film | Diggstown (1992), dir. Michael Ritchie |
| Film rating | |
| Character played | Billy Hargrove |
| How adorable is Jim here? | He does take his shirt off for the boxing scene with Louis Gossett Jr. However, his character's a redneck idiot, who shouts a racial slur at Louis Gosset Jr. who then spanks his ass. Oh to be Mr. Gossett Jr.'s hand during this scene! |
| Best Jim line | Upon seeing Oliver Platt's full-size 3500 series truck: "I'd give my d*** for a truck like this!" |
Name of film
My Own Private Idaho (1991)
Film rating
Character played
Airline clerk
How adorable is Jim here?
He has the biggest grin in his first role in a film as the ticket clerk who sells tickets to River Phoenix and Keanu Reeves. And he does this while wearing a blazer and tie! There's nothing like a man in a polyester uniform.
Best Jim line

I memorised them. Both.
"You have any luggage?"
"Have a nice flight!"
Links
Check out the Best Damn Jim Caviezel Page on the Web!
Back to The Thin Red Line Page

Email me!