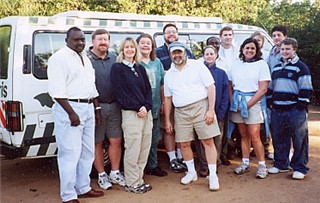 Our Rhino Safaris tour group -- we met as strangers, we left as friends.

It all started when my sister accepted that she'd really be turning 50 in 2002. Wendy called me in Seattle (she lives in Austin), and said that if she really had to be that age, she was going to make it a truly memorable birthday, and would I like to go to Africa with my siblings?
Africa?
I must admit that a safari trip like this was not at the top of my travel wish-list. I mean, I had always assumed that if I ever made it to Africa, it would probably be Egypt. And there were lots of other places in the world on that wish-list above Egypt. So, I was rather taken aback by this unexpected invitation in the Spring of 2001.
Wendy explained that a friend of hers had recommended SkyAuction, a travel Web site that auctions off travel packages. She found a package deal to Kenya that included airfare, hotels, the safari tour, and even most meals. It was a package for four, and she thought we could get it for less than $2000.00 per person. She and my brother Mark (who also lives in Texas) were going, Mark had a friend that was interested, so would I like to be the fourth?
Hmmmm.
I slept on it, and woke up thinking "What the hell! What's some debt compared to an experience like this?! Let's do it!!"
The next 11 months both flew by, and seemed to take forever. During that time, I got my passport (I was last out of North America in 1982 on a juvenile passport that expired a looooong time ago), got my shots (ouch!), read everything I could get my hands on about Kenya and the places we were going to visit (I am a librarian, you know), learned that Mark's friend wasn't going after all, shopped, and made mental packing lists.
I also watched the horrifying events of September 11th, worried, tried to calm my Mother's concerns about all three of her children being on the same plane, prayed, and then became more determined that we were going to go through with this! Actually, while September 11th undoubtedly gave me pause, I never seriously considered cancelling the trip. I worried that world events might take the opportunity away from me (the American Embassy in Nairobi was bombed by Osama a few years back), but I wasn't going to be the one to throw in the towel.
On March 9, 2002, we set off on our journey. Without a doubt, the worst part of this whole experience was travelling there and back. I can assure you that thirty consecutive hours of airports and airplanes really, well, sucks! If I had it to do over, I would have definitely overnighted (at least) in Amsterdam, where we changed planes from Northwest to KLM.
So, we arrived in Nairobi at 9pm on Sunday, March 10, exhausted to the point of emotional unstability. I can't tell you what a miracle it seemed like when we finally saw all of our luggage, seemingly the last group of bags taken off the plane, chugging towards us on the conveyor belts. And Margaret, the representative from Rhino Safaris, was there to meet us, too! ("Whew! I guess it's not an Internet scam!" ). We were taken to the Nairobi Hilton, where we collapsed in our beds. I fully expected to wake up the next morning to find that it was all a dream.

In a way, I was right....



CONTENTS or NEXT PAGE
---