By Al Wong

This is my experience in Beijing, China in the Summer of 2009. If you came to this webpage first, it's better if you start from the beginning of the story.
Monday, July 13
Beijing to Xi'an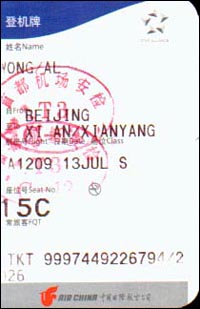 4:20am Beijing Time
Finally landed at the Beijing airport. They kept us waiting on the plane for like an hour because they wanted to take everyone`s temperature. They are concerned about swine flu entering the country. They used a thermometer that measures heat radiation from the forehead. (Making my 6 hour layover back to a 5 hour layover)

When I got off the plane, I went through their swine flu counter, then the immigration counter, then I picked up my check-in luggage from the carousel, then I waited for the customs counter to open. We had arrived to Beijing so early in the morning, several counters were not open yet. On the other hand, why schedule a flight to arrive so early when you know no one will be working at the airport at that time? Then I checked in my check-in luggage again for Xi'an.

All this time, I not only encountered rude, pushy Chinese but also the same behaviour from white, single, male travelers from the USA too! So pushiness isn't a Chinese cultural thing as many would have you believe.

I discovered the airport's free wifi signal (SSID: t3wlan) here is weird. It says the signal is encrypted but when you go to the screen to enter a password, it says the signal is open and no password is required!

I`m going to use Beijing Time from now on. All of China is synced to Beijing`s timezone.

7:08am
OMG! I just discovered the Air China lady at LAX gave me the WRONG ticket for Xi`an! I was supposed to leave for Xi'an at 10:30am, not 8:30pm! This is partly because the tour operator still had the 8:30PM departure listed on my itinerary. It`s also partly my fault for not checking the departure time and date. I just assumed it was correct! Good thing I double checked! It could have been much worse.
So I spent the next 30 minutes walking around Beijing's airport's HUGE Terminal 3 trying to find the Air China manager-on-duty counter (J17) to straighten this out. I finally got it changed! And my checkin bag should follow me. Whew!
At least this fiasco woke me up and I got some exercise walking around. :)
Beijing Airport's Terminal 3 Wifi Does Not Work!
I just fired up my laptop and tried to connect to the "free" wifi at the Beijing airport at Terminal 3. The airport's SSID is definitely t3wlan but it just doesn`t connect. It gives a strange status msg, Validating identity. And the warning msg is `windows was unable to find a certificate to log you on to the network t3lan`. Huh? What certificate?

So the free wifi does not appear to be working because I cannot connect to it. I tried with my Mylo, iPod and laptop. I quizzed a few airport employees about this. Naturally, they have no clue about the airport's wifi.

The cmcc signal is obviously China Mobile`s wifi signal. It`s really slow. It's not clear how to pay for this service because the website is all in Chinese. And I am not a subscriber to China Mobile.

Previously, I did my homework in the USA. The news about the free wifi at the Beijing airport was announced by China's national television station, CCTV, by the Chinese government, and by a news service, among other on-line sources. You can imagine my disappointment when I discovered first hand this was all hype and no substance!

I`m kind of bummed by this because free wifi was a big reason waiting at this airport for 5-6 hours would be bearable. I was really looking forward to accessing the Internet in Beijing!

There's really no excuse for this if you are half competent in setting up a computer network. What does that say about the techies at the Beijing airport?

8:35am
Changed into some clean clothes in a nice, clean looking restroom. It`s really humid at the airport and I`m sweating! I feel so much better now!

Discovered my gate C25 to Xi`an leaving 10:25am. I`m there now. It`s a far walk!

Where are the power outlets for laptops? I`ve got 2.5 hours to burn. I don`t see them just walking down the long hallways.

On the other hand, it`s quite pleasant to find an empty space of chairs and just sit alone and relax. They play classical music by piano in the background.
Arrived at Xi'an

2:38pm
Been on the road for over 22 hours. I'm finally in Xi'an at my hotel, The New World Hotel. It's supposed to be a 5 star hotel but the rooms are tiny. It has nice amenities though. During checkin, they tried to stick me in a room facing the street. Besides the street traffic, there was also hammering from the construction going on across the street! Obviously, I couldn't sleep in that room during the day. So I changed rooms and am on the same floor but across the hallway facing the back of the building (i.e. no traffic noise).

Anyway, The flight to Xi'an was about an hour and 40 minutes and pretty uneventful. When I landed, I was half expecting my check-in bag not to be there. (The way things were going today, they were going wrong without my active and vigorous participation.) But the duty manager in Beijing surprised me because my bag was there on the carousel!

I met a tour guide named Sandy who is not going to be my tour guide for the entire trip but just came to pick me up and take me to the hotel!

5:12pm
I just came back from the hotel's restaurant. I got the Hainan chicken like the waitress recommended. The portions were on the smaller side but it was good and actually, with an appetizer, was just right. I couldn't decide whether I should eat more but decided to hold off. Maybe Joan Caesar's tour group would want something to eat later tonight.

I also noticed a free wifi signal at the restaurant. The SSID was NewWorldHotelXian, obviously the hotel's free wifi! The signal was strong and sweet. I only had my iPod with me because I was charging my Mylo in my room. It was a pleasant discovery though.