By Al Wong

This is my experience in Beijing, China in the Summer of 2009. If you came to this webpage first, it's better if you start from the beginning of the story.
Tuesday, July 14
Hanyangling Museum, Tang Dynasty Show
Hanyangling Museum
7:28am
So Joan Caesar calls me at 7am. They just got in at 6am! They`ve been on the road for 48 hours! Evidently, they couldn`t land in Beijing because of the weather. (it was very overcast when I landed) Then they detoured to Mongolia!

I tell Joan about the Hanyangling Museum (Han Museum) which is not on our official tour but, since we have the morning free, I was thinking about going there to see it. There are also terra cotta statues. They are smaller but more sophisticated because they came from a later dynasty. Would she like to come with me?

Joan doesn't want to go to sleep right now because it will mess up her sleep cycles. She`s game about going to the Han Museum. I`m meeting her for breakfast now!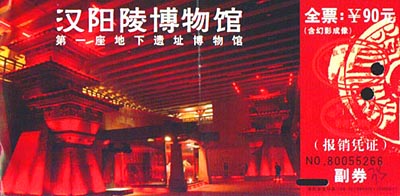 1:54pm
What a day so far! Met Joan and Paulette for breakfast and told them about the Han Museum. They were game to go even though they had almost no sleep in 48 hours(!) We were going to meet in the lobby in half an hour.
During that time, I talked to the Concierge about getting a taxi to the museum. He suggested we hire a car for $300RMB. The driver will take us to the museum, wait for us, and then take us back to the hotel. That sounded good to me so I booked it. With 3 of us going, it only costs $100RMB each.
The museum itself was worth seeing. It actually was two museums, one of which was underground. Both museums were about the Han Dynasty. It turns out the Han Dynasty also had its own terra-cotta army for burying their emperors. Their clay statues are about 2 feet high. They don't get as much hype as the full-sized Terra-Cotta Warriors in Xi'an. I suppose partly because they are not as impressive looking. But historically, they are just as important. And the size of the burial sites are just as impressive. Also, the Han Dynasty occurred later in time and their clay objects are more sophisticated.
The first museum mentioned Emperor Jingdi also known as Liu Qi, one of the emperors of the Han Dynasty. This museum had all sorts of clay statues and actually showed a working mechanism for the crossbow! It was very interesting and I took lots of pictures. A small sampling is below.
I must apologize for the identification watermark on the pictures of my China website. It was an extra hassle for me to put them there. But some people have no qualms about stealing pictures that don't belong to them and that ruins it for the rest of us. Just be glad I didn't put the watermark in the middle of the picture like some of the more paranoid websites. :)
The underground museum was really a cover for the dig site. They made us wear plastic coverings for our shoes and it wasn't clear why until we stepped on a glass floor overlooking the various dig sites. Very cool. Unfortunately, the glass at the dig site was anti-flash and so I couldn't take good pictures with a flash. Also, the inside of this museum was rather dark. And taking pictures without a flash was too dark.
This museum also had a cool film about the Han dynasty. The film was shown on various transparent screens which gave it a 3D effect.
At the museum gift shop, I ended up buy a 100 year silver ring with a dragon design on it. I also bought two "Xun". It's the Chinese equivalent of the European ocarina but it looks like a work of art.
I should mention I took just over 200 pictures (I'm a flaming tourist!) and my camera "burned" through 3 sets of AA batteries. That was fast!
We're back at the hotel now and we are supposed to meet our tour group at 6pm for dinner and a show.
Tang Dynasty Show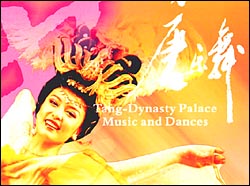 10:38pm
Back from dinner and the Tang Dynasty show. It was a different dinner and show than the one I went to 10 years ago. The food was definitely better with much more dumplings. They didn't give you enough to drink though. A few cups of jasmine tea, a cup of rice wine, some sprite and a small bottle of water after dinner. That was it. The assorted dumplings were many and varied though.

The show itself was OK. I remember the show in 1999 had much more pageantry than this show. So compared to the last time I was here, the food was much better but the show was worse!

Steve, our tour guide, suggested that we cut our visit to Jiuzhaigou short to spend a day in Hangzhou. He went through this very detailed change of plans which was very confusing. It made me think I would rather not change plans and keep the current tour the way it is.

03/18/11 Update - I added a video of one of the acts in the Tang Dynasty show! Check out the link below.

I just looked at the video made by my video camera. The colors in the picture are flatter than what I remember in the show. The colors were much more vibrant in the show. Also, the camera is not that sensitive to light. Pictures are darker than in reality. I'm kind of disappointed in this camera.

In fact, this whole trip will be giving both my digital camera and video camera a real workout. And the strengths and weaknesses of each device will be very apparent. For example, I know my video camera is not that sensitive to light but the zoom capability is outstanding. My digital camera takes great pictures within 13 feet but not beyond. So it's zoom capability is not that good.

I just looked up the solar eclipse that Joan was telling me. It will happen on July 22th in China at around 9:40am and last about 6 minutes. I had to find a webpage to convert UT to local time for China (which is UT+8)! That day, we will be in the vicinity of Hangzhou so we will be in the band of the total eclipse too! Cool.

I also looked up the International Space Station and Space Shuttle sightings which I wanted to see. Although the shuttle will flyby Beijing on July 24-28, the best nights to see it are the 25th around 8:49pm and the 27th around 8:02pm because of the elevation of the sightings in the sky. The shuttle flyby will be fast, only 2-3 minutes. This will be during the FISM convention in Beijing.