By Al Wong

This is my experience in Beijing, China in the Summer of 2009. If you came to this webpage first, it's better if you start from the beginning of the story.
Thursday, July 16
Wild Goose Pagoda,
Shaanxi History Museum,
Muslim Bazaar
I`m wearing my Nikes today. My feet are sore but what a difference! I should have worn them sooner.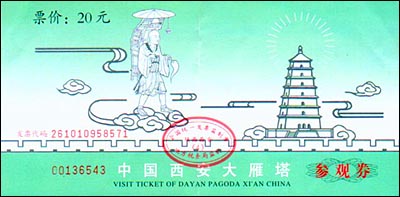 Wild Goose Pagoda
Went to the Wild Goose Pagoda. I climbed up the pagoda this time because I didn't do it the last time I was here. It was tiring but totally worth it. I saw a huge water show outside the complex walls that you couldn't see at ground level.

I also met a cute girl who I will call Susan because she has no English name. I got her QQ number, whatever that is. She`s from Anhui province which is next door to Zhejiang province where Hangzhou is located.

I really didn`t have enough time here. We had an hour to look around but our tour guide, Rose, talked for about a half an hour while here. And it took over a half hour to climb the pagoda and come back down.

Had lunch at another Tang Dynasty theater. A buffet lunch. Why do they just serve one glass of water/beer and then charge you for any extra liquids is beyond me. It doesn't make any sense. If the meals are included in our tour then that should include the drinks too, right?
Shaanxi Museum
2:38pm
At the Shaanxi History Museum now. Listening to our local guide, Rose`s introduction to the museum. We have a little over an hour of free time to look around the museum. I didn't think this was enough time and I was right. It wasn't enough time at all. There were four separate wings of exhibitions displaying the various Chinese dynasties. I was halfway through the third exhibit (Tang Dynasty) when it was time to meet the group again. One could easily spend a whole day in this museum. It's HUGE!

There were thousands of exhibits and I literally took hundreds of pictures! I can only give an inkling of what was there:
Muslim Bazaar
9:11pm
We went to the Muslim Bazaar to go shopping. This place is near the Xi'an City Wall. We only had an hour to shop here too. The Bazaar consisted of two streets which crossed. I ended up buying several items including two fake Rolexes(!), a bigger "Xun", a Mao Tse Tung Watch (a MUST HAVE while in China!) and a little Hello Kitty clock for a friend. Most of my time was spent looking around and bargaining on the price. I wanted to buy more but really didn't have the time.

From my research, I understand there is a famous Muslim mosque nearby the bazaar but we didn't visit it nor was there any mention of it from the tour guides.

We had dinner afterwards at another restaurant and drove back to the hotel. We have a 5am wake up call tomorrow and we're leaving Xi'an to Jiuzhaigou. I need to pack everything and sleep in early!

I checked out my purchases today. My fake Rolex doesn't keep the correct time. It just looks good which is really the whole point. The Mao watch seems to keep the correct time though. My bigger Xun works great. Evidently, there's a trick to play the higher notes clearly.
Random Things
I just tried the TV. There are a lot more English speaking channels than I remember. Also, it was cool to see Asian news casters speaking English well in China.

I did some on-line research on QQ. It's China's version of MSN Messenger and is taking the country by storm! Everyone here has a QQ account. You can see QQ numbers even on business cards! I downloaded an English version of QQ and installed it on my laptop. I signed up for a free account and managed to contact Susan!
I really should mention here gasoline costs 90 RMB per liter.