By Al Wong

This is my experience in Beijing, China in the Summer of 2009. If you came to this webpage first, it's better if you start from the beginning of the story.
Tuesday, July 28
FISM Day 3,
My West Train Station Adventure!
I should mention ever since I met her, I've been keeping in contact with my friend, Susan, the cute girl I met in Xi'an about 2 weeks ago. I told her about FISM and she's coming by train to visit me in Beijing today! So I took a taxi to the west train station to meet her. The hotel travel lady told me it will take a taxi about 30 minutes to get there and will cost about $40RMB. I decided to take a taxi early to the train station. It`s raining and there might be traffic.

9:37pm
The West Train Station in Beijing is HUGE!!! It's ENORMOUS!!! And almost all of the signs are in Chinese. I entered the wrong floor. Went down two floors. Entered another entrance in the building and still wasn't in the right place. I asked several employees there but there was a bit of a language problem. Where do you meet the people who are arriving on the trains?
Getting a Station Ticket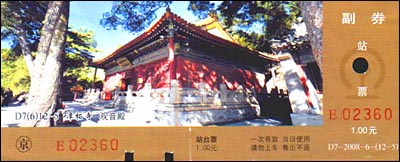 I finally found someone who told me I should buy a station ticket for 1 RMB which will get me inside the train platforms so I could wait for my friend. That sounded good to me. They directed me to the ticket counters. There are about 40 of them in a row! I go to counter 16 because it says it's an English speaking counter. When I finally get to the front of the line 20 minutes later, I discover the ticket lady doesn't speak a word of English! There is some confusion about where I want to go. I don't want to go anywhere. I want to meet my friend here! Finally, they tell me to go to counter 37 to get a station ticket. I go to counter 37 and I finally I get my station ticket.

Now I have to figure out where the train platforms are. I managed to meet another kind person who was nice enough to show me the entrance to the platforms (North Exit 2). I also see on the monitors that my friend's train is arriving on platform 9. So I walk there. Of course, platform 9 is the last one at the end of a long row of platforms in this underground tunnel.

When I get to the platform, tons of people are leaving the train. I wait and wait but don't see my friend. After the platform empties out, I wait a few more minutes before giving up and walking back through the underground tunnel. It appears she didn't wait for me. She just walked with everyone else out of the platform and exit!

To make a long story short, we finally connected here in Beijing!

I later found out that this train station is the LARGEST IN ASIA and handles over 120,000 passengers per day! This is comparable to Grand Central Station in New York City!

Back at FISM, I managed to see the Juan Tamariz lecture. He lectured about build-up in a presentation and keeping the interest of the audience. It was a good and entertaining lecture.