By Al Wong

This is my experience in Beijing, China in the Summer of 2009. If you came to this webpage first, it's better if you start from the beginning of the story.
Some Preparations
Getting the VISA
Here is an update for applying for a VISA to China:
The Website
The Chinese Consulate now has a website for their Los Angeles location:

http://losangeles.china-consulate.org/eng/visa/

Strangely (and as I half expected anyway), they didn't have much information for the VISA application process. This does not lend much confidence in them. They did have a VISA application in PDF format which I looked at and discovered I needed a...

VISA Photo!
For the VISA application. The AAA Auto Club will take passport/visa photos for members at a discounted rate.

The Long Lines
Yes, the lines are still long but the Chinese Consulate has finally gotten their act together. I imagine they had to handle the deluge of VISA applications during the 2008 Olympics. Their VISA department is now organized like the DMV. You take a number, have a seat and wait for your number to be called. Yes, they even have seats now for their VISA guests! And plenty of seats too! There are several windows open to service you rather than just one window.

This was quite a change since my last visit ten years ago where you had to stand outside in the hot sun to fill out the VISA application Then you had to stand in this long line to be helped at this ONE window!

The VISA Charge is $130!
I expected a raise in price for a VISA but this was ridiculous. I suppose they are trying to soak Americans as they expect tourism to rise after the 2008 Olympics.

To add insult to injury, there's a sign on the cashier's window that clearly states the VISA fee for "Non-US Nationals" is $60! This is less than half the price for US citizens! How arrogant. I wish I had takened a picture of that sign!

A slight consolation is they now take other forms of payment including credit cards. It was cash only before.

Change for the Parking Meter
You still have to park on the sidewalk and need change for the parking meter. Fortunately, their DMV-like lines run faster than before. It took me about 1.5 hours to submit my VISA application. When I picked up my VISA a few days later, the line only took 20 minutes.

Tourist VISA Now Lasts 60 Days
Before, the tourist VISA only lasted 30 days. They doubled the time a tourist can stay now. The single entry VISA is good for six months. They improved the look of the VISA, probably because they charge so much now ($130!) And it looks like they automated processing it. The VISA used to be several hand stamps with handwritten fields. Now, it's a sticker with fields that are preprinted on it. It actually looks good. My VISA is below. I apologize for the redactions but you can't be too careful nowadays.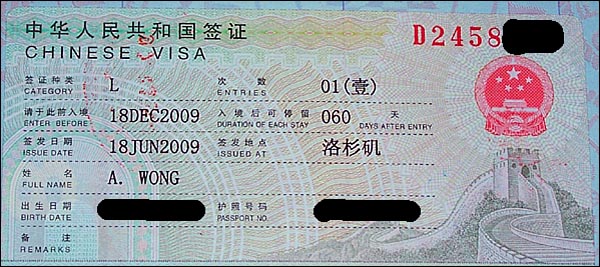 The Current Look of the Chinese Tourist VISA.
Vaccinations
It is suggested you get the vaccines for Hepatis A, Typhoid Fever, and a Tetanus booster. I went to the local health department and got the Hepatitis A booster (good for 20 years) and the Tetanus/Diptheria vaccine. Cost me $119USD. I passed on the Typhoid Fever vaccine as I don't plan on going to very rural areas.
Emergency Medical Insurance
I know people don't like to think about this but what happens if you get hit by a car in a foreign country? Less serious but perhaps more likely, what if you bite into some hard food and chip a tooth? I bought the insurance for a very reasonable price in the travel department at the AAA Auto Club. It brings a peace of mind.
Other Stuff to Bring
Here are some other things I also brought:
Small Laptop. I had considered bringing a full sized 15" laptop but eventually settled on a small 10" laptop. While looking for a computer bag at Best Buy, I saw an Asus n270 laptop going for $300USD! This new Asus has a 1.33 Ghz CPU, 1 GB RAM and 160 GB hard drive. It weighs a little over 2 lbs. What clinched it for me was it ran Windows XP and booted up fast!

It turned out this was a good decision as I was lugging around my carry-on bags everywhere. Carrying a light laptop really made a difference. Also, I was able to backup all my photos and videos, takened on this trip, onto the laptop. I put this small laptop into a regular computer bag which gave me extra room for my cameras, etc.

Sony Mylo COM2. This trip would be the acid test for the Mylo and Skype usability in China. I expect a majority of the hotels I will be staying at will have some sort of wifi connection. And possibly some of the airports. Part of the reason why I bought the Mylo in the first place was to make cheap voice calls via Skype in China. I even wrote a review of the Mylo.

Apple iPod Touch 2G. This was a mild surprise for me as I had no intention of bringing my iPod with me to China. But I was not going to use my cell phone in China and realized I still needed an alarm clock. I was using my cell phone for this purpose while I traveled. I discovered my iPod has an alarm clock function so I decided to take it along. This will also put the iPod in the same usability acid test with the Mylo giving me great opportunities to compare them.

Money Clip. To carry the foreign currency separate from your wallet. I like the magnetic kind myself. During the trip, I was ambivalent about having this as the magnets may affect all the electronics I am carrying around too! The other problem is the magnets in the money clip kept tripping the metal detector at the various airports.

Flashlight. For unexpected power failures. I always carry a small flashlight when I travel. It has made life easier for me during several power blackouts. I used to carry a small Maglite but now I carry the LED kind.

Water bottle. Buy a water bottle in a holder with a shoulder strap to carry around.
No Travelers Checks!

Sadly, the AAA Auto Club no longer provides free American Express travelers checks to their members.

So I went to a local AMEX office. There was a very short line (only 1 person ahead of me!) but the lone open AMEX window was just taking forever. When I finally get to the window (30 minutes later!), I wanted to convert some money into travelers checks. AMEX wanted to charge me a 1% fee which is fine. Then they wanted to see my driver's license, a credit card, a physical mailing address *AND* my Social Security Number! For a cash transaction? I don't think so! So I will NOT be taking AMEX traveler's checks to China!

In fact, I WILL NOT be using AMEX at all for any of my future travels.

I'm glad this AMEX situation ended as it did because I later discovered there are tons of complaints regarding AMEX travelers checks! It seems AMEX checks are no longer widely accepted outside the USA. And it has been this way for some time. Read Consumer Affairs complaints or this guy's incredibly bad experience with AMEX. Google has far more complaints.