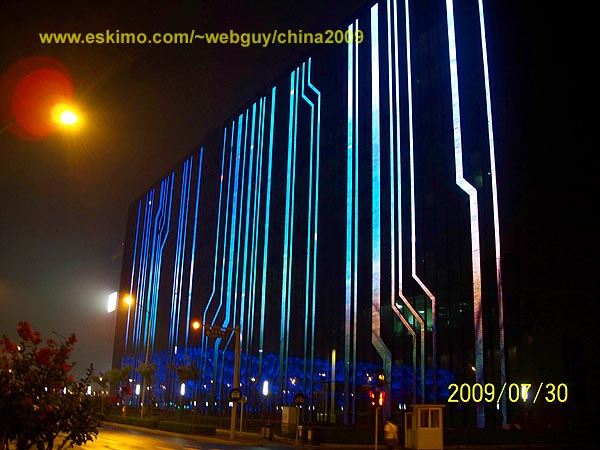 At Beijing
We are walking down the main street of Olympic Park at night. There's this building across the street from the Water Cube. The side facing the street has these LEDs that give a great light show. Right now, it looks like a simulation of electric flow through an IC circuit. I saw another display with snowflakes! Very cool effects.
You can see the Water Cube's reflection off the bottom of the building.
The funny thing is this building displays its lights well into the night. The Water Cube lights go off promptly at 10pm! In fact, within seconds after I took this picture, the Water Cube went dark! So why does this building continue its light show while the Water Cube doesn't?
Does anyone know the name of this building? Let me know. I found out the name of this building from my friend, Cathy! It's simply called the Digital Beijing Building. It looks like the Water Cube catches all the press but this building is not mentioned at all. And it's right across the street!