Most Cool Things -- NetBSD and Other Things
---
---
* * * NetBSD! * * *

For info on NetBSD, see www.NetBSD.org. For documentation, see www.macbsd.com.
I haven't had much success keeping the binaries here, so your best bet is to get it at the following location:
Following is a pointer to the X stuff on macbsd.com. Rather than trying to keep links here, I'll send you there to see for yourself. :-)
Also note that ftp.netbsd.org (at the previous link) has the latest X snapshot.
---
Other Cool Things
I have come across some cool places in the past, but don't spend a lot of time surfing, so some of these links might be a bit stale. :-(
They were last checked 11 Nov. 2004. (Wow! Nine years after the last check! A few links went away, but I managed to fix most of them.)
Now, this is what I had intended my page to be like, before I ran out of time and interest. Curiously enough, I found Lachlan's page because he had a link to my page.
"The Internet's first free hi-fi music archive."
Welcome to VirtualRadio(TM) the only non-stop user-definable music broadcast that brings you the latest in new music. VR gives you a wide variety of choices -- you can choose which song you'd like to hear and download it right to your machine. This isn't a sample, this is a Radio quality broadcast of the entire cut many times right off the band's master DAT. Each CyberTune(TM) page contains band info, a description of their music, and sometimes images of the band. Virtual Radio is the new way to be exposed to today's music. Never miss out on a hit again, VirtualRadio is always on. Each CyberTune is made available with permission of the band and Cyberspace Promotions.

Comics and Cartoons!

Comics and cartoons to your hearts' content. There's Dilbert, The Doctor Fun Page (no longer in production, but the archives are great), Comics on the Internet. Comics 'n Stuff, which was put together by Christian Costas while at missouri.edu, seems to have entirely vanished. But while looking for it, I found Comics Tebeos, cuentos, ilustraciones, tiras comicas.. The last two have a ton of pointers to all kinds of fun stuff. There is also OhnoRobot Comic Search where you can look up keywords in hundreds of online comics. They claim to index 489 comics, but in the listing of them, I counted only 230-some.

You want useless stuff? It's here!

The Useless Page bills itself as "America's Funniest Home Hypermedia". Lots of links to totally useless pages. Seems to have disappeared, though lots of places still point to it.
The PARC Web Map Viewer has been deactivated. :-(

yourDictionary, "The last word in words".

yourDictionaryhas dictionaries in nearly 300 different languages, as well as translations between various languages. The place to go for those obscure words and phrases.
This is an interface that lets you control a robot arm which has a camera and compressed-air puffer at the end of the arm. This robot is no longer online, lasting seven months in late 1994 to early 1995. The page points to a new site The Telegarden, which ironically, just went off line a couple of months ago (Aug. 2004). They promise more news in Oct. 2004 (which just ended as I write this, and no news that I can see. They might be gone, too, by my next links update. The Web is not a static place. ;-).

An online newspaper

I had a link to an online newspaper here which, while novel in 1995, is no longer so.

Some 680x0 Linux info -- Linux now is running on 680x0 Macs, but still is some ways behind NetBSD.

Linux/m68k 27 models booting, it says... Latest update as of this writing (11/2004) has kernel 2.2.25, updated 2003-09-07
"The HyperArchive page is the root of a hypertext subtree containing a mirror of the Sumex Info-Mac archives for the Macintosh. It is designed for browsing, allowing fast access to the brief descriptions at the start of .hqx files and reverse-chronological summaries. The mirror is updated, and this hypertext regenerated, nightly between 5 and 6 AM EST."

Netsurfer Digest, news of the net. "More signal, less noise."

Netsurfer Marketplace, "Stuff you can use."

Netsurfer Focus, "Computer and Network Security."

Netsurfer Focus Marketplace, "Computer and Network Security."

I have not the time to keep up with all my mail, let alone keep my web page updated. Therefore, I'll just point you at Netsurfer's home page:
http://www.netsurf.com/nsd/index.html

The Internet Scout Report, a list of the new and cool. "The Scout Report is a weekly publication offered by the InterNIC to the Internet community as a fast, convenient way to stay informed about network activities. Its purpose is to combine in one place selected new (and newly-discovered) Internet resources."

Same thing for the Scout Report:
http://scout.wisc.edu/Reports/ScoutReport/Current/
A couple of images I'm going to put in proper spots, once I get motivated...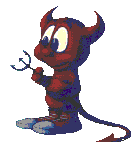 The BSD Daemon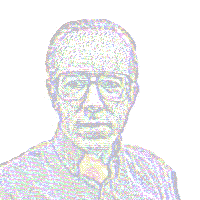 A (stylized) picture of me.

Digital Doomsday Clock
There's more, but ... I got tired.
Steven R. Allen -- wormey@eskimo.com