Windows XP Dialup Setup
Create a Dialup Connection
To create a dialup connection, click Start, then Control Panel.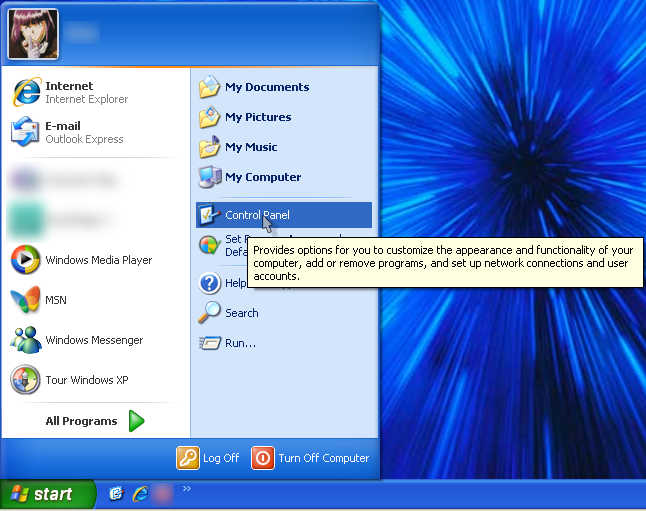 Depending upon the format of the control panel (default verses classic), it may look like either of the images below.
| | |
| --- | --- |
| | |
| In the default view, choose "Network and Internet Connections". | In the classic view, choose "Network Connections." |
| | |
| --- | --- |
| | |
| In the default view, choose "Setup or change your Internet connection" from the center list. | In the Classic view, choose "Create a new connection" from the side list. |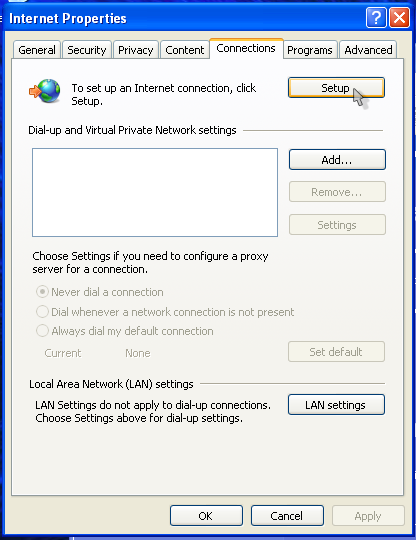 The default view opens the "Internet Properties", so click the "Setup" button to continue to the "New Connection Wizard". The Classic view opens directly into the "New Connection Wizard", continued below.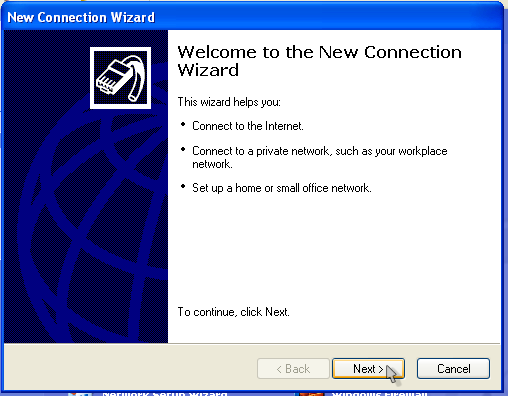 In the Internet Connection Wizard, click "Next" past the intro screen,
and choose "Connect to the Internet" and "Next" on the second screen.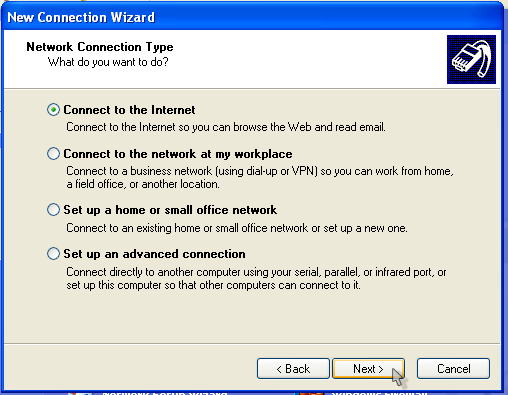 On the next two screens, choose "Setup my connection manually" and "Connect using a dial-up modem", clicking "Next" after each.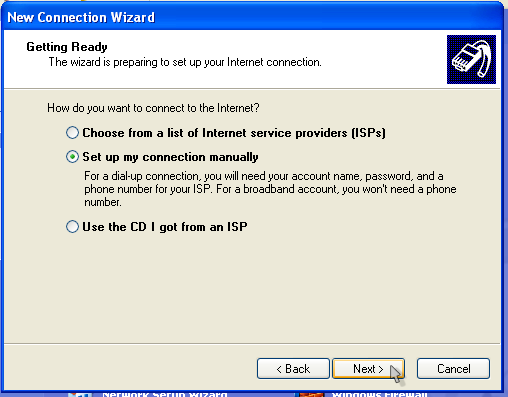 Next it will ask for a name for the connection, such as "Eskimo North",
"Eskimo 56k", or something else you want to remember the connection
name with. Click "Next" to continue after typing the name.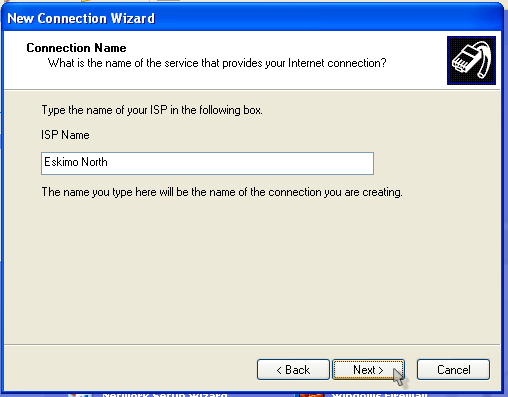 Next comes the phone number to dial into. Local access numbers can be found on the 56k Dial Access page. These same numbers can be used for ISDN. In the case of ISDN use the same number for both channels. There's another "Next" to continue after typing the number.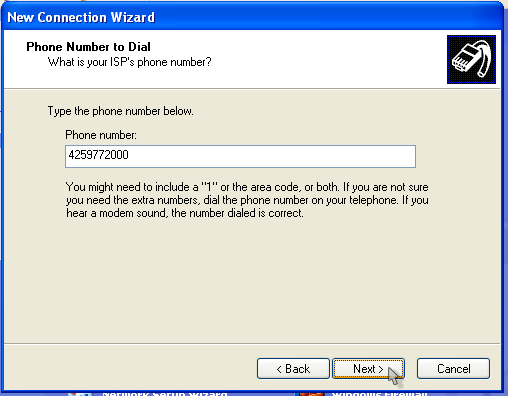 The next screen asks for your dialup username and password (twice to
verify against typos) and whether you want the connection available to
all users of the computer and whether you want it to be the default
connection. One more "Next" to continue.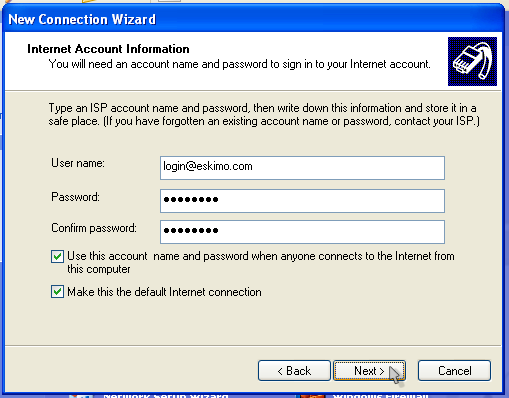 And the last screen confirms some of the information and asks whether
you want a shortcut icon on your desktop. This last screen uses a
"Finish" button to complete the setup.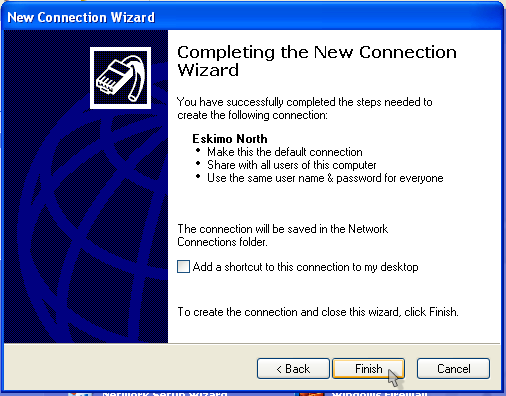 Connecting to the Internet
Once a connection is created above, connecting should be available in
the Start menu under the "Connect to…" option, showing the name the
connection was created with.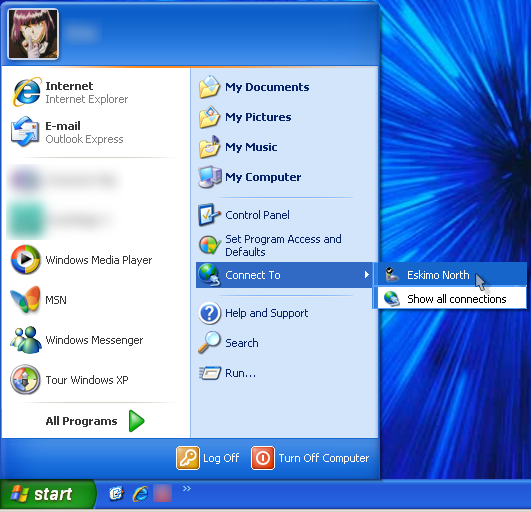 This will open a window to confirm info and have a "Dial" button to
dial out and use the entered username and password to connect.
Modify an Existing Dialup Connection
You may need to modify some of the parameters in your dial-up connection to
successfully connect to the Internet. Review the following information to make
any changes:
Click Start, click Control Panel, double-click Network Connections, click the connection you want to modify, and then click Change settings of this connection.
On the General tab, click Alternates to provide additional phone numbers in case the first one is busy or disconnected.
On the Networking tab, make sure that the type of dial-up server you are calling to is correctly selected.

[Be sure that PPP is selcted as the Type of Network, and that only TCP/IP is enabled (other entries such as software compression should be disabled.)]
[Also, you will need to specify DNS or Domain Name Servers(which should be in a window marked "TCP/IP Settings"): 204.122.16.8 and 204.122.16.9.]