Last revised: July 27, 1997
---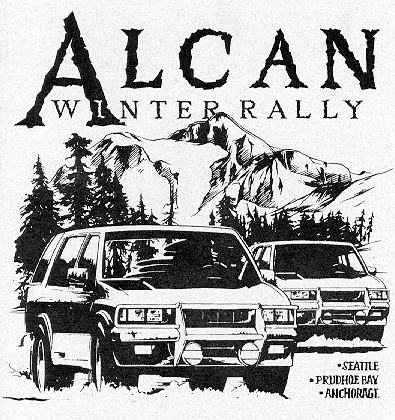 1996 Alcan Winter Rally goes to Prudhoe Bay . . . well almost!
ROUTE: Started in the Seattle area, stops included Quensel & Dawson Creek, BC; Watson Lake & Dawson City, Yukon; Fairbanks & Anchorage, Alaska. Over 90% of the route was composed of touring sections with a reasonable elapsed time for each. The Alcan traversed many of North America's most remote roads, difficult driving conditions, and climate extremes (-58 F in the 1990 event).
HISTORY: This was the twelfth Alcan Rally since 1984. The first Alcan Winter Rally was conducted in 1988, this was the fifth winter version. The Alcan is also referred to as the "Arctic Circle Rally", crossing it in every event since 1985. The 1996 Alcan was the first rally to ever negotiate the "haul road" to the Arctic Circle. The competitors were unable to reach Prudhoe Bay due to bad weather and very icy roads.
CONCEPT: A modern adventure based on the original concept of rallying as a grand tour, a motoring challenge and a gentleman's sport. Such historic events include the Thousand Miles Trial (England 1900), Alpine Trial (Austria 1909), Monte Carlo (1911), Mille Miglia ( Italy 1911), and RAC (England 1932). A competitive event that requires experience, good judgment & equipment, consistency, reliability and resourcefulness.
ENTRANTS: Have included factory teams from Audi, Chrysler, Isuzu, Mazda and Subaru. Many teams have also done such events as the Australian Safari, Baja 1000, Canadian Winter Rally, La Carrera Panamericana, One Lap of America, Mille Miglia, Monte Carlo, and Paris-Dakar. Novice teams are common in summer Alcans.
---
Map of the course (102k)
Map of Alaska (150k)

---
Pictures
Day One - Kirkland, Washington to Quesnel, British Columbia
Rally Start - Clarion Inn, Kirkland
Entry List
Day Two - Quesnel to Fort Nelson
Dawson Creek - Start of the Alcan Highway (3)
Fort Nelson Hotel (2)
Day Three - Fort Nelson, B.C. to Whitehorse, Yukon
Mt St Helens' sister
Wildlife (3)
River Mist
Watson Lake Signpost Forest
Day Four - Whitehorse to Dawson City, Yukon
Yukon Landscape (3)
Eldorado Hotel, Dawson City
Yukon Hotel, Dawson City
Day Five - Dawson City, Yukon, to Fairbanks, Alaska
Kluane Lake
Burwash Landing
Road Construction
Sunset in Eastern Alaska
Day Six - Fairbanks to Prudhoe Bay Day Seven

Day Eight - Fairbanks to Anchorage
---
---
Official Alcan Winter Rally Home Page
Alaska Travel Related Site
---
For more information contact the event organizor or visit the Alcan web site:
---
For general rally information visit Ben's Rally Page. For information on rallies in the Pacific Northwest, visit the Rainier Auto Sports Club web site.
---