In 1994, at the age of 49, Jim Clark, owing to a company called Silicon Graphics, was one of the legends of the high-tech world. Now, 20 years later, he has become a legend in sailing (see Sailing World  28 October 2014.)
In 1994 Clark was tied to a company called Netscape. Netscape's vision was the creation of the company's two founders, Jim Clark and Marc Andreessen. The two formed and odd couple, even by the standards of Silicon Valley.
In 1994, at the age of 49, Clark was one of the legends of the high-tech world. A high school dropout who joined the navy at 17, Clark was teaching computer science at Stanford by 1979. Three years later, he started a company specializing in advanced computer graphics.
Silicon Graphics, Inc. (SGI) went on to make the high-powered workstations that created the special effects for Jurassic Park. By 1994, it was well on its way to more than $2 billion in annual sales. Clark, however, had become frustrated with Silicon Graphic's reluctance to pursue the high-volume, low-end consumer market. In February 1994, he stepped down as chairman, walking away from millions of dollars of stock options with the idea of starting again.
Clark had a nimble mind and a willingness to take risks. At the time, he was particularly intrigued by interactive television and consumer electronics. His interest was also piqued by Mosaic, the first widely used browser for the World Wide Web. Out of curiosity, Clark sent an e-mail to Marc Andreessen, one of Mosaic's developers, and soon a partnership was born.
The two began by hashing out a number of concepts related to Clark's original interest, interactive TV…. Once it had become clear that a full-scale rollout of interactive TV was nowhere in sight, the pair took up other ideas, including an online geme service for Nintendo. Finally, Andreessen came up with the winning plan–create a "Mosaic-killing" browser or "Mozzilla" for short.
Once Andreessen had laid out his ideas about the future of the internet and global computing, Clark was hooked. Andressen would bring the technology, and Clark would bring the money (eventually more than $4 million of his own funds) as well as the maturity, experience, and world-class contacts.
The above is from page 20 and 21 of Competing on Internet Time by Michael A. Cusumano and David B. Yoffie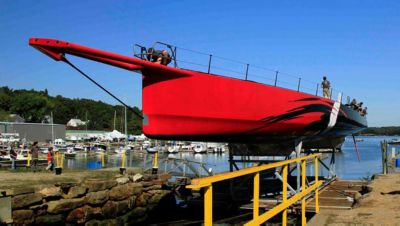 Acording to the builder "The carbon-fibre built Comanche marks a step in advanced build technology for Hodgdon Yachts, the oldest builder in America. Hodgdon's European Sales & Marketing Director Cyril Le Sourd, appointed to head the company's recently opened office in Monaco, notes the builder's ability to blend traditional and modern boatbuilding as its strength. 'One shed we can have this aerospace technology build and in the next we might have a classic,' he says.
Comanche has been launched after an extremely compressed build schedule, built for experienced owner Jim Clark, who has famously owned the 90-metre Royal Huisman iconic superyacht Athena, which is currently for sale. The yacht's carbon fibre hull sports a fierce red-and-black paint job that should look sharp as she flies across the water at her expected high speeds."
The boat is romantic.
And while Clark may be too old to be on board for some of the more competitive races, his 35-year-old wife seems more than ready, starting on December 26 in Sydney.
'My wife's an Australian and a very competitive lady and she wants to sail in Sydney-Hobart,' said Clark.
'I say "we have the boat, do as you wish." I'll let her run the show.'