Quarter Century Appliance Operators
The Quarter Centry Appliance Operators (QCAO) is an exclusive club for those amateur radio operators who, even after 25 or more years of practice, still pick up soldering irons by the wrong end because they just can't get the hang of this soldering stuff. They never design their own circuits. They often just wrap wires together rather than try their hand at soldering.
All QCAO members want to do is buy a nice radio with clearly marked dials and work lots of DX and contests.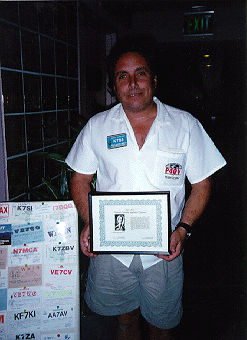 Information on QCAO membership (including a beautiful certificate and a functional pocket protector) is available from the club's Grand Poobah, Danny Eskenazi, K7SS. Send him an SASE.