C.G. Jung Society, Seattle
---
Thomas B. Kirsch, Ph.D.
---
The Kirsch-Jung Letters
---
Lecture: Friday, September 20, 2013, 7 to 9 p.m.
Good Shepherd Center, Room 202, 4649 Sunnyside Ave. North, Seattle 98103 (driving directions)
$15 members, $25 nonmembers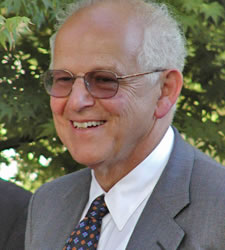 James Kirsch, my father, was one of the first generation analysts who had his primary analysis with Jung. As a young man in his 20s he began a psychoanalysis, which did not satisfy him and so he entered a Jungian analysis in Berlin. In 1928 he wrote to Jung asking if he could begin analysis, and in 1929 James Kirsch spent two months in Zürich in analysis with both Jung and Toni Wolff. This began a multiple level relationship, which spanned four decades and great distances. There are approximately 150 letters in this correspondence with Jung writing approximately 10 more than my father.
The contents of the letters cover important subjects such as the relationship between Jews and Christians, Nazi-ism, anti-Semitism, clinical issues in psychotherapy, synchronicity, organizational issues in building up Jungian organizations, difficult personalities. My father was a founding member of the CG Jung Institute in Berlin, Tel Aviv, London, and Los Angeles. The collection also includes a few letters from Hilde Kirsch, my mother, and a wonderful short history of the International Association for Medical Psychotherapy.
James and Hilde Kirsch along with Max Zeller were the co-founders of the Analytical Psychology Club and the Jung Institute in Los Angeles. My parents arrived in Los Angeles in December 1940, and the Zellers arrived in 1941. Their views of Jung and analytical psychology dominated the scene in Southern California for three decades or more. This letters gives one a glimpse of the struggles that these early pioneers had to go through in establishing the Jungian community.
The correspondence was edited by Ann Lammers, who had previously edited the Victor White/Jung correspondence and who has a thorough knowledge of working with Jung archival material. Highlights from it will be read and discussed.
Workshop: Saturday, September 21, 2013, 10 a.m. to 4 p.m.
Good Shepherd Center, Room 202
$50 members, $70 nonmembers

Advance registration for workshops is encouraged. You can mail your registration and payment to our office using this registration form or buy tickets in advance at brownpapertickets.com.
The workshop will be an in-depth exploration of the Kirsch-Jung letters.
Learning Objectives
Explore the relationship between Jews and Christians, Nazi-ism, anti-Semitism through the Kirsch-Jung letters.
Investigate the relationship between C. G. Jung and James Kirsch.
Deep exploration of the Kirsch-Jung letters collection along with letters from Hilde Kirsch (wife and mother).
Thomas B. Kirsch, M.D. is a Jungian analyst, the Past President of the Jung Institute of San Francisco and Past President of the International Association for Analytical Psychology. He has a B.A. from Reed College, his MD from Yale School of Medicine, and did his psychiatry residency at Stanford. He did his Jungian training in San Francisco and has been in private practice in Palo Alto since 1967. He is the author of "The Jungians, A Social History of the Jungian Movement 2000"; he was Co-Editor Jungian Section of the "International Encyclopedia of Psychoanalysis, Psychiatry, Psychology, and Neurology1977"; Co-Editor of "Initiation: The Reality of an Archetype"2007; Consultant Editor to the book "CG Jung- James Kirsch Correspondence 2011"; and has written numerous papers on the history of depth psychology, the analytic relationship, and dreams. Presently working on a Memoir and co-editing with George Hogenson, "Papers from the Red Book."
Programs presented by the C. G. Jung Society, Seattle (unless otherwise noted) have approved CEUs by the Washington Chapter National Association of Social Workers (NASW) for Licensed Social Workers, Licensed Marriage & Family Therapists and Licensed Mental Health Counselors. Provider number is #1975- 157.

---
C.G. Jung Society, Seattle home page
Updated: 10 August 2013

webmaster@jungseattle.org