Elisabeth Hobbie (Essex Scarlet x forrestii ssp forestii repens) Hobbie 1945
This German hybrid makes a beautiful mound of luxurious leaves and flowers. Similar to but larger than one of its seedlings, Scarlet Wonder, Elisabeth Hobbie takes longer to flower. The five foot specimen pictured here is about double the typical ten-year height. It is about twenty-five years old.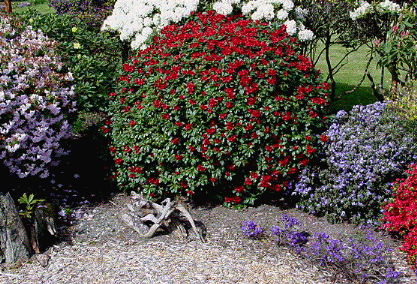 The small green rhododendron in the stump at left seeded itself there at our other house. We moved stump and plant both to the garden here in Enumclaw.