KAISER-FRAZER
Registry
Handbook
My Kaiser Traveler
Kaiser Sites
---
ANTIQUE RADIOS
My Radio Collection
Puget Sound Antique- Radio Association
---
ANTIQUE JUKEBOXES

My Collection
Other Jukebox Sites
---
MOTORCYCLE
1938 Harley
---
HagenTech
Car Radio Repair
AC Radio Repair
Jukebox Repair

Web Site Design
Electronic Design
---
HOME
---
Radio Shop

Forty years experience.
Top quality guaranteed work.
Vintage Car radios.
AC home radios.
Jukebox amplifiers and components.
I've been repairing radios since I was a teenager in the late 50's. Car radios are my specialty. This Mopar radio has been completely rebuilt and sounds and works as good as new.


All tubes tested.
All paper capacitors replaced.
Filter capacitors tested for leakage, capacity, and power factor.
Resistors and micas checked.
Vibrators replaced if necessary with electronic vibrator.
Tube sockets checked for contacts.
Mechanicals checked for proper operation.
---
Jukebox Repair and Restoration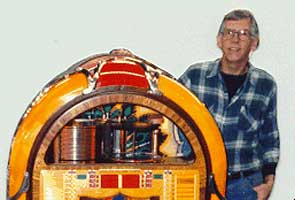 I've been working on jukeboxes for nearly thirty years now. It started with my purchasing a Wurlitzer 600 from the Seattle St. Vincent de Paul store while I was attending the University of Washington. The next step was working on other people's jukeboxes from my house, and finally from my business.
In 1989 I closed my business and have been working for Jukebox City since. I also write a column for Always Jukin' magazine.


---
Please E-mail me at for more information on my rebuilding and restoration services.