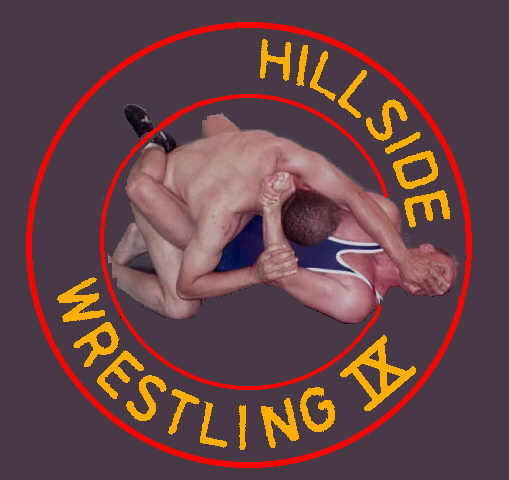 Hillside Wrestling Weekend IX, July 2002
No Frames? No problem. This web page designed to work with



Any Browser, Any System, Any Time.
For more information, see the Best Viewed With Any Browser campaign link.
Click here to go directly to Hillside 1996, 1997, 1998, 1999, 2000 or 2001 pages, or to the registration and general information page.

Photo credit: Erich Richter
Hillside Wrestling Weekend IX was held July 17-21, 2002 and was felt by many participants to have been the best Wrestling Weekend yet. Wrestlers attended from all over the U.S. as well as Canada, Mexico, France, Germany and even the United Arab Emirates. There was plenty of mat time for challenge matches, and the freestyle wrestlers' experience culminated in what promises to be a new tradition: the Saturday tournament. Thanks to a new caterer, the food was great. The weather was ideal, without any of the cold nights such as during last year's events; days were sunny and hot except for the Friday afternoon thunderstorm which of course didn't stop the wrestling.
Click on one of the following links to jump to a particular section of this year's page:
Riding There (NJ & PA) | At Hillside: Wrestling and other photos from Hillside Campground |
End of Weekend and Ride Back.
Hillside 2002 -- the ride in
This year's route, much like last year's, was from Mineola (Nassau County), NY, through Queens and Manhattan and the rest of the usual route through New Jersey and Pennsylvania. One-way mileage: 180.4 (299.3 km*), round trip 384.0 (637.8 km*) (*the km values are slightly more than the mileage/1.6093 because they were recorded on a separate unit [Cateye CC-5000] calibrated differently; the mileage was recorded on a Huret Multito).
At Hillside
(Km. 299.3)
There were already 40 wrestlers present when I arrived at 7:46 p.m. on Wednesday evening and paused to take a picture before checking in at the camp office.
The remainder of the weekend was cooler without getting too cold. I wrestled on all the different mats, though mostly on the freestyle and submission mats, starting Wednesday night after dinner.
Hillside Freestyle Tournament
The freestyle tournament was a welcome addition to the wrestling weekend, with plenty of intense, hard-fought matches starting in the morning, with a few final matches also after lunch. The major teams such as Metro, Golden Gate, and others made a good showing, as did a number of individuals not associated with a team.
Freestyle tournament pics:
Pro Wrestling at Hillside 2002
This was the second year that Hillside had a pro ring, and for the first time I hit the ring, having an extended submission match (sorry, it wasn't pro-style) there with Glenn, where every throw onto the canvas reverberated through the mountains.
The pro show on Friday night was rescheduled to Saturday, overlapping the talent show but still well done and entertaining, particularly with Jim's and others' remarks from the peanut gallery. ;-)
End of the Weekend and the Ride Back
This page has been visited Can't open count data file for Reading: No such file or directory Can't open count data file for Writing: No such file or directory System doesn't support file locking: Bad file descriptor




times since July 26, 2002.
nickz@eskimo.com

Page created:   July 26, 2002
Last modified:  July 30, 2002