My weight before leaving for Hillside (125.0 lb.)

Sign under test, on NY 25A near Queens Plaza (zoomed in).
It was still flashing the same message on the ride back. ;-)

Yes, the sign is really under test (zoomed in more)

Looking west (towards that sign) on Northern Blvd.
(NY 25A) towards Queens Plaza (zoomed out)
Rte. 12, bridge over the Hackensack River from Bogota to
Hackensack, seen from Hackensack side
Hackensack, capital of Bergen County, NJ
Here's a nighttime view of the same capitol building from
the opposite side from 2002.

Paterson, NJ (view from Clark and Market Streets)

US 46 West, just after Pine Brook-area merge, at a
McDonald's.

US 46 looking east in the vicinity of the merge.

The Empire Diner, Parsippany, NJ
(also on 10th Av. in NYC)
Ascending out of the coastal plain, on US 46
(looking back, i.e. east)

Looking west on the same hill.
Mountain seen on Rte. 513 (starting detour to the north)

Rte. 513

Cliff near Craigmeur Ski Area

That's me in front of the cliff.

Closeup of this cliff.

Apparently unused rail station, Newfoundland, NJ

View east along the tracks

General view of station area

Closeup of station details

The obelisk at High Point, NJ comes into view, past Colesville, NJ.

Heading towards the obelisk on NJ 23.

The upgrade becomes steep, and trucks are warned to take a detour.

Looking back at the view about halfway through the steep area
(camera in manual mode)

View up the hill at steepest part.

Looking back at steep section as road levels off near summit.

At the summit, a hiker enters the Appalachian Trail.

Administrative building at summit.

Entrance to High Point State Park with beginning of downgrade visible.

That's me at the entrance to High Point State Park, elevation 1803 feet.

Heading down from High Point towards New York State.

View looking back (up) from same spot.

At the bottom of the 4.5-mile downgrade, cross into Orange County, NY.

Only 57 miles to Scranton from here but I continue the detour into the mountains.

The Hawk's Nest overlook, showing road along foggy mountainside in the Catskills.

Looking back at Hawk's Nest and mountainside.

River view from Hawk's Nest overlook.

Further up the valley, road almost at river level and it matches the river's upstream slope.

One-lane bridge, Sullivan County, NY

Passing Rte. 55 (used on Diff'rent Spokes' 1989 Delaware Water Gap ride and other rides)

PA Rtes. Y & 590, heading towards Hawley.

14 miles to Hawley, PA where I'll get on usual Hillside route.

Island in Lackawaxen River, PA

Along the Lackawaxen River on Rte. Y

Bingham Park (same Bingham as in Binghamton?), Hawley, PA.

Mountain near downtown Hawley (at bridge over the Lackawaxen)

Zoomed view at bridge over the Lackawaxen River

Historical marker shows origin of town's name

Entering Hawley on the ride back.

Just past (west of) Kean Lake campground, on Rte. Y east of Waymart, PA, looking south.

Just past (west of) Kean Lake campground, on Rte. Y east of Waymart, PA, looking west.

Wind turbines on top of mountain pass between Waymart and Carbondale, PA.

Approaching top of mountain pass, turbines and a cell tower are close by.

State jail near the top of the pass.

Just above elevation 1940 feet, looking at summit.

Any closer to that turbine and I'll get a haircut ;-)

Checking out a different route again: Rte. 92 & 2073 between Lenox and South Gibson, PA -- almost there!

Union Hill, PA is even smaller than Gibson, just a (recently repaved) crossroads up the hill and a few minutes from Gibson.

My weight on returning from Hillside (124.5 lb.)
Arrival at camp, wrestling and campsite pics
Short video clip and animated GIF of a match
If you need the DivX codec for this video, you can download it here or from the DivX website. The GIF/MP3 excerpt does not need any codec software.
The codec is not needed unless you can't view the video and get errors such as "can't find appropriate decompressor". It combines good image quality with small file size.
To install, as the FAQ notes, unzip to any folder. No need to double click "Register_DivX.exe" in WinZip; just unzip the files to a directory and then right click on the file "DivX.inf", then choose "Install". I tested it on Win98, Me and XP and use it on my own computer.
Post-tournament pics on Saturday
Some camp and clinic pictures from Friday and Saturday, contributed by BulldogMF
The canopy kept wrestlers dry during the rain Friday morning.

A chipmunk wants to join us for dinner.

Drilling the gut wrench during the pre-tournament clinic on Saturday (1)

Gut Wrench (2)

(3)

Pulling one's opponent up to prepare for the gut wrench

Halfway through the gut wrench
More camp and wrestling pictures, contributed by Rick
| | | | | | | | |
| --- | --- | --- | --- | --- | --- | --- | --- |
| | Chuck vs. Juanito | | A little submission drilling on the freestyle mat | | David vs. Joe | | After a hard-fought freestyle match |
| | Chris, Rob & Bob, upper site 60 | | Alan, Joe, Greg | | Joe, Ryan, Damon | | Joe, Vern, Alan |
| | Bob and Andy, founders of Hillside Wrestling Weekend, with this year's T-shirts | | Mealtime under the new canopy (1) | | Mealtime (2) | | Joe, Tom and Ed |
| | | | Rick and James enjoying the food prepared by this year's new cooks, Zel & Antonio | | Chatting with Coach Kevin | | |
| | 2 on 1 (1) | | 2 on 1 (2) - Pile Driver | | 2 on 1 (3) - Scissoring David | | Scott from Metro NYC vs. El from the DC Wrestling Club |
Hillside Freestyle Tournament, July 24, 2004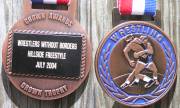 Click to see the freestyle tournament pictures
Pro Wrestling at Hillside 2004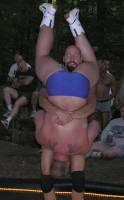 Click to see the pro wrestling pictures
The Talent Show and Saturday evening
The freestyle tournament and pro show were coordinated with the talent show so they didn't overlap and we could attend all three events. Metro Wrestling's Kris and Troy performed, singing their piece towards the end of the show to loud applause.
| | | | |
| --- | --- | --- | --- |
| | Kris and Troy's act comes on (1) | | Kris and Troy's act comes on (2) |
Sunday and the conclusion of the Wrestling Weekend
| | | | | | |
| --- | --- | --- | --- | --- | --- |
| | 16-second exposure showing clear, starry sky at site 60, without the optical noise in last year's attempts to do this. | | The site 60 campfire, late Saturday night (i.e. Sunday morning) | | Joe tending to the campfire, 2:43 AM Sunday. |
| | | | Just a mosquito bite: no ringworm or other skin irritations this year. | | |
---
Previous

pages: Hillside 1996 | 1997: Digest & Pictures | 1998 | 1999 | 2000 | 2001 | 2002 | 2003
---
General Information about the next Hillside Wrestling Weekend | Home Page / Other Pictures
---


Click here to send me comments on this web page.
This site has been viewed
times since May 3, 2001.
This page has been visited Can't open count data file for Reading: No such file or directory Can't open count data file for Writing: No such file or directory System doesn't support file locking: Bad file descriptor




times since July 28, 2004.
nickz@eskimo.com

Page created:   July 27, 2004
Last modified:  July 16, 2010