The Big Sleep (1946)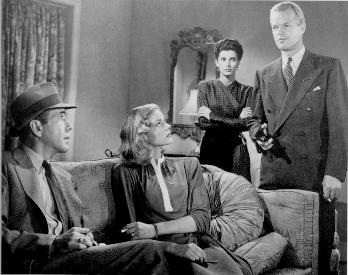 ---
Howard Hawks
Screenplay by William Faulker, Leigh Brackett and Jules Furthman; adapted from the novel by Raymond Chandler

Humphrey Bogart (Philip Marlowe)
Lauren Bacall (Vivian Routledge)
John Ridgeley (Eddie Mars)
Martha Vickers (Carmen Sternwood)
Dorothy Malone (Bookstore Clerk)
Peggy Knudsen (Mrs. Eddie Mars)
Regis Toomey (Bernie Ohls)
Charles Waldron (General Sternwood)
Charles D. Brown (Norris)
Bob Steele (Canino)
Elisha Cook Jr. (Harry Jones)
Louis Jean Heydt (Joe Brody)
| | | |
| --- | --- | --- |
| | | |
| General Sternwood asks Marlowe to do his drinking for him. | Marlowe lights Vivian's fire. | Marlowe and Vivian at his office. |
| | | |
| Marlowe and Vivian with Mars. | Carmen high, Geiger low. | Marlowe, Vivian, Agnes and Brody have a nice little tete-a-tete. |
| | | |
| "You're not cute!" | Marlowe and Vivian wait for Mars | Marlowe and Mars |
| | | |
| Marlowe telephones, Vivian listens. | Vivian has Marlowe captivated. | Marlowe gets ahead on the case. |
| | | |
| Marlowe and the Sternwood sisters. | Vivian dominates Marlowe. | Marlowe "saves" Vivian from a mugger. |
---
GENERAL STERNWOOD
How do you like your brandy?

MARLOWE
In a glass.
GENERAL STERNWOOD
Nice state of affairs when a man has to indulge his vices by proxy. You're looking, sir, at a very dull survival of a very gaudy life.
MARLOWE (about CARMEN)
I met her in the hall... Then she tried to sit in my lap while I was standing up.
VIVIAN
And I don't like your manners.

MARLOWE
And I'm not crazy about yours. I didn't ask to see you. I don't mind if you don't like my manners. I don't like 'em myself. They're pretty bad. I grieve over them on long winter evenings. I don't mind you ritzing me or drinking your lunch out of a bottle. But don't waste your time trying to cross-examine me.
MARLOWE
You do sell books, hmmm?

AGNES
What do those look like from here--grapefruit?
FEMALE CAB DRIVER
If you can use me again sometime, call this number.

MARLOWE
Day or night?

FEMALE CAB DRIVER
Night's better. I work during the day.
MARS
Your story didn't sound quite right.

MARLOWE
That's too bad. You got a better one?
MARS
Is it any of your business?

MARLOWE
I could make it my business.

MARS
I could make your business mine.

MARLOWE
You wouldn't like it. The pay's too low.
MARLOWE
Somebody gunned Geiger or somebody got gunned by Geiger who ran away. Or he had meat for dinner and he likes to do his butchering in the parlour.
MARLOWE
My my my. Such a lot of guns around town and so few brains. You know, you're the second guy today who seems to think a gatt in the hand means the world by the tail.
---
Dark City home | film titles | directors | book titles and writers | feature | linx
---
(© NOIR, 2014)