The Blue Dahlia (1946)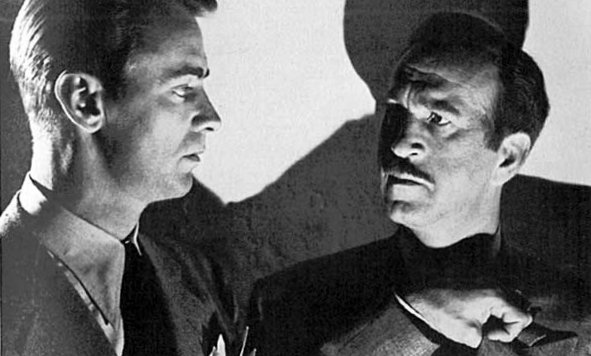 ---
George Marshall
Original screenplay by Raymond Chandler

Alan Ladd (Johnny Morrison)
Veronica Lake (Joyce Harwood)
William Bendix (Buzz)
Howard da Silva (Eddie Harwood)
Doris Dowling (Helen Morrison)
Tom Powers (Captain Hendrickson)
Hugh Beaumont (George Copeland)
Howard Freeman (Corelli)
Don Costello (Leo)
Will Wright (Dad Newell)
| | | |
| --- | --- | --- |
| | | |
| The original movie poster. | Johnny Morrison gets tough with Eddie Harwood. | Johnny and a strangely lit Joyce. |
| | | |
| | Alan Ladd in a goofy studio shot (with a blue dahlia!) | |
---
MORRISON
You shouldn't take chances, picking up strangers like this.

JOYCE HARWOOD
Practically all the people I know were strangers when I first met them.
EDDIE HARWOOD
I'm not that kind of rat.

MORRISON
What kind of a rat are you?
EDDIE HARWOOD
I'm not a suspect, am I?

DETECTIVE
I don't know. How do you feel about it?
GEORGE (Johnny's lawyer friend)
We have to wait for Johnny!

BUZZ
Wait for Johnny?!? What do you think I am, a camel?!?
---
Dark City home | film titles | directors | book titles and writers | feature | linx
---
(© NOIR, 2014)