Murder, My Sweet (1945)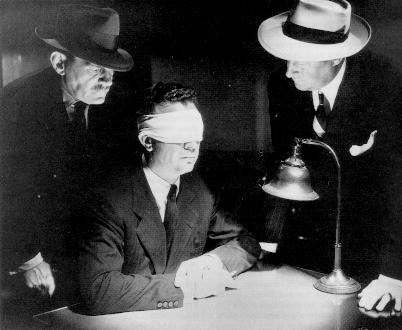 ---
Edward Dmytryk
Screenplay by John Paxton, adapted from the novel Farewell, My Lovely by Raymond Chandler

Dick Powell (Philip Marlowe)
Claire Trevor (Mrs. Grayle)
Anne Shirley (Ann)
Otto Kruger (Amthor)
Mike Mazurki (Moose Malloy)
Miles Mander (Mr. Grayle)
Douglas Walton (Marriott)
Don Douglas (Lieutenant Randall)
Ralf Harolde (Dr. Sonderborg)
Esther Howard (Mrs. Florian)
| | | |
| --- | --- | --- |
| | | |
| Blinded Marlowe is interrogated by the cops at the beginning of the film | Marlowe's interrogation | Publicity shot of Marlowe in his office |
| | | |
| Ex-con Moose hires Marlowe | The imaginatively-named Moose dwarfs Marlowe | Marlowe on the case |
| | | |
| Ann and Marlowe | Marlowe and Mrs. Grayle | |
| | | |
| Moose surprises Marlowe | Moose meets Mrs. Grayle | |
| | | |
| Publicity shot of Marlowe in the black hole | Publicity shot of Marlowe imprisoned | The lovely Mrs. Grayle |
---
MOOSE
Who asked you to stick your face in?

MARLOWE
You did. Remember me? I'm the guy who came in with you, Chunky.

MOOSE
Moose. The name is Moose. On accounta I'm large.






MARLOWE V.O.
(on Mr. Florian)
He died in 1940 in the middle of a glass of beer. His wife Jessie finished it for him. Tracing her was easy. I could do that. A real bright third grader could have done it. But not Malloy. He needed a private detective. She was a charming middle-aged lady with a face like a bucket of mud. I gave her a drink. She was a gal who'd take a drink, if she had to knock you down to get to the bottle.






MARRIOTT
I'm afraid I don't like your manner.

MARLOWE
Yeah, I've had complaints about it but it keeps getting worse.






MARLOWE V.O.
I caught the blackjack right behind my ear. A black pool opened up at my feet. I dived in. It had no bottom. I felt pretty good. Like an amputated leg.






MARLOWE V.O.
It was a nice little front yard. Cozy. Okay for the average family. Only you needed a compass to go to the mailbox. The house was alright too. But it wasn't as big as Buckingham Palace.




MARLOWE
I worked for the DA and got fired.

MRS. GRAYLE
Not for incompetence, surely.

MARLOWE
For talking back. I had an interesting childhood too but you didn't drop in on me to get a biography.




MARLOWE
(about his gun)
That's just part of my clothes. I hardly ever shoot anybody with it.
---
Dark City home | film titles | directors | book titles and writers | feature | linx
---
(© NOIR, 2014)