Important Notice:
An update of this page is located at okgourmet.com , the new web site for Steve's Gastronomic Home Page.

MOST RECENT UPDATES
OKLAHOMA CITY, OK--Chelino's Mexican Restaurant
Aug. 23, 2013: Chelino's on Northwest Expressway near Rockwell is the newest location of this mini-chain to open in the Oklahoma City area, but it is actually the result of Chelino's taking over the old Nino's chain (and in this case Nino's former building). Chelino's closed its former location at Northwest Expressway and Council Road, and moved into the building at 6509 Northwest Expressway (the former Nino's), so this is actually just a relocation rather than a new restaurant.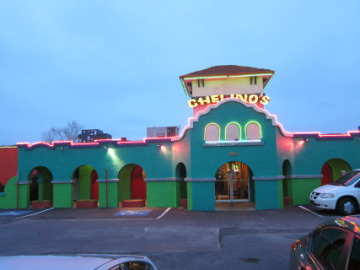 Chelino's on Northwest Expressway
Chelino's has a "100% Estilo Mexico" section of the menu which offers more authentic Mexican dishes than the larger Tex-Mex portion of the menu. Because of this I think Chelino's is moving in the right direction compared to some restaurants which stick solely to Tex-Mex cooking. I have found the authentic dishes at Chelino's, though, to be hit or miss, and I generally think that for the prices that are charged I can do better elsewhere.
The waiters at the Council Road restaurant were very helpful in steering me toward good dishes, but so far I have had less luck at the new restaurant. I hope this is not a trend, but I did find the new restaurant to be busier, so this may be part of the problem. I will admit that Chelino's is not my favorite Mexican restaurant in Oklahoma City, but the experiences from the Council/ Northwest Expressway location have helped to give me a better impression of it than I had in the past.
EDMOND, OK--Wa Ha Ha Asian Diner
Aug. 22, 2013: Wa Ha Ha Asian Diner has a name which in Chinese is supposed to sound like laughter, and of course this translates into English as well. To me it is a little bit funny to find such a good Chinese restaurant in a building that looks like an old Taco Bell or fast food pizza joint, but inside Wa Ha Ha they are serving some serious authentic Chinese food. Wa Ha Ha's specialty seems to be noodle dishes, so in a sense you could say this is Chinese "fast food" (but forget about the big trucks delivering frozen food as you would in a typical fast food place-- here things are freshly made including their handmade noodles).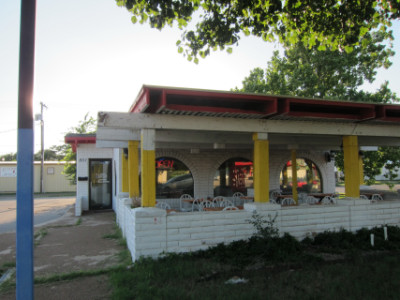 Wa Ha Ha in Edmond
In a way I think Wa Ha Ha represents a trend in Oklahoma City Chinese restaurants. From the outside this looks like an average suburban Chinese restaurant. These restaurants typically offer American style menus so that people can order what they have come to expect in Chinese restaurants (sweet and sour, broccoli beef, etc.). Unlike most suburban restaurants, though, this is not the main menu at Wa Ha Ha. Instead they have noodle dishes, soups, and a pretty large selection of other authentic items. People seem to be flocking to Wa Ha Ha mainly because of their authentic food, and this is why I was impressed that this may be a sign of other similar Chinese restaurants to come. Szechuan Bistro has already shown that authentic Chinese restaurants do not have to be clustered in the Asian District to be successful, and personally I am more than ready for small suburban restaurants to offer this same type of food (as Wa Ha Ha has already shown can be popular with the public).
I will judge this trend to have taken off when I can no longer individually identify or personally visit every restaurant in the city that serves authentic Chinese food because they will have become too numerous. When this happens it will mean that we can start talking about different styles of Chinese cuisine rather than just the fact that certain restaurants serve authentic Chinese food. Personally I believe Wa Ha Ha is a definite sign that the suburban Chinese restaurant scene has already begun to change for the better.
OKLAHOMA CITY, OK--Pho Kim Long
Aug. 17, 2013: Pho Kim Long in the Asian District is one of many choices for Vietnamese food, but I think for pho (beef noodle soup) it is one of the better choices. In fact, I was surprised that this soup was not only very different from others, but I almost thought this was something other than pho. It seemed to be at a higher level than I had normally experienced with beef noodle soup, and I almost thought I had discovered a new Vietnamese dish (but in fact there is a wide variety of methods for preparing beef noodle soup).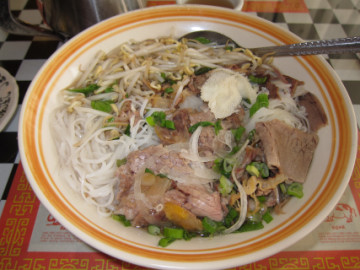 Beef noodle soup
The soup pictured was a take-out order brought to me by a friend, so the bowl and placemat shown are not from Pho Kim Long. The soup was from this restaurant, though, and it really had a depth of flavor that surprised me. The main thing that stood out was a star anise flavor, and although this is a standard ingredient for Vietnamese soup, Pho Kim Long seemed to bring out a flavor I had not experienced before. On top of that, the meat was also excellent, and in fact the whole thing was excellent. The bottom part was covered in broth, and although it was probably a smaller volume that I normally see in pho (the generic name for Vietnamese beef noodle soup), the flavor in the broth was enough to completely soak into the noodles and other ingredients.
There are a lot of pho restaurants in Oklahoma City, but Pho Kim Long offers a flavor and quality that I think offers a rather unique experience. I was really surprised at how much I enjoyed it.
EDMOND, OK--Heritage India
Aug. 10, 2013: Heritage India in Edmond is a relatively new Indian restaurant in the Oklahoma City area, and I would say it is much more than relatively good. The fact is that I like all of the Indian restaurants I have tried in the OKC area, but Heritage India is especially impressive for its flavors and for the freshness and quality of the food.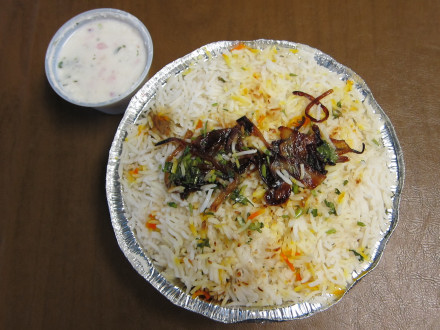 Lamb biryani from Heritage India
Biryani is apparently the specialty of Heritage India, and the reason I am unsure is that so far it is the only thing I have tried. Sometimes, though, I taste things that seem to be the standard by which I should judge similar dishes at other restaurants, and this was one of those times. The biryani pictured was a take-home order from which I had removed the cover. There was a large quantity of lamb inside that is not visible in this picture, and it was quite good. The lamb may not have been my first choice except that the restaurant recommended it, and now that I have tried it I think it will be my first choice in the future. If anyone is normally on the fence about ordering lamb, I would say that Heritage India is an excellent place to try it.
YUKON, OK--Green Chile Kitchen
Aug. 7, 2013: Green Chile Kitchen in Yukon was a restaurant I had to try since my fondness of New Mexican cuisine was a large part of the inspiration for this web site. Yes, the food from New Mexico is noted as its own food category on national web sites such as Urbanspoon, holding a place equal to Tex-Mex, Cal-Mex, and Sonoran food in Arizona. All of these are regional types of Mexican food which developed in the United States, and New Mexico style cuisine may have the longest running tradition of any of them. It is certainly my favorite out of these Mexican food styles.

New Mexican cuisine revolves around green and red chile. Green chile is harvested beginning in mid to late summer, and right now is a perfect time to head to Yukon for a taste of their fresh chile imported from the Land of Enchantment. The red variety is good all year, and it is usually my favorite, but I prefer to order green chile around August and September.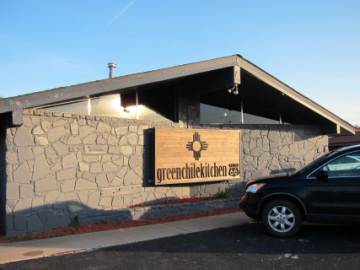 Green Chile Kitchen on Route 66 in Yukon
One thing I do not understand is why there are not more New Mexican style restaurants located outside the borders of New Mexico. There are two or three in the west part of El Paso, and I have eaten at ones in Pueblo, Colorado and Salt Lake City (there is also a well known New Mexico style restaurant in Phoenix). Green Chile Kitchen is the fourth one in the greater Oklahoma City area where I have been able to dine since about 1980, and hopefully it will last a lot longer than most of the others which seemed to be gone after about one or two years.
The crowd at the restaurant indicated to me that the local population is ready for this type of food. I think the obvious popularity of Green Chile Kitchen will allow them to add new things to the menu. The staff gave a strong indication that they plan to indroduce stuffed sopaipillas to the menu, and I definitely hope to sample them when that happens.
OTHER RESOURCES ON THE WEB--Urbanspoon, Yelp, and Trip Advisor
Aug. 6, 2013: The three web sites mentioned in the caption are national web sites I use to find places I may want to eat, and because reviews are written by customers who have dined in the restaurant there is not a lot of hype. For many reasons I like Urbanspoon best, and with a small number of clicks I can focus in on the location I want and find the type of cuisine I want. Urbanspoon comes very close to having a 100% coverage of all restaurants in the United States, as well as keeping track of restaurants that have closed.

Probably the biggest flaw in Urbanspoon is with the list of top restaurants for each urban area. They list five restaurants in each of four categories (from expensive to cheap eats), giving a list of twenty recommended restaurants. The list is actually very good for Oklahoma City, but in my opinion the list for El Paso does not work as well. When most people go to El Paso I would think they would be looking for locally flavored Mexican food, and the Urbanspoon list really does not cover this well at all. In fact, even when the search is filtered to look only for Mexican restaurants (which is very easy to do on the Urbanspoon web site) there are still many restaurants not listed near the top that I think should be there. Of course I hope people will use my web site and other local web sites for various cities as supplements, and Urbanspoon is an excellent resource to use for any city. I would say, though, that the best restaurants in many cities are not necessarily found in Urbanspoon's "top twenty."

I did a very unscientific analysis of these three national web sites, and how they relate to El Paso, Las Cruces, and Oklahoma City. The summary has been added to my Links page (otherwise known as Steve's Blogroll becasue it mainly includes local web sites similar to mine). The section on national web sites (Urbanspoon, Trip Advisor, and Yelp) is located near the bottom of the page. One conclusion I have from this discussion is that it is best to look at all three web sites (and local sites) instead of relying on Urbanspoon alone.

Yelp has a good list of both Mexican restaurants in El Paso and Chinese restaurants in Oklahoma City, so I consider this web site as a valuable resource as well.

Trip Advisor really has a little bit different reader base, which I think mainly consists of travelers who write restaurant reviews while on trips (rather than local foodies who have more knowledge about the local restaurants). Out of the three cities I analyzed (El Paso, Las Cruces, and Oklahoma City), Trip Advisor seems to be best for Las Cruces, so I believe that like all web sites it has its limitations. Whether my impression is accurate or not, though, it is still a valuable source of information. Trip Advisor is especially good for small towns and tourist spots such as national parks. Trip Advisor also has forums for just about every foreign country (and from the forums you can click on the "Restaurants" tab at the top of the page).
OKLAHOMA CITY, OK--Taqueria La Original
Aug. 3, 2013: For "Tacos al Pastor: Capítulo Tres," (Chapter 3) I am reviewing Taqueria La Original, a restaurant I have passed by many times, but whose food I just tried for the first time. There are two Taqueria La Original restaurants in the Oklahoma City area, but the one more convenient to me is at Memorial Road and Santa Fe Avenue in a strip shopping center.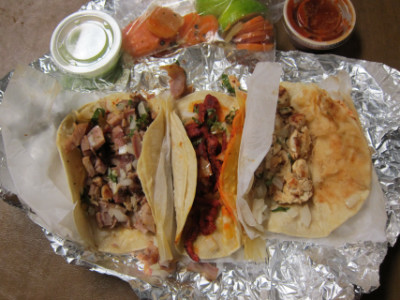 Pork stomach taco, red chili pork taco, and chicken taco from Taqueria La Original
Taqueria La Original calls the one in the center a "red chili pork taco," although it looks and tastes very much like a taco al pastor. I think there is a special way of making the al pastor tacos, though (which I understand do not necessarily have to be made from pork). The tacos al pastor (shepherd's tacos that were designed for sheepherders to take with them out into the field) are cooked on a spit with pineapple juice and special spices that give it a distinct flavor. Tamazul had a taco al pastor where the flavor of this special method was really noticeable, and really good. To me a simple "red chile taco" is not as flavorful, but it is still good. I very much liked the "red chili taco" at Taqueria La Original, and I was even more impressed that they did not try to call it a taco al pastor (an authentic Mexican taco restaurant, which Taqueria La Original seems to be, would know the difference).
There are many restaurants both in Oklahoma City and in other places which I think call tacos "al pastor" when they are not. I think the red chile tacos are perfectly good, and in fact are near the top level of taco deliciousness. I just hope restaurants give us truth in advertising, which I believe Taqueria La Original does.
Although I wanted to mention the red chile taco, the Pork Stomach Taco was actually the best one I tried. It was delicious with both the red and green salsa the restaurant provides, and the meat had a very good flavor. Not very long ago I would not have even tried this type of meat, but several experiences with pork stomach meat in Chinese food have convinced me that it can be very good (as it was at Taqueria La Original). There is a great variety of meat choices for tacos, though (some of which I am still not adventurous enough to try). I am sure that just about everyone can find something they like at this restaurant (and it is cheap enough that I can afford to order things I might not try at other places).
OKLAHOMA CITY, OK--Tamazul
Jul. 26, 2013: This should probably be called "Tacos al Pastor: Capítulo Dos," since the new restaurant Tamazul at the Classen Curve has what may be the best tacos al pastor in Oklahoma City (at least they are the best I have tried so far). Of course there are a number of other very good dishes at Tamazul, but I needed to post an addendum to my previous article on tacos al pastor after trying the ones here.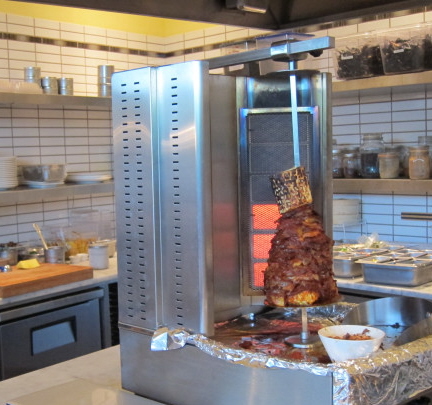 Tamazul's kitchen with skewer for the tacos al pastor
These tacos have very good meat, and are juicy and flavorful. With tacos al pastor I think a lot of it has to do with the spices and fruit juices they add, and at Tamazul they do it very well.
Tamazul does have some expensive dishes, but the tacos and several other items are served tapas style, and I think it will not break the budget to come here and have an excellent meal (but of course this depends on a person's appetite). Tamazul seems to be partly a traditional restaurant serving food from "central and southern" Mexico, and partly a place where they experiment with modern recipes. I do not mind the latter because many of the recipes are purposely made to be healthy as well as delicious.
Whatever Tamazul may be called, it is definitely a departure from the Tex-Mex food found in many restaurants, and I think most people will enjoy the change.
OKLAHOMA CITY, OK--Tacos al Pastor
Jul. 13, 2013: I often think that El Paso is possibly the best place in the U.S. for Mexican food, but Oklahoma City has presented a lot of great opportunities to try cuisine from eastern, central, and northeastern Mexico that is not generally found in El Paso (the Mexican food in El Paso generally originates from Chihuahua and surrounding states such as Durango). One of my favorite items in the Oklahoma City restaurants is the tacos al pastor, a delicious pork taco cooked on a rotisserie and marinated with pineapple juice along with various spices and flavors.

So far I have found that Abel's in Warr Acres is the restaurant that does these tacos the best. They have been a little bit inconsistent, with the tacos at times being a little bit dry and overcooked. I would say, though, that at least 90 to 95 percent of the time, Abel's has the best tacos al pastor in the city. In fact, I ordered some on my most recent visit and they were just about as good as I could hope for them to be.

One restaurant which is also in contention for the best tacos al pastor, though, is Birrieria Diaz in Bethany. Actually, what I like about Birrieria Diaz is the fact that they serve the pastor meat in different ways such as on sopes, sort of like gortitas with a flat masa shell instead of one that encloses the filling. The sope version looks like this: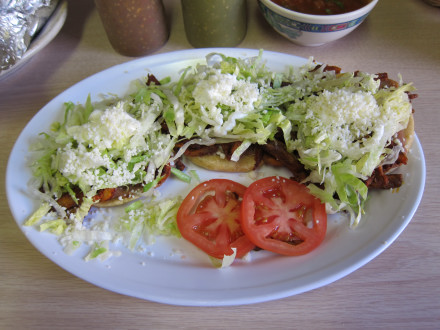 Sopes with tacos al pastor meat from Birrieria Diaz
The toppings and garnishes with this dish make it delicious to the point that I may like it even better than tacos at Abel's (Abel's serves gorditas with pastor meat but I thought the sopes at Birrieria Diaz had a better flavor). In any case, I think the regular tacos at Abel's and the sopes at Birrieria Diaz are both definite winners.
EL PASO, TX--Historic Restaurants
Jul. 12, 2013: New Mexico Tourism & Travel recently published a list of Culinary Treasures in New Mexico, defined as family owned restaurants throughout the state in continuous operation for at least 40 years. Billy Crews in Santa Teresa (located a short distance from the El Paso city limits) made the list, as well as several restaurants in the Las Cruces area.

I started making notes about El Paso restaurants in 1976, mainly because I was going wild with the number of choices of Mexican restaurants available, and I wanted to keep track of both the good and bad experiences at the ones I visited. Similar lists were made for other cities, and eventually this led to the information I am putting on this web site.

I was thinking that the list of El Paso restaurants I compiled might fit in well with the theme of "culinary treasures," at least to the extent that some of the restaurants operating in 1976 are still open today. The list of 1976 El Paso Mexican Restaurants has been added to my list of El Paso Articles (a section which includes any information other than actual restaurant reviews). I will certainly try to add more articles over time.

The 1976 list includes an evaluation (of from one to four stars) for the restaurants I visited. The star rating may be of more interest to me than to the readers, but it does help confirm that these restaurants were actually in operation during this time period.

An additional list has has been included for 1985 El Paso Mexican Restaurants, which should at least include more restaurants that most people will recognize.

A list of 1981 Albuquerque Mexican Restaurants is the first of several others I plan to include for other cities.
Homemade Food for Dogs
Jun. 29, 2013: It stands to reason that a gourmet cook for people would also be interested in gourmet food for dogs. Such is the case with Bill Bonadio, whose restaurant Papa Dio's in The Village (a suburb of Oklahoma City) is one of the hot spots if you want very high quality restaurant food.

Chef Bonadio makes periodic appearances on KSBI-TV's "Dog Talk" program, cooking up some nutritious (and I assume tasty) treats for dogs, explaining that "dogs are people too" (and of course I am in agreement). His recipes can be cooked at home and give dogs a nutritious meal (I also place a high value on the nutrition of the food I write about on this web site).

On a recent show Chef Bill demonstrated how to make salmon cakes, something that as people food is high on my list of favorites. Chef Bill's homemade dog food recipes have ingredients that are common in households and that could be eaten by humans, but of course the flavor is tweaked for maximum enjoyment by dogs.

The following are the ingredients used, but of course it is best to watch the video posted on KSBI's web site:
Poached salmon (without wine)
Bread crumbs
Red peppers
Roll into balls--bake in oven
For people, add salt and garlic for flavor
At one time there was a complete recipe posted on KSBI's web site for beef stew from one of Bill's previous shows, but it has now been removed. I did take some notes from the show, though, and these are some of the ingredients used:
Sirloin beef trimmings (low fat)
Brown rice (can cook ahead of time)
Carrots
Celery
Stock--low sodium (no salt)
Rosemary for flavor
I hope at some time these recipes can be published, but I imagine that some very creative people can come up with their own recipes. The point is just to try to give dogs the nutrition they need (and I am sure they will enjoy the flavor as well).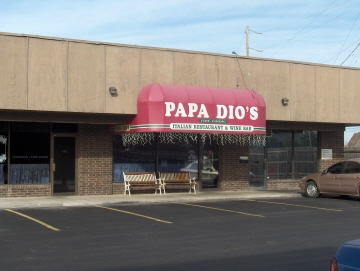 Papa Dio's Italian Restaurant and Wine Bar
For the side of the family who enjoy going to restaurants, it is hard to do any better than Bill Bonadio's Papa Dio's Restaurant, an Oklahoma City institution. I enjoyed another excellent meal there recently, and I like to have reminders about it from time to time on my web site.
OKLAHOMA CITY, OK--Johnnie's Charcoal Broiler
Jun. 15, 2013: Johnnie's Charcoal Broiler is probably my favorite place for hamburgers, perhaps for nostalgia if nothing else. It is the restaurant that continued the style of hamburgers served at the Split-T, for years a fixture on Western Avenue. Johnnie's sauce (a tomato based barbecue styled sauce) is supposed to be based on the Split-T sauce, and I think it is pretty close if not an exact replica.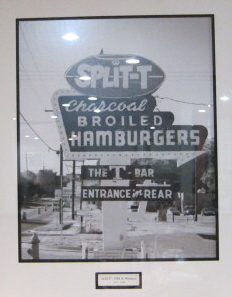 Photo of the old Split-T Restaurant
Johnnie's even has a photo of the old Split-T sign, along with pictures of other historic restaurants. I think the idea is not that Johnnie's claims to be a reincarnation of the old Split-T, but that it continues the tradition of high quality food which was found at these old restaurants.
For a while, though, I thought Johnnie's was in a serious slump, and I did not find a consistent quality when I went. There are about eight restaurants in the Johnnie's chain, and the one on Northwest Expressway which I visited most frequently was rarely giving me the kind of experience I had remembered from the restaurant. I thought the one on Britton Road was better, but it seems that since 2012 the Northwest Expressway location has improved to the same level I remember from earlier years. The improvement seems to coincide with the opening of their newest restaurant, West, which features more upscale dining (and some more upscale items have been added to Johnnie's menu as well). It is unclear whether the changes I have seen are a result of a new concept or improved management at the Northwest Expressway restaurant, but it is probably a combination of the two.
My review of the Northwest Expressway restaurant (with a link at the beginning of this article) lists my favorite items, but with so many new things being added recently there may be others that are noteworthy. In a nutshell, I would say this about the "old menu:" Get the hamburger with Johnnie's sauce; for me the veggie burger with Johnnie's sauce is just as good (and others may feel the same way); the french fries are really special but on multiple trips I will alternate between this and the baked beans; the iced tea is one of the best in town but occasionally I will splurge and get a milk shake.
I hope everyone who goes will enjoy it as much as I do.