La Ideal Bakery (Closed)
1700 Wyoming Ave.
El Paso, TX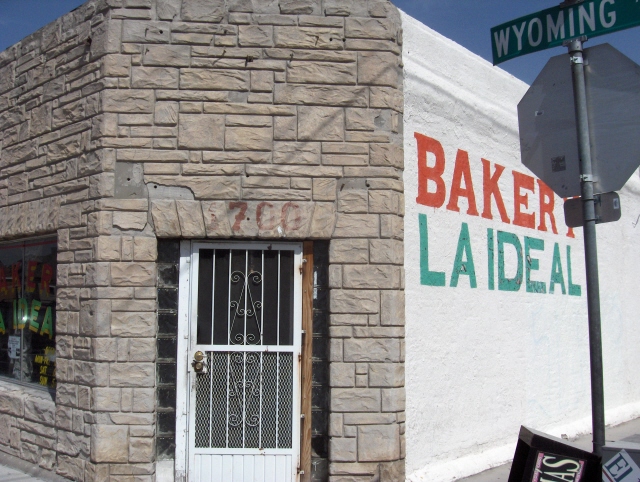 When describing the Mexican food scene in El Paso mention should be made of several very good bakeries that serve Mexican style pastries and baked goods. From my experiences at quite a few business meetings where treats were supplied, I found that some of the best came from La Ideal Bakery at 1700 Wyoming Ave., just off I-10 near Cotton Street.
La Ideal's specialty seems to be the empanada, a stuffed pastry with a fruit filling. However, most business meetings were supplied with a variety of pan dulce, or Mexican sweet bread of all types. The term "bread" is actually very general and applies to items that are soft like bread as well as sweets that have the texture and flavor of cookies (but generally are not as sweet).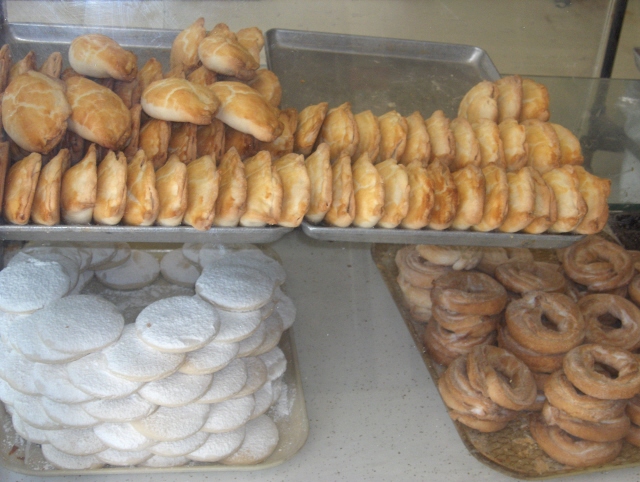 Empanadas and Mexican sweet bread at La Ideal
Empanadas, shown on the top shelf of the preceding photo, are the most popular item at La Ideal with just about everyone I know. These are made with sweetened fruit in a wrapping that reminds me somewhat of home made pie crust. It is impossible to tell from the outside what type of fruit is inside the empanada, but the employees will inform you which ones are available. I would recommend the pineapple, and these seem to be the most popular with groups of people as well. Apple is usually available, and sometimes there will be other varieties such as pumpkin.
I do not know the names of the items on the bottom shelf. The best approach is just to point to the ones that look good and get a variety. In my opinion, though, all orders should include empanadas.
La Ideal is located a few blocks from downtown, off of Interstate 10 at the Dallas Street exit if you are going east, and the Cotton Street exit if you are going west.
Go to Index