The Bullphrogs' Album Information
---
This is Hell* (1993)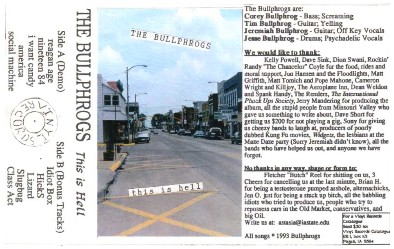 Reagan Age
1984
I Want Candy
America
Social Machine
Idiot Box
Hick Song
Lizard
Slugbug
``This is Hell'' was the first recorded effort by The Bullphrogs . Its nine songs were described by one reviewer as ``surf-infused grind'' and simply as ``loud music'' by The Bullphrogs themselves.
This album was originally released as #001 on (now defunct) Vinyl Records of Pisgah, IA.
* This album was also released on LandPhil Records of Omaha, NE as LP002. (out of print)
---
Trash From LandPhil (Sampler LP-S1 from LandPhil Records) (1994)
The Holy Church of Punk Rock
``Trash From LandPhil'' was the first sampler released by Landphil Records. It contained five other songs by: the short-lived Council Bluffs, IA punk band Lacquer; The Floodlights, also of Council Bluffs; Omaha's sweethearts, Pope Mahone; a live track by Omaha's own Ritual Device; and Matchbook Shannon of Iowa City, IA fame.
---
Planned Releases:
(Cancelled) 7'' of Vinyl on a comp. by Rolling Hills Records of Omaha, NE.
Those Fabulous Madmen (2003, CD) A complete history containing all material recorded by The Bullphrogs, recently re-mixed and re-mastered from the original 4-track tapes. Stay tuned.
---
The Bullphrogs / astasia@iastate.edu