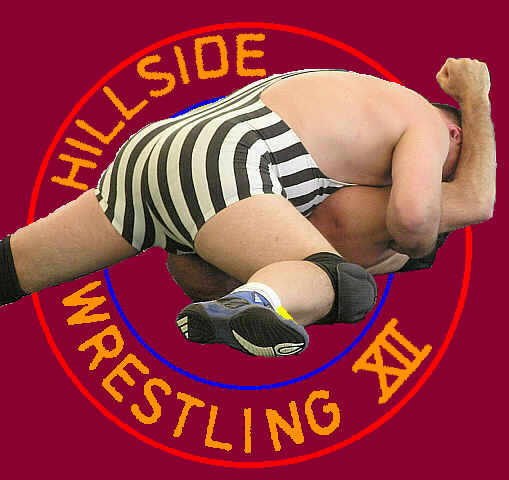 Hillside Wrestling Weekend XII, July 2005
No Frames? No problem. This web page designed to work with



Any Browser, Any System, Any Time.
For more information, see the Best Viewed With Any Browser campaign link.
Click here to go directly to Hillside 1996, 1997, 1998, 1999, 2000, 2001, 2002, 2003 or 2004 pages, or to the registration and general information page.
Hillside Wrestling Weekend XII was held July 20-24, 2005. It was the twelfth annual wrestling weekend and my tenth; it was cool looking back at ten years of wrestling at Hillside. The weather was perfect for night and day matches. Turnout was a bit lower than last year but was still conducive to plenty of mat time. There were a lot of new guys for whom this was their first time experiencing Hillside, as well as veterans of the 1994 and later wrestling weekends.
Many pictures have been resized for quick loading; e-mail me if you want to see particular originals. If all the thumbnails don't load, just hit the Refresh button or click the blue rectangle to see the full-size picture.
Click on one of the following links to jump to a particular section of this year's page:
The Ride (LI, NJ, upstate NY & PA) | At Hillside: Wrestling and other photos from Hillside Campground
---
Riding to Hillside 2005
Last year, I detoured on the way to Hillside to get in some higher mountains. This time, I took the usual direct route except for a small detour in Pennsylvania that was at a higher altitude according to the map, but when actually riding it, it did not seem that high, and though scenic, elicited a "that's all?" reaction. So on the way back I detoured into central NY and then over some 3000+ foot peaks in the Catskills (vs. the 2000+ foot peaks around Hillside). Went further north than last year. The gradients were usually not as steep, leading to long ascents and descents through forested valleys, en route to and from the mountain passes. Total mileage 489.0 (786.9 km).
Used the same Olympus C-750UZ camera as last year; the infrared pictures were taken with a Hoya R72 filter (filters 100% <700nm, 50% at 720nm, transparent above about 750 nm).
Thunderstorm on Rte. 15 in New Jersey (~ mile 85)

(raw infrared image)

(colormapped to simulate EIR film + blue:
RGB -> BRG)
Waymart, PA (~ mile 150), infrared BRG
(looking towards 1940-ft. mountain pass)

Farm in Waymart, PA, visible light

PA 106 & 247 (~ mile 159), top of first of two mountain passes between Carbondale and Lenox, visible light, looking east

PA 106 & 247, visible light BRG
(similar to EIR film)

PA 106 & 247, visible light BGR (normal foliage, Martian sky)

PA 106 & 247, infrared BRG, looking west
(similar to previous year's visible-light photo)

PA 106 & 247, visible light, contrast enhanced, zoomed
---
At Hillside
(Elevation 1350 ft., mile 181.8)
Wrestling and campsite photos
Arrive at camp 8:12PM, eat and chat till about 10, sub mat till 1, freestyle till 3, 5 hours sleep ... lather, rinse, repeat. ;-)
---

Wrestlers' tents illuminated
solely by full moon

Freestyle mat area under
full moon, 2:13 AM Friday

Ed going from upper to
lower site 60, 2:07 AM



Moon- and campfire-light scene






Pro clinic, Friday 10:20 AM (1)




Pro clinic, Friday 11:36 AM (2)
---
Hillside Freestyle Tournament, July 23, 2005
---
Carl vs. Noel
Chuck vs. Joe
Mark vs. Marty
E vs. Roger
Chris vs. Chuck
Carl vs. Nick
E vs. Ron
Chris vs. Joe
Noel vs. Roger
Chuck vs. Mark
Ron vs. Carl
Marty vs. Joe
Mark vs. Joe
E vs. Carl
---
---
Mike (Sluggo)'s Hillside 2005 Photos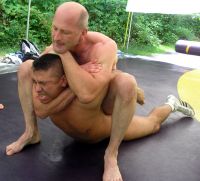 Click for submission, pro, freestyle, around the camp and more
---
Mike (WrestlingDuo)'s Hillside 2005 Photos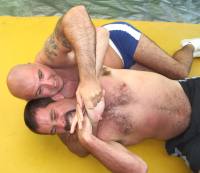 Lots of submission shots plus the freestyle clinic, tournament and candid shots from around the camp
---
Andrew's Hillside 2005 Photos
More around-the-camp and wrestling pics, contributed by Andrew. More are here.
---
Pro Show on Saturday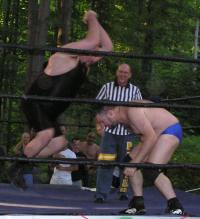 The Ring is Back:
Click here for photos from the Pro Show on Saturday evening
---
Hillside 2005 -- End of the Weekend and the Ride Back
Empty campsite on Monday
morning (infrared BGR)

Lower site 60

Submission area, upper site 60

Blackberries ripening, lower site 60

Susquehanna, PA

Oakland, PA

Near Windsor, NY (infrared BGR) (1)

Near Windsor, NY (2)

Windsor, NY just south of downtown

Mountainside & traffic light, Bainbridge, NY

In front of Covered Bridge, Hamden, NY (1)

Closeup of covered bridge (2)

Interior of covered bridge (3)

Plaque at covered bridge (4)

Scene on other side of covered bridge (infrared) (5)

Route 28, Delhi, NY (infrared) (mile 287.4)

entering Catskill Park (1)

(closeup) (2)

Catskill Park (3)

Mountain pass at Belleayre Mountain (infrared) (Elevation 3000+ ft., ~mile 325, mostly downhill for the 33 miles to Kingston)

One of several villages, still on the map, submerged by the dam for the Ashokan Reservoir (between Phoenicia and Kingston, NY)

Kingston, NY (Elevation 200 ft., mile 358.3)

New Paltz, NY (infrared showing high sky & clouds contrast)

New Paltz panoramic view

Tower on top of same mountain (37.7x zoom)

Bear Mountain, NY (visible) (mile 412.5)

Bear Mountain, NY (infrared)

Mountain biker at Bear Mountain

Near Bear Mountain Bridge, popular 1980's destination

Iona Island geese

View from Iona Island Causeway with Bear Mountain Bridge and Route 6 in distance

Iona Island

Camped beyond this gate with Bike Club in 1986 but now it's closed to the public

Raspberries on Route 9W

The Unisphere in Queens, NY; 10 miles to go (elevation ~100 ft., mile ~479 of 489.0).

Commemmorating 50 years of the theater in Flushing Meadows Park

Flushing Meadows Park
---
Previous

pages: Hillside 1996 | 1997: Digest & Pictures | 1998 | 1999 | 2000 | 2001 | 2002 | 2003 | 2004
---
General Information about the next Hillside Wrestling Weekend | Home Page / Other Pictures
---


Click here to send me comments on this web page.
This site has been viewed
times since May 3, 2001.
This page has been visited Can't open count data file for Reading: No such file or directory Can't open count data file for Writing: No such file or directory System doesn't support file locking: Bad file descriptor




times since July 30, 2005.
nickz@eskimo.com

Page created:   July 30, 2005
Last modified:  Aug.  8, 2005 & Jul. 21, 2009