Ardovino's Pizza
865 N. Resler Dr.
El Paso, TX
(915) 760-6000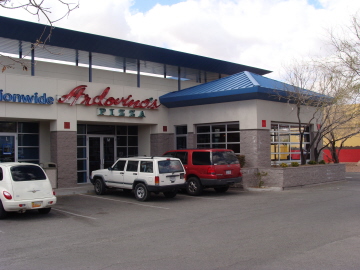 Ardovino's advertises that it serves gourmet pizza, and I would have to agree that it is hard to beat for its fresh toppings and delicious combinations of ingredients. If your preference is vegetarian pizza I think Ardovino's may be the best place in town for the variety and quality of non-meat pizzas that are served.
The restaurant on Resler Drive has been around for a number of years, but the original Ardovino's on Cincinnati Avenue has been operating as long as I can remember. At first I thought the food suffered when they opened the new location, but recently I have been as impressed as in the early days. I understand Ardovino's Desert Crossing in Sunland Park, New Mexico has a connection to the other restaurants, but it does not primarily serve pizzas.
Ardovino's is upscale without being stuffy. It is clean and provides a good meal, but it is also casual. The outside patio has always been a great feature of the restaurant contributing to the relaxed atmosphere. The patio was enclosed in 2007 so that it can function as a dining room during bad weather, but is generally open to the outside during summer months.
Ardovino's functions as a grocery store as well as a restaurant, with a variety of Italian cooking ingredients available. A large selection of candy and cookies are available from several European countries, and it is worth looking around for things that are not found in other stores. If you miss some of the hard to find items that were sold at Lo Mart or Blue Sage, a lot of them can be found at Ardovino's market.
Specializing in pizzas, Ardovino's does a large take-out business. The pizzas here may suffer more than usual in transport if they are not consumed right away, but I think that is because they are fresh and are not filled with preservatives. Even though eating in the restaurant may involve the extra expense of drinks and tip, this seems to be the way to experience the maximum quality of the pizzas.
Ardovino's offers four categories of pizza, each available in a small, medium, or large size. I have always appreciated the fact that every pizza served is available in the small 9 inch size (to save both calories and in the budget). Like all pizza restaurants I have seen, the larger sizes provide a better value per dollar spent, but the small pizzas at Ardovino's seem to be a better bargain than can be found elsewhere for similar pizzas.
"Traditional Pizza," the first category listed on the menu, offers a cheese pizza with the customer's choice of topping. I have usually found these to be the least satisfying of the choices at Ardovino's, since some other restaurants in town make cheese pizzas that I think are better.
The "Combinations" include a Vegetarian Combination Pizza that I have always enjoyed. Meat combinations are also available. Ripe became a strong competitor for this type of pizza until they stopped serving pizza, but the one at Ardovino's is still available and still good.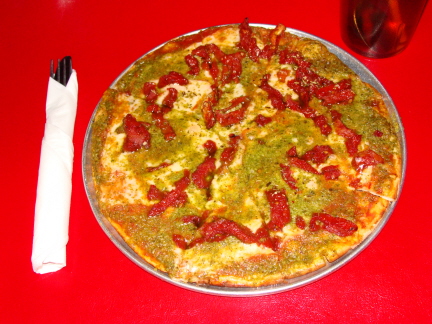 Small sun-dried tomato & pesto from the "Gourmet Pizza" selection
The "Gourmet Pizza" category includes one of the best pizzas I have found at Ardovino's, the Sun-Dried Tomato & Pesto combination. I have not had as good results with some of the other combinations except for the Spinach & Garlic pizza. The good thing, though, is that customers can pick out any two ingredients they want (or additional ingredients for an extra charge). Most of the gourmet pizzas, as well as the traditional ones, come with Ardovino's traditional red sauce, and this is a good choice when I have a craving for a traditional style pizza.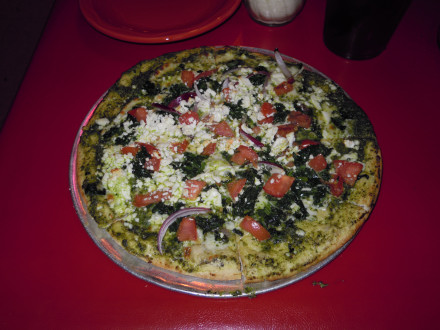 Joanna's Pizza is one of the five "House Favorites"
The final category of pizzas is "House Favorites" that include some of the restaurant's recommended combinations for traditional Italian style pizzas. Joanna's Pizza is one of the best I have tried, having spinach, tomato, pesto, feta cheese, and olive oil. There is no red sauce on this pizza, which may be one reason I preferred it over the others. I think this pizza showcases most of the best toppings I have found over the years, and the feta cheese and olive oil bring out the flavors of them very well.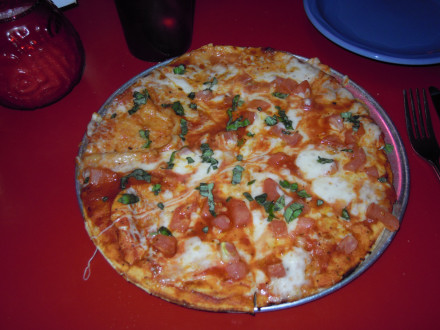 Pizza Margarita is one of the five "House Favorites"
Pizza Margarita is a good choice if you want a "House Favorite" with red sauce. This pizza comes with fresh basil, and is quite flavorful. However, I did not like the tomatoes as much as the sun dried tomatoes available on the "gourmet pizzas."
The Mediterranean Pizza comes with red sauce, capers, mushrooms, garlic, and fresh tomato, and I enjoyed it as well. I thought it had too much garlic, though.
Ardovino's takes pride in making its own pizza dough fresh daily, and this is one reason it has built up such a loyal following over the years. Although I like to go to Ardovino's because of the toppings, this would probably be of little consequence if the crust were not of equal quality.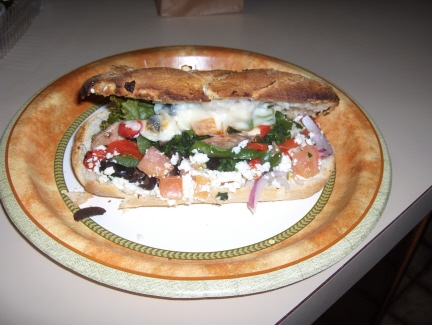 The vegetarian sandwich, served with a soup or salad, makes a satisfying meal
The Vegetarian Sandwich has turned out to be one of my favorite items, with homemade house Italian dressing topping it off for extra flavor. The sandwich is rather small in quantity compared to other restaurants, but I think this one compares favorably in flavor and freshness to just about anyone. Meat sandwiches are also available (even though I love veggie sandwiches, I'm tempted to try the meat ones here because the quality of the food is so good).
Even though sandwiches are rather small, they come with either soup or salad, making a meal substantial enough for most people's lunch, and many people's dinner (including mine when my hunger is not greater than normal).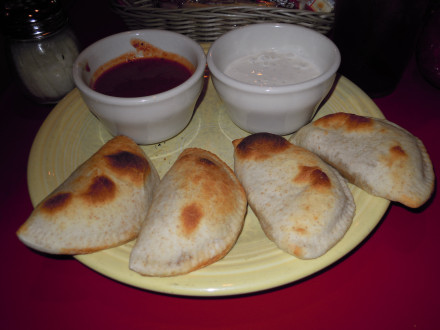 Order of calzones
Ardovino's has recently added some new items including Calzones made with pepperoni and cheese. Marinera sauce and ranch dressing are served for dipping, and I thought everything was good quality. The crust is made with pizza dough, and eating the mini calzones convinced me more than ever that the pizza dough is one of the outstanding features of the restaurant. The only suggestion I really have is that Ardovino's offer vegetarian calzones in additon to the meat and cheese ones that are served.
Meat Lasagna has also recently been added to the items available at Ardovino's. This is made with homemade Italian sausage, four kinds of cheese, and marinera sauce. It was rather spicy, and I thought the ricotta cheese was especially good. If it were not for the pizza crust used in the calzones, I would say the lasagna was the better of the two choices. Both were very good, though.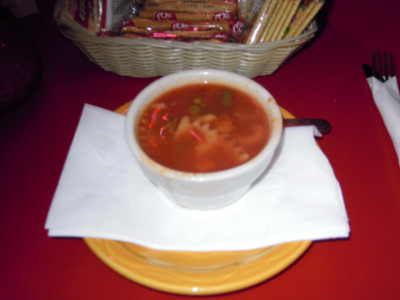 Minestrone
Minestrone Soup is enjoyable either with a sandwich or as an item that can be ordered separately with other meals. The soup is full of fresh pasta and vegetables, with no meat (although the menu says the broth is a tomato and beef base). The vegetables have always tasted fresh (as in not having been frozen), but I thought the pasta was the real high point of the soup. On one of my latest visits the soup tasted salty, though.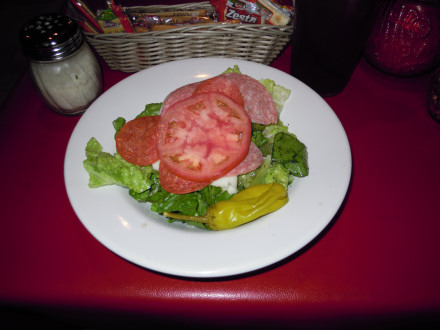 Antipasto Salad
The Antipasto Salad is loaded with romaine and iceberg lettuce, cheese, and pepperoni. A large portion of Genoa salami is served, demonstrating why Italian meats are generally considered some of the best. The olive oil based dressing is great, and the entire salad is very good. It is on the expensive side, but I consider it a bargain compared to just about any other salad available in El Paso for a similar price.
There is an interesting selection of beers available to go along with the different types of pizza that are served. Ardovino's specializes in beers from small brewing companies and brands that are available in few other places. They even sell Henry Weinhard's root beer.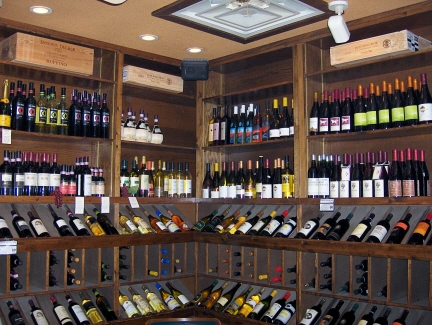 A small portion of Ardovino's wine selection
The wine selection is also quite interesting, with one of the largest selection of wines I have seen in any restaurant or store (wine bottles can also be purchased to take home). It seems to be a great setup where customers can buy bottles of good quality wine at about the same price they would find in the local stores.
With such a large selection of pizzas (particularly vegetarian pizzas), it is somewhat of a mystery to me why only two stand out to me as being the best. Joanna's Pizza is made without red sauce, and is one of my favorites even though I think the red sauce is very good. The Sun Dried Tomato & Pesto pizza is my other favorite. Several of the other "gourmet pizzas" were good, but not to the level of the sun dried tomato and pesto. The crust, sauce, and toppings at Ardovino's are all very good, but it seems to be these two pizzas that are especially enjoyable.
Go to Index
Restaurant Web Site
RESTAURANT DETAILS
RATING: 22
Cuisine: Pizza
Cost: $$
Hours: Open Daily
Accessible: Yes
Additional Location: 206 Cincinnati Ave.
Smoking: No Smoking
Alcohol: Beer, Wine
Most Recent Visit
Aug. 31, 2010
Number of Visits: 10+
Best Items
Joanna's Pizza, Sun Dried Tomato & Pesto Pizza, Antipasto Salad
Special Ratings
Joanna's Pizza:


Sun Dried Tomato & Pesto Pizza:


Vegetarian Combination Pizza:


Mediterranean Pizza:


Meat Lasagna:


Calzones:


Vegetarian Sandwich:


Antipasto Salad:


Minestrone Soup:

MORE ABOUT THIS WEB SITE