Aroma (Closed)
2725 N. Mesa St.
El Paso, TX



Aroma, along with a handful of other restaurants that have opened since about 2009, represents a breakthrough in Mexican cuisine found in El Paso. Historically El Paso has had little choice other than border style Mexican food, and the few dishes served from the interior of Mexico have been accompanied by border style chips, salsa, and other expected extras such as rice and beans.

Aroma starts with the concept that it is going to prepare Mexican food in the true Mexican style, and that the food will stand on its own without making changes to accommodate border customs. My feeling for some time has been that El Pasoans would embrace true Mexican food if they had the opprtunity to eat it, and the new wave of restaurants in the city seems to bear that out. I went to Aroma late in the evening on a traditionally slow night, yet it was almost full with customers. I do not want to discourage people from trying it because it may be too crowded, but rather to make the effort because the food is worth it.

One characteristic of interior Mexican food is that it can either be spicy or non-spicy. I did not experience food as spicy as I normally find in El Paso restaurants, but I am sure it is available if you want it. Many dishes at Aroma are little different from those found in fine dining restaurants, with different types of steaks, seafood, and other meats. Many, though, use Mexican style seasonings and sauces, giving a taste of the "real Mexico."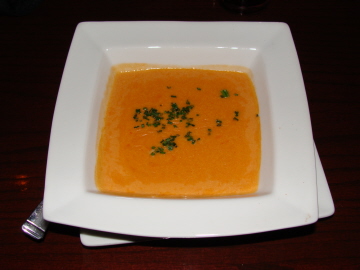 Lobster bisque is one of a long list of appetizers that are available
Lobster Bisque came in a hearty portion, and was one of several appetizers available. I had been searching for a really good bisque, and this was the first one I have found in a while. The consistency and flavor were excellent, and it made a very good start to the meal.
The Roasted Poblano Cream Soup with provolone cheese also made a very good start to the meal with a traditional Mexican flavor. It did not strike me as quite as an exceptional example of soup as the bisque, but nevertheless I thought it was worthwhile ordering as an appetizer. (Also my pictures of the poblano soup did not turn out so I was not able to post them).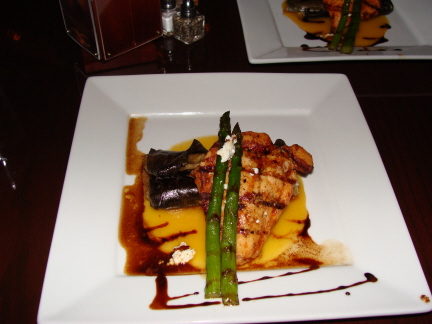 A split order of mango-chipotle chicken on top of a tamal oaxaqueño
For the main course I had an order of Mango-Chipotle Chicken Breast that was split into two servings. To me the serving shown on the plate was quite substantial, but I suppose the restaurant figures that the full order can be eaten by most people. In any case, I think it would make good leftovers.
The mango and chipotle sauce was very good, and probably typical of southern Mexico (although I had not had this particular sauce before). However, I thought the best part of the dish was the chicken, which was notable for its flavor and quality compared to many that are served in El Paso. I would have enjoyed this chicken even if it did not have a Mexican style sauce.
The chicken was served on top of a Tamal Oaxaqueño, a traditional Mexican style tamale with a thick masa and a little bit of green chile inside. I have tried several southern Mexican style tamales in recent years, but I thought this was the freshest and the best. I think they will serve this as a side dish if you want to try it along with some other dish, and to me this was one of the most enjoyable features of the meal.
The asparagus was fresh, and made a good complement to the chicken.
Aroma has a bar with a good wine selection, and can serve a very upscale meal (although mine was moderately priced and probably more "Mexican" style than some of the dishes). Kobe beef is available, and probably several other items I would like to try when I have the time and the budget. For now, though, I was quite pleased with what I tried.
Go to Index
RESTAURANT DETAILS
RATING: 24
Cuisine: Mexican Interior
Cost: $$$
Accessible: Yes
Smoking: No Smoking
Alcohol: Beer, Wine
| | |
| --- | --- |
| Chile Index: | |
Most Recent Visit
Jan. 25, 2010
Number of Visits: 1
Best Items
Mango-Chipotle Chicken Breast, Lobster Bisque, Tamal
Special Ratings
Mango-Chipotle Chicken Breast:


Lobster Bisque:


Poblano Cream Soup:


Tamal Oaxaqueño:

MORE ABOUT THIS WEB SITE