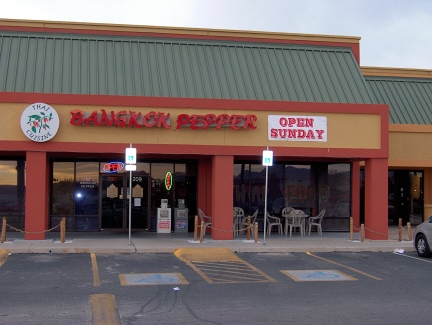 Bangkok Pepper is somewhat suspect as a Thai restaurant due to the fact that the best dish I can find is the Pad Thai. I usually look for great curries, ginger, basil dishes, and other items such as tom yum soup, and have been disappointed with the ones here.

However, the Pad Thai at Bangkok Pepper is very good, possibly even better than the one at Lemongrass in Las Cruces. It is served with the type of noodles that I like (thin white ones, rather than the gooey thick ones served in some places). The only problem is that Thai chiles and extra fish oil are not put on the table or offered unless you request them (and those who do not request them may end up with a bland Americanized meal).

The Pad Prik King (red Thai curry with tofu) is the curry dish I have found that comes closest to being the type of food I expect at authentic Thai restaurants. Pad Prik King is distinguished from other red curries by the fact that it is not made with coconut milk, and for some reason is usually one of my favorite dishes at Thai restaurants. The Pad Prik King at Bangkok Pepper has also been distinguished by the freshness and quality of the green beans that are mixed in. They tasted like they came from somebody's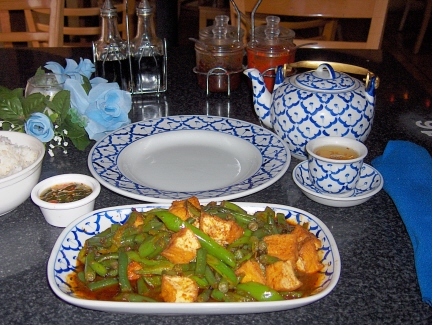 garden--something not normally found in El Paso. The dinner portion looked small compared to other restaurants, but it came with a large bowl of rice that not only ensured that the patron would not go away hungry, but was also useful to soak up the red curry for the greatest amount of taste sensation possible out of the meal. The chicken version was quite disappointing, though, coming with some pretty unflavorful pieces of chicken.
The Red Coconut Curry was also quite good. It comes with different types of meat or tofu. I especially liked the one I tried that came with chunks of pineapple.
The Panang Curry, a red curry with peanuts, and the Green Curry were very enjoyable, but were not the best examples of curry I have experienced at Thai restaurants. The tofu versions of these dishes were made without vegetables, and I think including them would improve the dishes a lot.
The Basil Tofu has tasted good, but definitely needs some fish sauce and Thai chiles to spice it up. I do like the tofu that is served at Bangkok Pepper, a feature that has been a frequent source of disappointment at other Thai restaurants.
The Pad Praew Won with chicken in a tomato based Thai sweet and sour sauce was flavorful, and unlike most Chinese sweet and sour sauce, made a satisfying meal. The main drawback to it was that the chicken was tough and unflavorful. Not only was it loaded with dark meat, but it also included a good variety of organs such as gizzards. I definitely thought the quality of the chicken pretty much ruined an otherwise good dish, while the tofu at Bangkok Pepper seems to be better than average, and would probably be a better choice in this case.
One bothersome aspect of Bangkok Pepper is that at times I have received excellent dinners that I thought were representative of authentic Thai cooking, while the same dishes on other occasions tasted like Americanized versions to me. While they make the dishes "Thai spicy" on request, to me these dishes just have an overabundance of chiles, and for the most part do not have the Thai flavors that I find at other restaurants.
I have not been happy with the lunches here, and have been served cold soup. I believe dinners are better, and are not very much more expensive than the lunch specials. I do like the Spring Rolls served at lunch, though.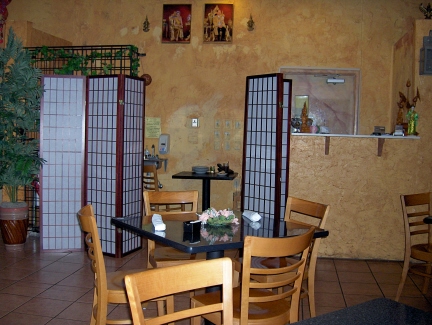 Bangkok Pepper does not seem to put much effort into the teas that are served. At first the jasmine tea was brewed with loose leaves, but now customers are given a single tea bag to put into a cup of hot water (and charged the same as when the loose leaves were used). The Thai Tea has tasted like the bottled ones I buy at Asian grocery stores, but has varied in quality and has been quite good at times. The Bubble Tea was made with the same ingredients as the Thai tea, only with rubbery tapioca beads at the bottom that I did not like.
I sampled quite a few items in Bangkok Pepper's buffet on the east side before it was discontinued and the restaurant moved to Mesa Street in late 2005. Some of the ones I thought were "OK" ( but not great) were the Yellow Curry and Tom Yum soup (it was too thin and lacked galanga and lemon grass). I have not ordered these items from the menu, and I think other choices would be better.
I have enjoyed the desserts at Bangkok Pepper, including a Tapioca Pudding that used to be offered on the buffet.
Bangkok Pepper does not quite have a flavor that makes me think I am in Bangkok, but at least it is a welcome change from El Paso's ever present menus of tacos, enchiladas, and rellenos.